According to the Substance Abuse and Mental Health Administration, the rate of illicit drug use in Pennsylvania is around 7.5%. Additionally, those who are most at risk of this addiction are those 12 years old and above. Based on the report from the Commonwealth of Pennsylvania, as of 2018, opioid overdose is also increasing. Since 2018, there have been around 45240 ER visits for opioid overdoses.
The question is, can a Pennsylvania rehab center like White Deer Run provide support to these individuals struggling with substance use disorder?
White Deer Run Rehab: An Overview
White Deer Run Rehab Center, Pennsylvania, was founded in 1969. It is a private rehab & non-profit organization with 16 Network sites, all of which focus on treating drug and alcohol addiction. To meet the diverse needs of the clients, healthcare providers at the rehab provide a variety of programs such as detoxification, residential rehabilitation, partial hospitalization (PHP), intensive outpatient (IOP), outpatient (OP), and two halfway houses for both sexes.
Because of the intensive and effective programs, this center is acknowledged as one of Pennsylvania's top drug and alcohol addiction rehab facilities. Unfortunately, many people who have never struggled with addiction are insensitive toward those who are addicted because they have no concept of what it's like for their bodies to be chemically reliant on another substance. The perspective of the center is totally devoid of this idea by simply seeing the patients as human beings in need of assistance. This center has been compassionate in this area for the past four decades, making sure to provide each patient the care they merit. Each of the patients has succeeded and discovered themselves as a result of this kind of respect and care.
Find the best treatment options. Call our free and confidential helpline
Housing and Food at White Deer Run, Allenwood, PA
Each rehab facility is managed by a group of highly skilled experts committed to assisting the clients in identifying the root reasons for their addiction and learning how to replace their old negative habits with new, healthy ones. In addition, the compassionate clinical experts of the rehab will assist these clients in overcoming any addiction they may be dealing with so that they can have the bright future they deserve.
All of the campuses are huge. Outside the campus, clients can use the balcony to relax and reflect. They can also enjoy the mountain trail for their outdoor group activities. Inside the campus, there are day rooms, small rooms, and art rooms that clients can use during their group and individual sessions. The rooms are semi-private, and there are two beds in each room. The kitchen or dining area of all facilities is immense too. The meals are served three times a day with snacks in between.
Treatment Options
This facility offers the following levels of care:
Partial Hospitalization Treatment
For specific treatments, take a look at the information below:
Alcohol Addiction
Drug Addiction
Dual-Diagnosis

ADHD
Anxiety
Bipolar Disorder
Borderline Personality Disorder
Depression
Generalized Anxiety Disorder
Obsessive Compulsive Disorder
Post-Traumatic Stress Disorder
Trauma
The length of treatment in White Deer rehab may be short-term or long-term, depending on the health condition of the patient and the type of substance used.
Therapies at White Deer Run, Allenwood, PA
The types of modalities offered in this facility are the following:
Individual Therapy
Family Therapy
Group Therapy
Holistic and experiential therapies are also provided to the clients enrolled in both outpatient and residential programs.
Some of these therapies are the following:
Tai Chi & yoga
Reiki and reflexology
After the treatments and therapies, clients will get a unique relapse prevention plan from their respective therapists to ensure a successful recovery.
White Deer Run Rehab Payment Options
Self-payment and insurance are accepted in this facility. Some of the health insurance companies approved are Aetna, Blue Cross Blue Shield, Cigna, Community Care Behavioral Health, Fidelis Care, Kaiser Permanente, Medicaid, UPMC Health Plans, United Healthcare, and Value Options.
Licenses and Accreditations
This facility is accredited and licensed by the American Society of Addiction Medicine, the National Association of Addiction Treatment Providers, and the Pennsylvania Department of Drug and Alcohol Programs.
White Deer Run Rehab Advantages and Amenities
Because living in recovery continues after graduation, the facility provides two halfway houses where these homes can offer additional assistance to the clients after graduation. Every therapy at the halfway houses is intended to reinforce the skills patients learn throughout rehab and keep them moving toward recovery.
Moreover, all the networks have indoor table tennis courts and basketball courts. Some clients can also enjoy the mountain trail and ropes course. One great thing about this facility is that it does not only treat the mind. Instead, it also promotes physical and spiritual healing.
Lastly, there is this TeleHealth Programming. This facility is now providing services via telephone and virtual communication platforms as part of the stepped-up preventive measures we have put in place in response to COVID-19 to safeguard the safety of the patients, their families, and the facility's employees.
Staff at the Facility
The staff in the facility is composed of medical doctors, therapists, and other healthcare professionals.
Jeffrey Thomas, MHS, LPC, CAADC
Jeffrey Thomas began working in the field of addiction treatment in 1983 and has continued to do so up to the present. He has worked in the facility for many years in a variety of management positions after beginning as a behavioral health technician and counselor. He received his credentials as a counselor for addictions in 1988, earned his Advanced Addiction Counselor Certification and his Master of Human Services degree in 1996, and received his Professional Counselor License in 2002. Jeffrey Thomas was promoted to Clinical Director in 1996 and is currently the CEO of the facility.
Thomas Callahan, MA, LPC, CAADC, CCS
Thomas Callahan has been employed by the facility for more than 16 years, and he is currently the Executive Director at the facility and the Regional Vice-President, Northern Region Recovery Division, Acadia Healthcare.
He has worked with people and families who have been impacted by addiction and mental illness over the past three decades. Tom is in charge of creating the model currently employed at Cove Forge. Tom has created both inpatient and outpatient methods for treating co-occurring illnesses. Since he has been in private practice since the early 1990s and has supervised numerous students' field placements, his journey has brought him through every level of care.
Donna Bookhammer, CADC, CCDP, ICADC, CTRTC
Donna Bookhammer began working for Cove Forge Behavioral Health in 1987. She worked in Cove's family services, aftercare, marketing, and finance departments in her early years there. Through the Pennsylvania Certification Board, Donna earned the CADC (Certified Alcohol and Drug Counselor) and ICADC (Internationally Certified Alcohol and Drug Counselor) certificates in March 2000. She has a great deal of expertise in counseling people who have co-occurring mental health and substance addiction disorders. The Cove Forge Behavioral Health Center appointed Donna to the post of Clinical Director in April 2003, where she now manages the Inpatient and Partial Hospitalization programs. She also played a crucial role in the creation of Cove Forge's HOPE program.
Find Drug Rehabilitation Centers Near You Anywhere In the US
Addiction Resource team has compiled an extensive list of the top drug rehabilitation facilities around the country. Click on the state you are interested in, and you'll get a list of the best centers in the area, along with their levels of care, working hours, and contact information. Haven't found the rehab you need? Call the toll-free helpline below for professional assistance.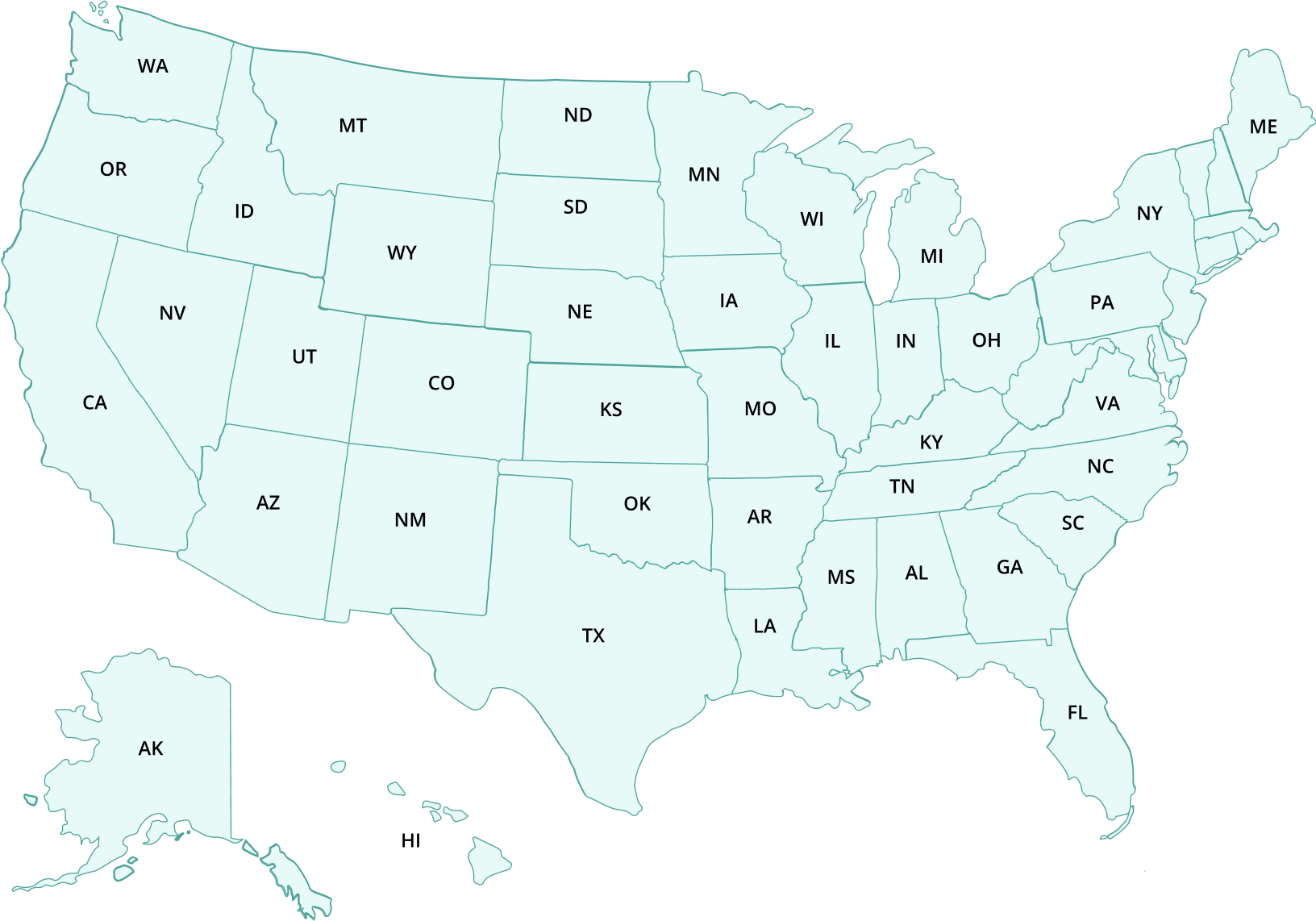 ---
Page Sources
Commonwealth of Pennsylvania. (2020). DataPA. https://data.pa.gov/stories/s/Pennsylvania-Opioids/9q45-nckt/
Pennsylvania (PA) | CBHSQ Data. (n.d.). https://www.samhsa.gov/data/report/pennsylvania-pa-1