According to the Centers for Disease Control and Prevention, in 2018, the rate of illegal drug use in the United States was around 11.2%. Those most at risk of this addiction are those 12 years old and above. In 2020, according to the National Institute on Drug Abuse, around 56,516 cases of overdose due to drug abuse were reported. Most of these drugs include synthetic opioids. Can Wisconsin treatment centers help support these patients with drug addiction?
Rogers Behavioral Health: An Overview
Also known as Rogers Treatment Center, this private, non-profit facility is one of the leaders in mental health and addiction treatment. It was founded in 1907 to offer evidence-based treatments and therapies for adults, adolescents, and children with certain mental health issues such as depression, anxiety, and posttraumatic stress disorder. Additionally, this facility is reachable in many locations in the United States, including California, Colorado, Florida, Georgia, Illinois, Minnesota, Pennsylvania, Tennessee, Washington, and Wisconsin.
Furthermore, this rehab facility includes Rogers Behavioral Foundation. This is a constitution that offers additional support to children, teens, and adults who are struggling with mental health and substance use disorder for them to achieve a brighter future. Along with this foundation, there is also this Rogers InHealth initiative where individuals who have successfully recovered can share their experiences to help others, and the community eliminates the stigma of mental health challenges caused by drug addiction.
The mission of Rogers rehab is to create a drug-free world by providing those with mental illness respect and compassion to see the strength they have and reach their full potential. Additionally, Rogers rehab's nationally recognized psychiatric experts value excellence, compassion, and accountability as it continues to provide decades of evidence-based treatments for its clients.
Find the best treatment options. Call our free and confidential helpline
Housing and Food at Rogers Treatment Center
Generally, all of the Rogers Behavioral Health locations almost have the same food preparations and campus style. Outside the campus is a garden with a well-maintained path where clients can unplug and connect with nature.
As clients enter the campus, there is a comfy lobby and a waiting area with a cafe where snacks, meals, coffee, and other beverages are served. This part of the ground floor is intended for Eating Disorder Recovery. Furthermore, a fireplace and a TV are also available. There is a group room for small group therapies and a day room for recreational activities such as solving puzzles and reading books.
On the ground floor, there is this hallway. On the left side, residential care bedrooms are available, and on the right side, rooms for the nurses and staff are provided. In the kitchen, there are two areas. The first one is called "meal preparation," where the Rogers rehab dietitians work on providing nutritional meals not just for the clients but also for their family members who are participating in the discussions.
The bedrooms are cozy, and there is also a storage cabinet. In each room, there are two beds and two storage cabinets but no bathroom. The bathrooms are instead located on both sides of the hallway of the bedrooms.
The second floor is for the Adult Focus Depression Recovery. In this area, lockers, bedrooms, stylish and modern bathrooms on the sides of the hallway, day room, group room, and nurse desk are seen.
Treatment Options
The Rogers rehab generally focuses on mental health disorders. Some of the treatments this facility offers to include the following:
Inpatient, outpatient, and residential care for OCD and Anxiety
Autism Management and Treatment
Anxiety and Depression Recovery
Outpatient Care for Teens with complex medical and mental health conditions
Inpatient, outpatient, and residential care for Eating Disorder
Inpatient, outpatient, and residential care for Depression Recovery
Inpatient, outpatient, and residential care for Trauma Recovery
Emotional Dysregulation Treatment for Teens
Apart from these mental health issues, addiction treatment is also available in different Rogers Behavioral Health locations. These include:
Addiction Recovery Residential Care
This facility provides specialized care for substance use disorders (SUDs), including alcohol abuse and drug dependency, specifically opioid addiction. Medication-assisted treatment is followed in addressing these SUDs.
Therapies at Rogers Treatment Center
This facility follows a physician-based therapy approach. A screening will be done during the admission, and a doctor will then decide what therapy will be needed. 
Some of these include the following:
Individual therapy
Group therapy
Family therapy
Small therapies are also offered in the different Rogers Treatment Center locations. Some of these are the following:
Exposure and response prevention
Behavioral activation
Prolonged exposure therapy
Experiential therapies
Art therapy
Movement therapy
Meditation
Mindfulness
Yoga
During these therapies, community-based peer support is followed. 
Rogers Treatment Center Payment Options
Self-pay and health insurance are accepted in this facility. The cost may vary depending on how many treatments are needed for the client and how long the patient will stay in the center. Some of the insurance this facility accepts include Aetna, Blue Cross and Blue Shield, Cigna, Humana, and United plans.
Licenses and Accreditations
All the Rogers Behavioral Health locations have earned The Joint Commission's Gold Seal of Approval.
Rogers Treatment Center Advantages
There are many reasons why this rehab facility is unique from others. First, in the kitchen area, there is this attached greenhouse where clients get to harvest the veggies and plants which they want to incorporate into their meals. According to the staff, this is a way for them to connect with their food. Second, there is this second garden called Theresa Rogers Garden, where clients and their families can have a tranquil time alone or together. There is also this online pricing calculator for those who want to check the cost of their treatment before inquiring personally. 
Generally, there are not many amenities for physical activities in the facility as the goal of the workers is to introduce discipline and focus on transforming the lives of the patient. However, in the past few years, this technique has already helped thousands of families and clients bring back their normal and healthy well-being.
Staff at the Facility
The staff at the rehab center are chosen because of their clinical leadership. Currently, there are more than 75 board-certified psychiatrists and 40 psychologists in the different Rogers Behavioral Health locations working with behavioral specialists, nurses, therapists, and dietitians.
Taryn Abrams, MD
Taryn Abrams is a psychiatrist in the Atlanta location, and she focuses on mood disorders, anxiety disorders, OCD, and OC-spectrum disorders. She also provides telemedicine for other Rogers Behavioral Health locations. Because of her postgraduate residency training in Adult Psychiatry at Emory University and fellowship in Child and Adolescent Psychiatry, she is now responsible for providing cognitive behavioral therapy, exposure and response prevention, psychodynamic therapy, dialectical behavioral therapy, family therapy, and parent training in the center.
Elizabeth Borst, MSN, PMHNP-BC
Elizabeth Borst is a Psychiatric Nurse Practitioner, and she works with children and adolescents at Rogers Treatment Center in West Allis, Wisconsin. She is responsible for providing treatment and therapy for those enrolled in partial hospitalization and intensive outpatient programs. 
Brenda Bailey, PhD
Brenda Bailey is a psychologist and currently the Executive Director of Clinical Services for Inpatient and Residential Services. As a licensed clinical psychologist, she provides treatment for inpatient and residential levels of care. Before this role, she was responsible for promoting evidence-based treatments for OCD, anxiety, and depression. As of today, she is committed to fostering quality education and training in evidence-based care and empirically supported treatment to mental health treatment providers by facilitating Rogers' partnership with local universities and the APA-accredited predoctoral internship.
Find Drug Rehabilitation Centers Near You Anywhere In the US
Addiction Resource team has compiled an extensive list of the top drug rehabilitation facilities around the country. Click on the state you are interested in, and you'll get a list of the best centers in the area, along with their levels of care, working hours, and contact information. Haven't found the rehab you need? Call the toll-free helpline below for professional assistance.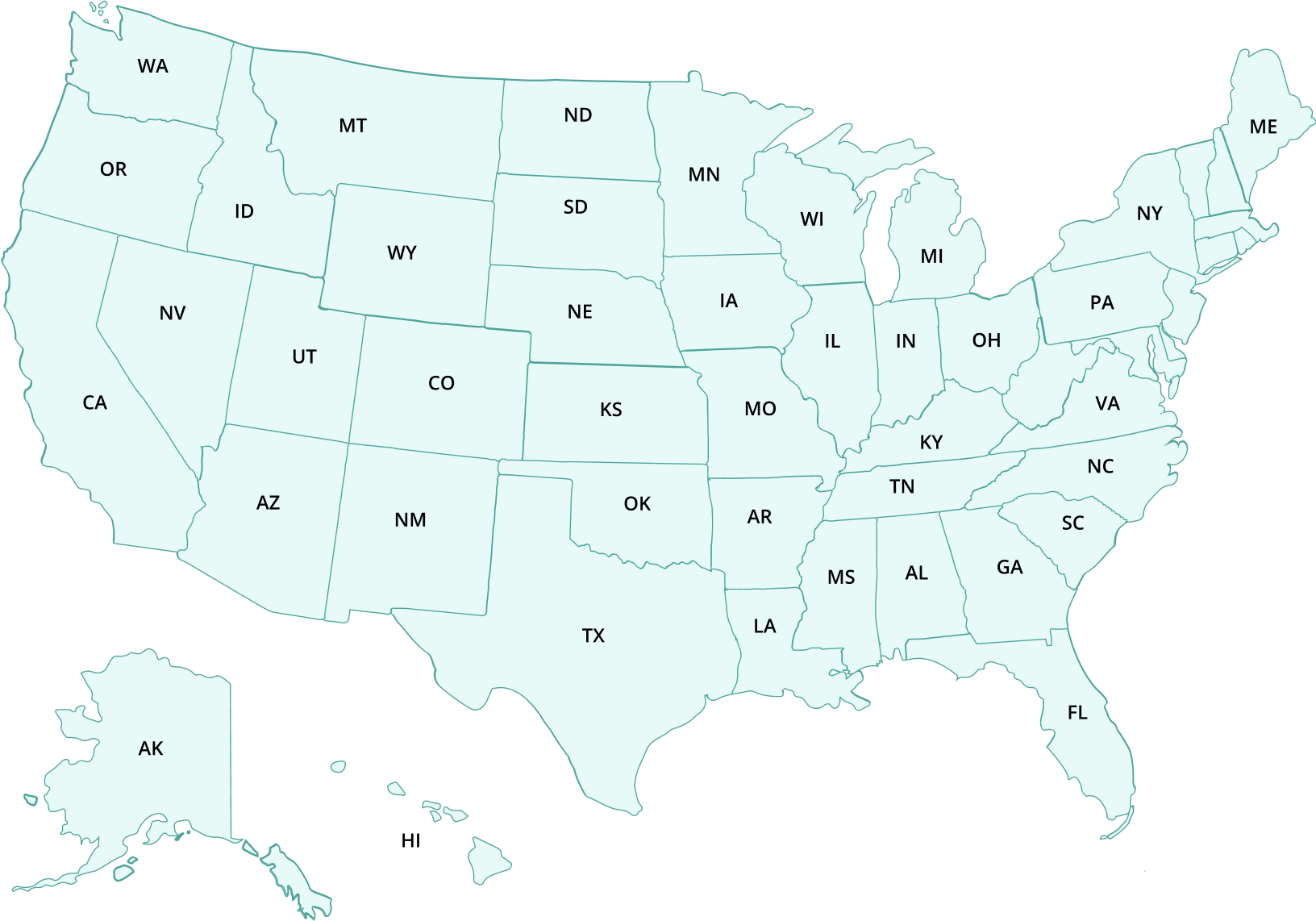 ---
Page Sources
CDC. (2018). Illegal Drug Use. https://www.cdc.gov/nchs/fastats/drug-use-illicit.htm
Overdose Death Rates. (2022, July 21). National Institute on Drug Abuse. https://nida.nih.gov/research-topics/trends-statistics/overdose-death-rates