A link between substance use disorders and mental health problems is well established. Moreover, there are millions of people in whom these two conditions co-occur. A dual diagnosis treatment facility specializes in helping people using addictive substances and have also been diagnosed with comorbid mental illness.
Care providers at the best dual diagnosis treatment centers have expertise in addiction rehab for a variety of substances and concomitant therapy for a range of mental health conditions. What are the therapy models applied at these rehab centers? How can dual diagnosis treatment programs benefit an addict?
What is Dual Diagnosis Treatment?
The presence of co-occurring mental illnesses makes a recovery from substance abuse very challenging. Successful rehab for these comorbid conditions involves specialized care from professionals who can provide integrated care to the individual as a whole.
Not all addiction counselors are trained to diagnose mental disorders accurately. However, care providers at holistic dual diagnosis treatment centers understand the complex interactions between the symptoms of mental illness and the triggers for substance abuse.
Rehab at a center for mental health and addiction includes prescriptions of appropriate psychiatric medications to stabilize the client and control their psychological symptoms, making them more receptive to addiction treatment.
DD treatment centers staff is trained to tailor the treatment model to the client's age, gender, ethnicity, and physical or cognitive disabilities.
This high level of individualized care and support during inpatient rehabilitation allows many people with severe mental disorders, who would otherwise be too unstable for addiction rehab to participate in substance abuse therapy. As a result, DD inpatient treatment is often a mentally ill person's only chance at successful recovery from substance abuse.
How is Mental Health Linked to Addiction?
The National Institute on Drug Abuse (NIDA) reports that almost half the people who have a mental illness during their lifetime also battle addiction at some point. Although experts acknowledge the connection between addictive behaviors and mental health, the exact mechanism one affects the other is less clearly understood.
Up to 45% of Americans suffer from a DD, according to the National Survey on Drug Use and Health (NSDUH). In addition, according to the same source, about 23% of young adults in the country also suffer from the same.
Additionally, 62% of patients diagnosed with only a mental health condition were working, compared to 67% with DD. This statistic might offset the narrative that stress from work is a major factor in co-occurring mental health and substance abuse disorders.
Although the percentage of women admitted to DD recovery facilities rose from 28% to 44% between 1995 and 2001, men are still diagnosed at a higher rate in comparison.
These numbers do not cover the full extent of the seriousness of co-occurring disorders. Up to 50% of people living with these disorders fail to receive the help they need, yet the admissions numbers are high.
Even when people suffering from co-occurring disorders receive treatment, just over 8% of them get treatment for both disorders, which means that they leave the rehab facility with only one problem solved.
It is impossible to know the exact cause-and-effect relationship between substance abuse and psychiatric problems in many patients. However, DD group therapy activities and individual counseling can help establish whether illicit substances are causing mental health problems or vice versa.
In some individuals, pre-existing psychological issues drive the person towards drugs and alcohol as a coping mechanism. In others, excessive alcohol use or illicit drug abuse causes changes in brain chemistry and consequent psychoses.
What makes dual diagnosis recovery even more challenging is that drug abuse frequently causes personal, social, financial, and professional problems that can trigger mental illnesses such as anxiety, depression, eating disorders, and PTSD. In addition, unsuccessful attempts at addiction recovery can lead to a feeling of hopelessness, which can exacerbate underlying psychological issues.
It takes the expertise of a psychiatrist and holistic rehab to sift through the sometimes conflicting and complicated signs and symptoms and develop a customized rehab plan for a mentally ill person with substance use disorder.
It takes the expertise of a psychiatrist and holistic rehab to sift through the sometimes conflicting and complicated signs and symptoms and develop a customized rehab plan for a mentally ill person with substance use disorder.
How to Recognize a Dual Diagnosis Disorder?
Many of the signs of substance abuse overlap with mental health disorders' physical, behavioral, and emotional symptoms. This makes it difficult for family and friends to know what's going on. In addition, the identification of co-occurring disorders and recovery of such patients is a highly specialized medical field.
For example, feelings of sadness, inability to concentrate, excessive worrying, mood swings, and withdrawal from family and friends can be caused by mental illness and substance abuse. However, it is often impossible to tell whether tiredness, lethargy, sleep problems, and hallucinations are related to a psychological cause or drug abuse.
A change in eating habits, weight loss, and looking pale and malnourished may be attributed to eating disorders and physical signs of addiction. This makes treating DD an especially challenging task.
Thus, it is not enough to see one or two signs and decide that one is suffering from a co-occurring disorder. However, some consistency can be seen when multiple signs are present on mental health and substance abuse metrics – both physically and psychologically.
The lists below covers some of them:
Mental Health Disorder Signs
Constantly feeling hopeless, guilty, worthless, fearful, or panicky
Lack of energy
Sudden change in weight, appetite, or sleep patterns
Irritability
Suicidal thoughts/threats
Engaging in risky activities
Regular hysterics and other uncontrollable emotions
Substance Abuse Disorder Signs
Mood swings
Unexplained overspending
Stealing from family and friends
Cravings
Using the substance at the expense of one's obligations or other regular activities
Showing withdrawal symptoms
Suddenly becoming distant from loved ones
Quitting a job/hobby, they loved suddenly
What Conditions are Treated at Dual Diagnosis Centers?
Some of the most common comorbid disorders treated at outpatient and inpatient dual diagnosis treatment centers include:
Anxiety and depression
Panic disorder
Dysphoria and mood disorders
Phobias (irrational fears)
Attention deficit hyperactivity disorder (ADHD)
Post-traumatic stress disorder (PTSD)
Obsessive-compulsive disorder (OCD)
Personality disorders (antisocial, narcissistic, anxious, schizoid)
Eating disorders (anorexia nervosa, bulimia nervosa)
Family, friends, and even healthcare providers sometimes fail to recognize and treat these psychiatric conditions, leading to a failure of substance abuse treatment. Integrated dual diagnosis treatment is necessary for successful long-term recovery from addiction.
6 Best Dual Diagnosis Treatment Centers in the US
Here is a list of 6 of the best substance abuse and mental health treatment centers in the country:
Beachway Therapy Center, West Palm Beach, FL
This treatment facility at West Palm beach ticks the right boxes when it comes to substance abuse and mental health recovery. The campus is calm, safe, and private, creating a strong sense of peacefulness that aids a positive mental state of being.
Beachway's recovery programs are very flexible time-wise, with schedules starting from short-term options for 60 days up to longer-term options that last for a year. In addition, the facility deploys evidence-based methods and therapeutic approaches such as Dialectical Behavior Therapy, EMDR Therapy, Cognitive Behavioral Therapy, Rational Emotive Behavioral Therapy (REBT), Solution-Focused Therapy, and Neurotherapy.
Hickory House, Greenfield, IN
Hickory House offers both intensive outpatient and residential programs for the treatment of dual diagnosis cases. The campus is located just outside of Indianapolis, Indiana, in a safe and calm environment which boosts quick recovery.
The facility has physicians on the staff that treat addiction complicated by co-occurring mental illness, offering safe and comfortable care through innovative and creative approaches.
The treatment approaches used at Hickory House include popular therapies such as Cognitive Behavioral Therapy and Dialectical Behavioral Therapy in individual and group settings. Still, there are also more specialized plans for specific disorders.
These include specialized treatment for opioids, fentanyl, and cocaine, alongside mental health disorders such as anxiety, depression, and trauma.
Covenant Hills Treatment Center, San Juan Capistrano, CA
Counted among the leading Christian dual diagnosis treatment centers in America, this center has been in existence for over 25 years. It offers structured treatment models based on the client's specific medical and spiritual needs.
Covenant Hills prides itself in being a faith-based recovery facility that diverts from traditional addiction treatment methods. Instead, the center emphasizes the spiritual aspects of recovery in our Christian 12-Step program, providing this support in gender-separate environments for men and women.
Covenant Hills Treatment Center offers residential inpatient treatment, day treatment, transitional care, and an addiction aftercare program for recovered patients.
The Oaks Treatment Center, Bartlett, TN
Formerly known as The Oaks at La Paloma, this center is now situated in Memphis on a beautiful campus. The facility offers the full gamut of addiction services, including a dual diagnosis rehab program and a unique music therapy program.
This center for mental health and addiction offers treatment for children, adolescents, adults, and seniors at various levels of care. These include inpatient treatment, intensive outpatient, partial hospitalization, and residential treatment.
The Oaks supports substance abuse alongside co-occurring mental health disorders such as suicidal behavior, bipolar disorder, and trauma recovery. A telehealth program also allows people to remotely connect with clinicians for healthcare services and information by phone, tablet, or computer.
Safe Harbor Treatment Center, Mission Viejo, CA
This long-term residential treatment center for mental health and addiction recovery offers concurrent therapy for mental disorders and alcohol or drug addiction for women through various approaches.
Safe Harbor is the only gender-specific facility on this list. They offer services exclusively to women but remain relevant as women are a large percentage of people dealing with co-occurring disorders.
The facility is state-licensed and accredited and offers support for people dealing with substance abuse disorders and co-occurring mental health disorders such as schizophrenia, bipolar disorder, depression, and anxiety through inpatient and outpatient levels of care.
Oro House, Malibu, CA
Oro House is an inpatient and outpatient rehab center in Malibu, California. The facility seeks to be involved at all stages of the recovery process, from the initial crisis intervention to detoxification, hospitalization (where necessary), sober living, and then aftercare treatment.
Since the facility was established in 2010 (then known as Oro House Recovery Centers), a burgeoning reputation has been developed with its non-12-step, dual-diagnosis rehab treatment methods. These methods include a blend of commonly adopted evidence-based practices such as Cognitive and dialectical behavioral therapies and a range of holistic-based therapies, such as Mindfulness and Somatic Experiencing.
Why Self-Medicating With Drugs and Alcohol Does Not Work
The Substance Abuse and Mental Health Services Administration (SAMHSA) estimates that approximately 9 million Americans have co-occurring mental illness and substance use disorder that requires specialized care from trained professionals.
Each of these individuals needs a customized dual diagnosis treatment program to appropriately address all the mental health conditions and increase the chances of long-term recovery.
Dual diagnosis rehab is a sophisticated medical program that is best left to the experts. Unfortunately, some people mistakenly assume that they can treat their mental health problems with alcohol, drugs, or prescription medications obtained illegally.
However, the use of illicit substances to treat psychological issues almost always ends up worsening the situation.
The potential risks of self-medicating with drugs and alcohol for mental health issues include:
Incorrect diagnosis of mental illnesses
Delayed medical attention
Severe adverse effects from drug or alcohol use
Risk of dependence
Risk of overdose and death
Sometimes people turn to self-medication due to a lack of funds. However, self-medication practices are ineffective and dangerous. There are many affordable dual diagnosis treatment centers nationwide where help is available. Finding a free drug rehabilitation center may take some time and effort, but the results will be worth it.
What is the Treatment Approach at a Dual Diagnosis Program?
Co-occurring mental health and substance abuse problems exacerbate each other. It is often impossible to separate one from the other. The concept that a psychological condition such as depression cannot be treated if a person is drinking excessively is an outdated one.
Experts agree that untreated psychiatric conditions are a common reason for drug and alcohol abuse relapse. This makes it imperative for mentally ill people with substance use disorder to simultaneously receive care for both disorders through medication management, counseling, and DD meetings.
The treatment plan for mental health and substance abuse issues is highly individualized, and no two people receive the same rehab.
A practical integrated approach involves the following general steps:
Identification and treatment of psychological disorders that may be contributing to substance abuse.
Stabilization of the client's mental health to ensure maximum chances of success with addiction treatment.
Tailoring of medications for psychological dysfunction to ensure they do not reduce motivation to succeed with substance abuse rehab.
Detoxification at an inpatient facility to clear the illicit substance from the client's body, with a gradual taper and medications to manage withdrawal symptoms.
Supportive care with exercise and nutrition to improve overall health.
Outpatient or inpatient psychotherapy, including modalities such as cognitive-behavioral therapy (CBT), therapeutic worksheets, and individual and group counseling to change patterns of thinking and teach coping strategies.
Introduction to support groups to share frustrations, seek help, and celebrate successes.
Aftercare and relapse prevention strategies to ensure a long-lasting recovery.
An integrated approach to drug rehabilitation and psychological disorders is necessary to break the vicious cycle and put a stop to the interplay between addiction and mental illness.
Sometimes psychiatric issues become apparent after addiction recovery has commenced, the reason being illicit substances can mask the presentation of psychiatric symptoms.
In such instances, addiction rehab experts at long-term dual diagnosis treatment facilities are trained to modify the program according to the client's needs.
Advantages of the Dual Diagnosis Treatment Model
This substance abuse approach takes into account the psychological factors that can affect a person's struggle with addiction. By treating the underlying mental health disorders, the program at a dual diagnosis treatment facility makes it easier for the person to tackle their addiction and maximizes their chances of success.
Studies show that these integrated programs are effective in treating mood disorders such as anxiety and depression, as well as co-occurring cocaine and opioid abuse by up to 95 percent.
Special programs developed to address the needs of people with comorbid mental illness and substance abuse have been found to increase abstinence from drugs and alcohol, improve compliance with psychiatric medications, and result in overall improved coping skills and quality of life.
Some of the benefits of outpatient and inpatient dual diagnosis rehab models include:
Receiving treatment for the root cause of substance abuse, i.e., any or all psychiatric conditions that may have led to addiction in the first place.
Learning to recognize and control potential triggers to prevent relapse.
Participating in group therapy and counseling to aid recovery.
Developing plans for the future to remain clean.
Receiving holistic rehab for the mind and body for the best chance of success.
It's important to remember that there is no quick fix for substance abuse. Combine it with mental health issues, and therapy can take even longer. In general, long-term dual diagnosis treatment centers offer programs ranging from 1 to 3 months. Follow-up aftercare may continue for several months after formal therapy is completed.
Finding Dual Diagnosis Treatment Centers Near Me
No two addicted individuals with psychological problems are the same. Some people struggling with severe mental health issues and addiction require residential treatment to get clean, while others can benefit from an outpatient program.
Perhaps the most important consideration to make when choosing a treatment center for dual diagnosis is privacy and confidentiality. The fear of being "exposed" is a major reason why many people never build up the courage to seek treatment, so it is important that one finds a place that guarantees patient confidentiality and a private environment for recovery.
There are other factors to consider too, such as:
The substance of abuse (for example, some facilities specialize only in opioid addiction).
The duration and frequency of abuse (this could determine whether a person needs inpatient or outpatient care).
The type and severity of mental health conditions (some centers may have staff that is experienced in treating certain illnesses, for example, eating disorders or PTSD).
The person seeking rehab (some facilities are only for women, while others specialize in teen drug rehabilitation).
The cost of the treatment (private drug rehab can be expensive, and an individual may need to seek out low-cost or free dual diagnosis treatment centers.
Depending on the specific needs of each person based on the listed factors, there are many options for places where one can receive treatment for these disorders. These include:
Specialized community behavioral health centers.
Independent providers (therapists, counselors, and other private practice individuals)
Substance use disorder rehab programs.
Hospital-based treatment programs.
Community-based organizations, such as churches.
Mutual support groups organizations.
Schools.
Tele-behavioral/home-based services.
Criminal justice programs (e.g. counseling services within a prison system)
To choose the best rehab, it's a good idea to compare top dual diagnosis treatment centers near you and see which one meets the unique needs of an addicted person.
Living with either one of mental health disorders or substance abuse disorders is a difficult situation, and it can be especially hard if one has to go through it alone. It is important to recognize that receiving treatment early is crucial to making a full recovery, and this is best achieved with the involvement of friends and loved ones.
If you or a loved one are suffering from mental health and substance abuse disorder, seek professional medical advice for treatment as soon as possible.
Find the best treatment options. Call our free and confidential helpline
Find Drug Rehabilitation Centers Near You Anywhere In the US
Addiction Resource team has compiled an extensive list of the top drug rehabilitation facilities around the country. Click on the state you are interested in, and you'll get a list of the best centers in the area, along with their levels of care, working hours, and contact information. Haven't found the rehab you need? Call the toll-free helpline below for professional assistance.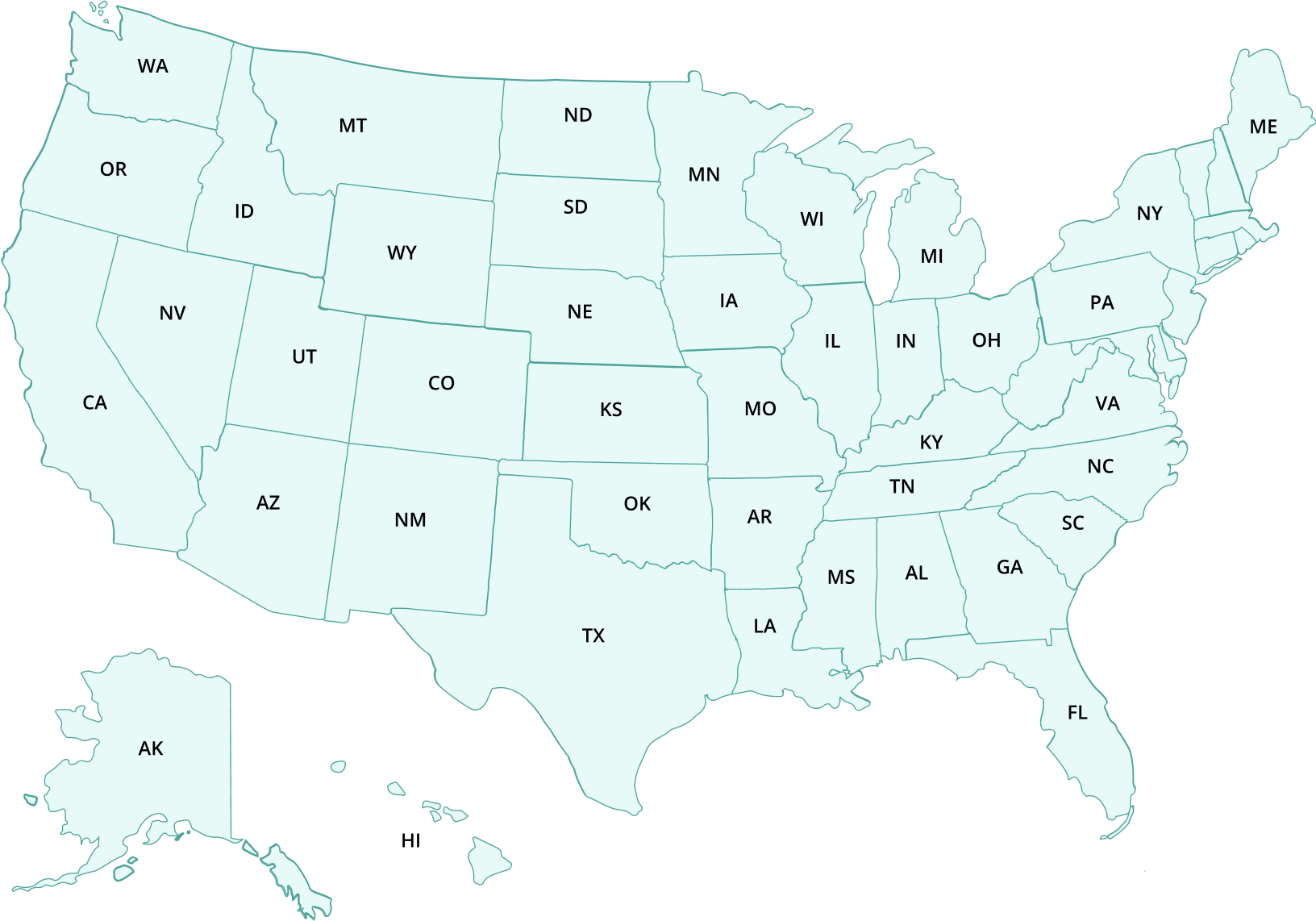 ---
Page Sources
NIDA. 2021, April 13. Part 1: The Connection Between Substance Use Disorders and Mental Illness.https://www.drugabuse.gov/publications/research-reports/common-comorbidities-substance-use-disorders/part-1-connection-between-substance-use-disorders-mental-illness
Substance Abuse and Mental Health Services Administration (2018). Key Substance Use and Mental Health Indicators in the United States: Results from the 2018 National Survey on Drug Use and Health. https://www.samhsa.gov/data/sites/default/files/cbhsq-reports/NSDUHNationalFindingsReport2018/NSDUHNationalFindingsReport2018.pdf
Schoenthaler, S. J., Blum, K., Fried, L., Oscar-Berman, M., Giordano, J., Modestino, E. J., & Badgaiyan, R. (2017). The effects of residential dual diagnosis treatment on alcohol abuse. Journal of systems and integrative neuroscience, 3(4), 10.15761/JSIN.1000169. https://www.ncbi.nlm.nih.gov/pmc/articles/PMC5576155/
Magura, S., Rosenblum, A., Villano, C. L., Vogel, H. S., Fong, C., & Betzler, T. (2008). Dual-focus mutual aid for co-occurring disorders: a quasi-experimental outcome evaluation study. The American journal of drug and alcohol abuse, 34(1), 61–74. https://www.ncbi.nlm.nih.gov/pmc/articles/PMC3525112/
Abou-Saleh, M. (2004). Dual diagnosis: Management within a psychosocial context. Advances in Psychiatric Treatment, 10(5), 352-360. doi:10.1192/apt.10.5.352 https://www.cambridge.org/core/journals/advances-in-psychiatric-treatment/article/dual-diagnosis-management-within-a-psychosocial-context/046A13E994915CF37C269FB12CE103A4#skip-link
Goldsmith, R. J., & Garlapati, V. (2004). Behavioral interventions for dual-diagnosis patients. The Psychiatric clinics of North America, 27(4), 709–725. https://pubmed.ncbi.nlm.nih.gov/15550289/
NIDA. 2021, August 3. Introduction. Retrieved from https://www.drugabuse.gov/publications/research-reports/common-comorbidities-substance-use-disorders/introduction