Rehabilitation is a critical part of ensuring a person suffering from an addiction can effectively recover. Traditional rehabs were often preferred due to the use of medication, detoxification, and a psychological approach. However, holistic addiction rehab has become a popular alternative in modern times. Numerous holistic alcohol and drug rehab centers have been established to provide people with an option apart from the more traditional addiction treatments. Below is a description of what holistic rehab constitutes, how it differs from traditional rehab, its benefits, and how to find a spiritual one. A few of the best holistic centers in the US are also detailed.
What Is Holistic Rehab?
A holistic drug rehab center is a facility that focuses on the patient as a whole, providing a treatment approach that will help to heal all elements of that individual. These centers generally do not utilize medication as part of a detoxification process and will not look at the person as separate from their addiction.
Individuals interested in a non-12 step holistic drug and alcohol rehab will usually turn to one of these facilities. The approaches typically offered to a person when they undergo treatment at a dual diagnosis rehab, or a more traditional facility do not form part of the holistic addiction treatment procedures.
At the same time, individuals should note that some centers may incorporate some elements of the traditional 12-step program into their treatment plan.
Studies have also shown that holistic rehab programs do offer effective results. According to the results from the 2018 National Survey on Drug Use and Health, 47.6 million adults battled a mental health condition. In the same year, 19.3 million adults 18 years or older struggled with substance abuse in some form, making a total of 9.2 million adults had both an addiction and a mental health problem. According to the 2012 National Health Interview Survey findings, around 14.6% of young adults successfully used spiritual and mind-body therapies to improve outcomes. According to another Survey by NIH, the number of American adults and children using yoga and meditation has significantly increased over previous years.
Core Principles of Holistic Rehabilitation
One speaks of substance abuse when a person uses drugs or alcohol in a misguided attempt to keep a specific issue or aspect in their life under control. Sometimes the person isn't aware of what this issue is. Holistic addiction treatment centers will focus on improving mental, physical, and emotional health, targeting the problematic aspects so clients can become and remain sober. According to spiritual programs, all three areas of health are linked, meaning that a problem in one will affect the other two. Therefore, efforts are made to treat each area to sustain sobriety after the main issues leading to substance misuse are resolved.
Holistic Therapies
These facilities have trained therapists to provide individual and group therapy, like traditional rehabs, among other standard rehab features. Most holistic rehabs utilize complementary and alternative medicine (CAM) practices such as:
Yoga
Meditation
Acupuncture
Mindfulness
Stretching
Breathing exercises
Nutritional intervention
Additional focus is placed on:
Organic meal plans to improve physical health
Yoga, tai chi, and other meditation exercises
Sports activities – swimming, walking, biking, hiking
Acupuncture, massage, or other complementary therapy
Treatment in scenic locations – seaside or in the mountains
Holistic recovery centers aim to treat addiction by introducing a few new chemicals to the patient's body and achieving a cleanse through herbal remedies and proper nutrition. In cases of severe addiction, undergoing withdrawal at a holistic recovery center is not recommended because medication to prevent dangerous side effects, such as seizures, is not administered. However, this could be an advantage in less severe cases – spiritual practitioners maintain that psychiatric medications can lead to prolonged periods of toxicity, postponing the benefits of a drug-free life.
Traditional Therapies At Holistic Centers
All holistic rehab centers also operate a framework of traditional therapies which aid the treatment process. These traditional approaches can include:
Individual Therapy
Group Therapy
Family Therapy
Cognitive Behavioral Therapy (CBT)
Motivational Interviewing (MI)
Aftercare Planning and Counseling
6 Best Holistic Rehabs In The US
While several centers have already opened offering patients access to holistic drug rehab programs in the US, not all facilities offer the same level of service. Therefore, it is always essential for people to do thorough research to ensure they find a facility that will provide them with compassionate yet effective treatment programs to ensure a successful recovery.
There are a couple of holistic treatment centers in the United States that seem to stand out when compared to other options that people can opt for. Individuals looking to get treated for their addiction through an approach should consider one of the following options, which are currently rated as the top holistic rehabs in the US.
The Sanctuary At Sedona: Heal The Body, Repair The Brain, and Recover The Soul
The Sanctuary at Sedona is an addiction recovery pioneer. Their trademarked recovery program helps clients learn to live without drugs by using a holistic addiction and trauma recovery program. It is a one-month residential program that combines non-12 step, Eastern therapies with scientific evidence in healing modalities that achieve concrete, measurable results. The treatment addresses the root cause of the abuse or addiction; it does not focus on its effects alone. Sanctuary at Sedona offers alcohol, cocaine, cannabis, opiate, and prescription drug addiction treatment.
Inner Balance Health Center: Power of Holistic Approach To Beat Addiction
Inner Balance Treatment Center has been very successful with customized treatment programs that address the chemical imbalance. Cravings for one's substance of choice are eliminated when a person's biochemical imbalances are corrected. For instance, holistic alcohol rehabilitation involves treating and healing the entire individual from the damage alcohol has inflicted on the mind, body, and emotions. These three elements need to be rebalanced to guarantee full, long-term recovery and success. Unfortunately, many treatment centers, even ones that call themselves holistic, may focus on just one of these elements, making it impossible to achieve lifelong sobriety. Inner Balance's qualified staff go beyond the mere symptoms of addiction. They also teach coping skills and target the source of cravings, giving the tools necessary to live a life without drugs and alcohol.
12 Keys: The Place To Start Life Anew
12 Keys is an outpatient treatment center with years of experience in treating a wide variety of addictions. The therapy is flexible and can be customized to help one cope with cocaine, heroin, crystal meth, prescription pill addiction, and combined drug and alcohol addiction. The certified personnel can treat comorbid disorders and work with individuals with dual diagnoses, such as post-traumatic stress disorder and addiction, through cognitive behavioral therapy and EMDR. They cater to clients looking for alcohol rehab, drug rehab, dual diagnosis treatment, and even all three simultaneously.
Passages Malibu: The Holistic Addiction Treatment Philosophy
Passages Malibu is another reputable holistic rehab center, which does not approach addiction as a disease. This facility's non-12-step one-on-one treatment program is aimed at healing the underlying causes of addiction. They have a very high success rate and have seen many clients go back to normal, healthy lives without drugs. A team of industry experts designed the flexible and customizable program. They aim to empower and heal the underlying conditions so that the patient can heal as a whole and prevent relapse.
Transformations By The Gulf: The Power To Change Is In Your Hands
Transformations by the gulf is a rehab center that designs treatment programs around gender-specific, psychological, biological, social, and familial needs. Its holistic treatment program takes care of the patient as a whole and not just treats the disease of addiction. The holistic treatment program is customized, multifaceted, and gives clients a range of options for healing physically, mentally, and spiritually. Therapies at this holistic treatment center include yoga, guided meditation, acupuncture, nutritional and fitness counseling, light and sound neurotherapy, personal training, boating, and Tai Chi. All these therapies help relieve stress and restore balance to the addict's body which helps them progress to recovery.
Bluff Plantation: Learning to Embrace Sobriety
Bluff plantation offers a premium holistic addiction treatment program that provides opportunities for the clients to participate in activities that improve the health and well-being of the whole person – mind, body, and spirit. The holistic treatment therapies include a nutritional program, yoga, meditation, and various exercise options. The overall environment at the holistic rehabilitation center is a spiritually nourishing one where all clients reconnect with a higher power and find meaning and purpose in life.
Holistic Vs. Traditional Rehab: What's The Difference?
Holistic and traditional rehab centers have certain differences among them, some of which are discussed below:
Treatment Approaches
The main difference when comparing traditional vs. holistic rehab centers is the approach these facilities tend to take in providing the individual with treatment for their addiction.
With a traditional rehabilitation facility, the view is that the person is entirely separate from the addiction. However, treatment programs will be offered to individuals at these centers to address the addiction – and through that, the person is expected to heal from substance abuse disorder they have succumbed to.
Things are somewhat different when looking at holistic drug treatment centers.
Undergoing holistic drug rehabilitation usually addresses the person and the addiction they suffer from as a single entity. The program will help the individual heal by focusing on body, mind, and even a spiritual approach to ensure that a person can overcome the disorder.
Medications During Detox, Withdrawal, and Treatment
Traditional rehabs usually use a variety of prescribed medications during detoxification and withdrawal, after which a medically assisted recovery program is created for each individual. New medications may be added to the client's program to manage cravings or limit rewards associated with continued drug use during the treatment. On the contrary, spiritual treatment approaches try to minimize the introduction of new chemicals and medications into the body to cleanse itself from the toxins.
Therapies
The therapies offered at a traditional rehab mainly focus on evidence-based modalities such as CBT, DBT, Motivational Interviewing, EMDR, and others. In holistic rehab, apart from these traditional therapies, more focus is on holistic and spiritual approaches such as yoga, meditation, massage therapy, herbal remedies, nutritional therapy, and others.
Benefits Of Holistic Rehabs
There are many holistic recovery center benefits that people should consider if they find that traditional treatments do not work for them. The major benefit is the fact that the person is targeted in the procedure instead of the addiction. Furthermore, a holistic treatment center will focus on the person as a whole – and provide services that address all areas of the patient's well-being.
Some Benefits to Be Expected When Looking at What Is Holistic Rehab Might Include:
Improvements in diet are made to help the person's physical health improve by providing their body with the right nutrients. Nutrient deficiencies are found to be shared among individuals who abuse drugs and alcohol.
Meditation exercises, along with tai chi and yoga, are often introduced to the individual. This helps the person find inner peace with themselves and plays a vital role in their road toward successful recovery.
The person is often also provided access to sports and physical activities. This helps them improve their muscle mass and work on body composition, which is another area where people with SUD often fall short. These activities may include hiking, riding a bike, and swimming. For patients who do feel weak, even simple physical exercises like taking a walk every day could be beneficial.
The clients are offered complementary therapies such as acupuncture and massage that help them feel relaxed and comfortable.
Clients are also offered alternative therapies such as psychotherapy, music therapy, art therapy, and animal-assisted therapy. All these complementary therapies help the patient to express themselves more productively and positively.
The location of many holistic drug and alcohol rehab centers is often also considered a benefit. Since such centers are usually located in scenic locations, clients are offered an opportunity to be closer to nature such as lakes, mountains, and ocean shores. All these scenic areas allow the person to get in touch with nature.
What To Look For In A Holistic Facility
Finding the right holistic treatment center is critical to ensure a full recovery. When looking for a holistic rehab near me, clients should look for the following factors.
A good idea would always be to collect information about more than one holistic drug rehabilitation treatment center in the area. Some research would then be needed to gain more insight into each of these treatment facilities.
In different holistic rehabs, one should look for the types of treatment programs that they offer. One should find out about what kinds of therapies are offered, whether they are evidence-based and shown to be effective, and whether the activities and therapies offered are the ones that the client would be comfortable with.
One of the most critical questions that a person should ask a holistic recovery center is about their success rate. When the facility does state that they have a high success rate, they should be able to and willing to provide proof of their claims.
Another factor to look out for in a holistic recovery center is the duration of the treatment program. Different programs of different lengths are offered by rehab centers; some are of 30-60 days duration, whereas others can be long-term. Depending on the client's requirements and needs, a particular length of the program can be chosen.
Another factor to consider is pricing, as some of these holistic drug and alcohol rehab centers can get very pricey – especially when looking at those that offer inpatient treatments in scenic settings. Insurance may not cover such options. Individuals who do need access to an affordable holistic drug and alcohol rehab will have a more limited number of options to choose from. Requiring a treatment program that is more affordable, however, does not mean the person should not ask for proof on the efficacy of the facility's approach to drug and alcohol addiction.
The credentials of the staff are another important factor to consider while choosing a rehab center. The staff should be adequately qualified and trained to handle the client's problems. The staff-to-patient ratio should also be considered to ensure better success.
The rehab facility should also be accredited so as to know that it is in compliance with state and federal treatment regulations.
Lastly, the factor to consider before choosing a holistic recovery center is to find out what kind of follow-up or aftercare they provide. A center with an effective aftercare plan like sober living and support groups will help the client to maintain sobriety after completion of treatment.
How To Know If Holistic Rehabilitation Is A Right Choice
Each person is different, which is one of the factors that makes setting up treatment programs for substance abuse disorder so tricky. A program that works well for one person may not have the same effects on another.
Individuals Interested in Finding an Addiction Treatment Center Will Fall Into One of Two Groups:
They have tried a traditional addiction treatment program in the past, but it did not work effectively for them.
They have done the research and compared spiritual versus traditional treatment, and found the holistic approach to drug rehabilitation more suitable to their own beliefs.
Whether holistic therapy for drug rehabilitation will work for a person depends on how well they will be able to stick to the program. The program may be highly beneficial for some people, as there are studies that show success rates with an approach to treating a substance abuse disorder. This, however, is not the case with every person.
It is also important to note that different types of facilities do exist. Thus, the person should be admitted to one that is appropriate for them. A person under the age of 20, for example, might need to be enrolled in a holistic rehabilitation center that offers explicitly spiritual teenage drug rehabilitation services.
How To Find The Right Holistic Rehabilitation Program?
Since the use of holistic alcohol and drug rehab is only gaining in popularity now, the choices a person can choose from compared to traditional facilities may feel somewhat limited. However, there are ways in which one can find the right holistic program for themselves.
Some of These Ways Are Discussed Below:
For most people, the internet is one of the very first resources that will help them find a holistic rehab near me.
It is always important to consider any reviews and testimonies that have been left by previous patients. These reviews can be found directly on Google when searching for holistic addiction treatment centers.
By taking a look at the experiences of former patients, a person with substance use disorder or their loved ones can gain more insight into how effective the treatments at the specific center seem to be.
When searching for holistic drug rehabilitation centers, it is also essential to take into account whether an addicted person needs to be admitted to a residential program. If this is the case, the facility will need to offer such a program, as many of these centers only feature outpatient programs.
If money is a particular problem when looking for a facility, then looking for the free rehab centers that offer spiritual treatments is something the individual will need to take into consideration.
Find the best treatment options. Call our free and confidential helpline
Find Drug Rehabilitation Centers Near You Anywhere In the US
Addiction Resource team has compiled an extensive list of the top drug rehabilitation facilities around the country. Click on the state you are interested in, and you'll get a list of the best centers in the area, along with their levels of care, working hours, and contact information. Haven't found the rehab you need? Call the toll-free helpline below for professional assistance.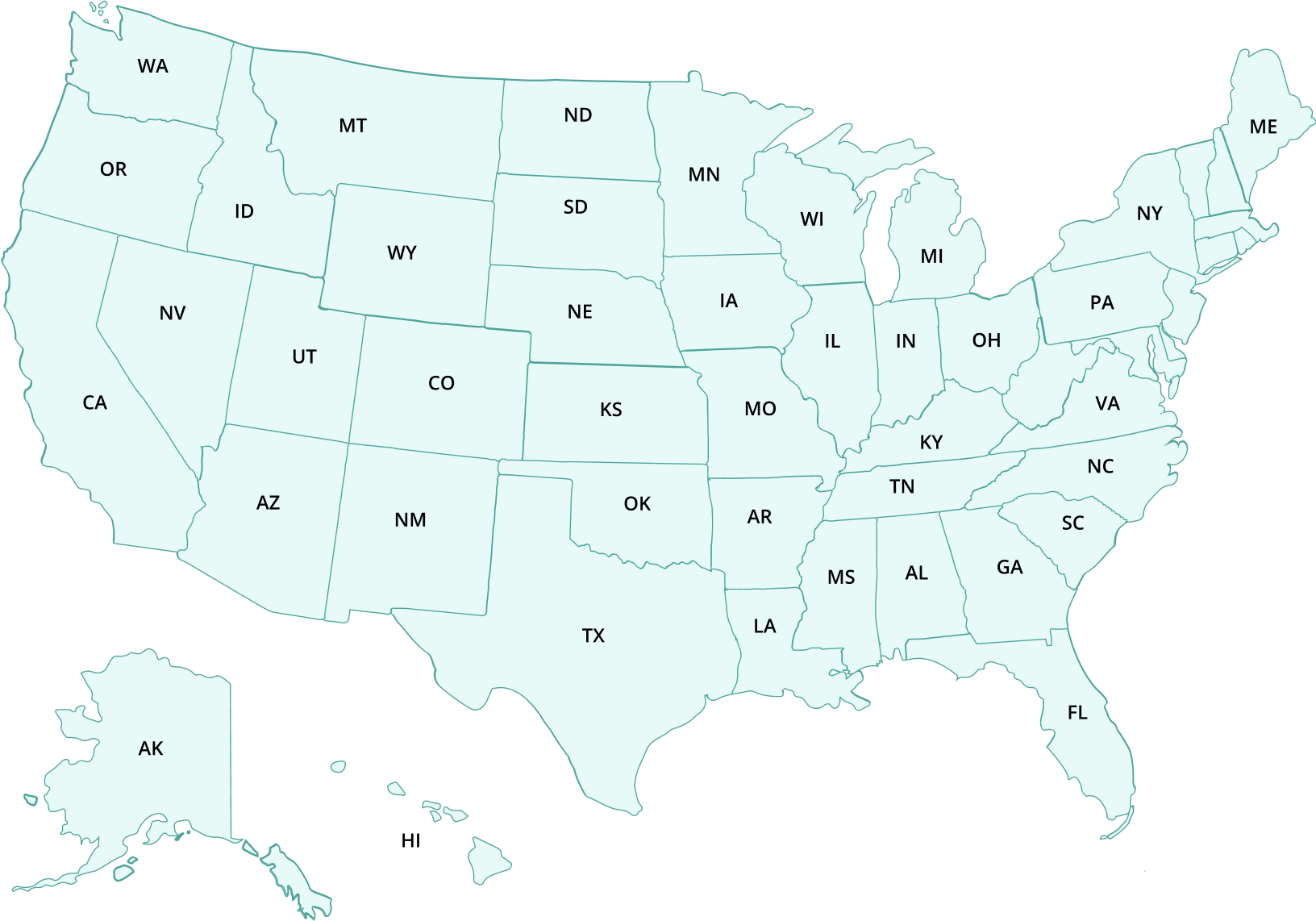 ---
Page Sources
Breslin, K. T., Reed, M. R., & Malone, S. B. (2003). A holistic approach to substance abuse treatment. Journal of psychoactive drugs, 35(2), 247-251.https://www.ncbi.nlm.nih.gov/pubmed/12924747.
Aletraris, L., Paino, M., Edmond, M. B., Roman, P. M., & Bride, B. E. (2014). The use of art and music therapy in substance abuse treatment programs. Journal of addictions nursing, 25(4), 190. https://www.ncbi.nlm.nih.gov/pmc/articles/PMC4268880/.
Treatment Approaches for Drug Addiction DrugFacts | National Institute on Drug Abuse. National Institute on Drug Abuse. https://www.drugabuse.gov/publications/drugfacts/treatment-approaches-drug-addiction.
Key Substance Use and Mental Health Indicators in the United States: Results from the 2018 National Survey on Drug Use and Health. SAMHSA. (2018). https://www.samhsa.gov/data/sites/default/files/cbhsq-reports/NSDUHNationalFindingsReport2018/NSDUHNationalFindingsReport2018.pdf.
Upchurch, D. M., Gill, M., Jiang, L., Prelip, M., & Slusser, W. (2018). Use of mind-body therapies among young adults aged 18–24 years: Findings from the 2012 national health interview survey. Journal of Adolescent Health, 63(2), 227-232. https://pubmed.ncbi.nlm.nih.gov/29970333/
National Health Interview Survey 2017. NIH. (2017). https://www.nccih.nih.gov/research/statistics/nhis/2017.