Pennsylvania is a state with many famous universities and a rich cultural and intellectual scene. It has various strong industries, particularly concentrated in and around the city of Philadelphia. Unfortunately, Pennsylvania is also home to a population with drug abuse and addiction rates that are much higher than the national average. Thus, rehabilitation facilities in PA meet a dire and urgent need for support and treatment. The good news is that there is no shortage of Pennsylvania drug rehab centers.
Top 7 Rehab Centers in Pennsylvania
Below are our choices for the top 7 Pennsylvania drug rehab centers. We have thoroughly investigated different factors, such as relapse rates, alumni reviews, levels of care, types of treatment, and many other variables that can facilitate the rehabilitation process.
Greenbriar Treatment Center, Washington, PA
The motto of this drug rehab in Pennsylvania is the emotionally charged "Restoring Hope… Recovering Lives." This rehab facility in PA has sufficient capacity to offer specialized care but is compact enough to take individual needs into account. It offers a variety of services, including dual diagnosis programs, individual counseling, partial programming, and sober living facilities.
This rehab facility in PA takes into consideration that substance abuse affects every facet of a person's life. Their qualified, professional staff approach each case from both a physiological and psychological standpoint. They use traditional twelve-step programs throughout the course of treatment, which starts with detox and finishes with outpatient therapy.
Fairmount Behavioral Health System, Philadelphia, PA
This Pennsylvania rehab center puts an emphasis on the client's mental health. They help treat and cope with various types of trauma and disorders such as addictive personality disorder, obsessive-compulsive disorder, bipolar disorder, and schizophrenia.
Of course, mental illness isn't the sole focus of this center – it treats all types of substance addiction and caters to both teens and adults. Choosing this facility will give you access to a program with very high success rates.
White Deer Run, Allenwood, PA
This reputable, highly recommended, professional detox center in Pennsylvania offers a wide variety of services, including residential and outpatient programs, online help and services, daytime and specialty therapy, medication-assisted detox, and treatment programs.
The rehab facility's halfway houses are available to teens and adults undergoing addiction treatment. Many of their patients have enjoyed excellent outcomes.
Abraxas, Marienville, PA
Abraxas rounds out the list of the top 7 drug rehabs in Pennsylvania. The facility focuses on teens and young adults with a history of mental illness, emotional problems, behavior issues, such as delinquency and theft, and substance abuse and addiction.
This center offers services for adults as well and helps adult addicts recover from heroin, prescription medication, cocaine, and alcohol dependencies.
Bradford Recovery Center, Millerton, PA
Bradford Recovery Center is a Pennsylvania drug rehab that specializes in providing the highest quality of personalized care and treatment to individuals struggling with substance abuse and co-occurring disorders. Clients are offered treatment services in a safe and dignified environment.
The services offered at this Pennsylvania drug rehab center include various therapies such as medical detox, individual therapy, group therapy, family therapy, and detailed discharge planning. Apart from inpatient drug rehabilitation PA and outpatient treatment services, the center also offers aftercare support which ensures that clients are able to show continued progress by transitioning out of the residential program slowly and effectively.
Bowling Green Brandywine Treatment Center, Kennett Square, PA
Bowling Green Brandywine is a Pennsylvania drug rehab that has been providing the highest quality of care and treatment services to men and women struggling with substance abuse and dual diagnosis disorders. The treatment methodologies at the center include research-based and evidence-supported methods and therapies. Clients are offered treatment through medical, pharmacological, clinical, behavioral, and 12-step interventions.
The staff at this Pennsylvania drug rehab center continuously strive to work with honesty, compassion, dedication, and diligence. Each client is offered a treatment plan that is based on his/her unique requirements and needs. This ensures that they can achieve sobriety and recovery with better success.
DreamLife Recovery, Donegal, PA
DreamLife Recovery is a Pennsylvania drug rehab that holds the highest standards in providing exceptional services to its clients. The staff at the center offers comprehensive treatment services to men and women in a supportive and healing environment. The treatment approaches are targeted towards the mental, physical, and spiritual well-being of the clients.
The treatment is offered through detox programs, residential programs, and aftercare services. Clients are offered individualized treatment plans tailored according to their specific needs. Through individual to group counseling to other evidence-based therapies, clients are able to achieve lasting sobriety and recovery.
Pennsylvania Addiction Treatment Rates
SAMHSA data show treatment rates for alcohol addiction almost hit rock bottom in 2014 – just 6.4% of alcohol addicts received help that year. 17.5% of drug addicts got help at a Pennsylvania rehab center. This means that over four-fifths of all addicts remained untreated. Of all the people undergoing drug rehab in Pennsylvania, 25.1% were getting help for addiction to alcohol, 33.0% were in rehab for drug addiction, and just over 45% – for both. Among individuals over the age of 12 who were addicted to alcohol, just over 10% found their way into one of the many detox centers in Pennsylvania between 2009 and 2013.
Addiction and Mental Health Data
Data from SAMHSA for the period of 2013-2014 show 395,000 adults in Pennsylvania suffered from a grave mental illness, with most of them experiencing suicidal thoughts. Less than 50% had access to counseling. The fact that a majority of mental health illnesses are not being treated and there is a likelihood of there being many more that have not been diagnosed, experts believe the high alcohol and drug addiction rates in Pennsylvania are at least in part owing to addicts' self-medicating other issues. Fortunately, the high number of rehabilitation facilities in PA helps reverse this tendency.
Drug Abuse Statistics In Pennsylvania
Statistics of the National Institute on Drug Abuse indicate a number of worrying tendencies – the rate of opioid-related deaths in Pennsylvania in 2016 was 18.5 per 100,000 people, a total of 2,235. This is almost 50% higher than the national rate of 13.3. Over the past decade, the number of opioid-related deaths resulting from an overdose has gone up in all categories. This increase is most notable when it comes to synthetic opioid overdose deaths, which went up from 98 in 2010 to 1309 in 2018. Heroin overdose deaths increased fivefold, and prescription drug-related overdoses with fatal outcomes more than doubled.
Reports indicate that more than 75,000 residents of the state have experimented with controlled substances and an estimated 5 million people drink alcohol. This implies that a sizeable number of individuals may be suffering from some type of addiction.
Each year, the USA reports thousands of drug overdose deaths. The problem of alcohol and substance abuse needs to be tackled at the grass root levels in order to ensure that the nation can be rid free of it.
Some of the drug abuse statistics in the state of Pennsylvania are listed below:
According to the DEA's report about the opioid threat in Pennsylvania, the state experienced 5,456 drug-related overdose deaths in 2017.
According to the National Institute on Drug Abuse Report of 2018, about 23.8% of the drug overdose deaths in Pennsylvania resulted from the use of opioids.
Drug Overdose of Fentanyl
Based on a report about drug-related overdose deaths in 2018, 70% of the drug overdose deaths in Pennsylvania involved Fentanyl.
Drug Laws In Pennsylvania
The State of Pennsylvania divides controlled dangerous substances into five schedules. These schedules are categorized according to their potential for abuse and the therapeutic value of the substance. Schedule I is considered the most dangerous, where Schedule V is the least dangerous one.
The following table represents some of the drug classifications in the state and the corresponding Pennsylvania drug laws and penalties.
| | | | |
| --- | --- | --- | --- |
| Classification | Substances Included | Criminal Charges | Sentencing |
| Schedule I Drugs | Heroin,  LSD, Ecstasy, GHB, Peyote | Felony | Up to 10 years in prison and $15,000 fine |
| Schedule II Drugs | Cocaine, Amphetamine, Meth, Oxycodone | Felony | Up to 5 years in prison and $15,000 fine |
| Schedule III Drugs | Anabolic steroids, Codeine, Ketamine, Vicodin | Felony | Up to 5 years in jail and $15,000 fine |
| Schedule IV Drugs | Benzodiazepines, Xanax, Valium, Soma | Felony | Up to 3 years in jail and upto $10,000 fine |
| Schedule V Drugs | Cough suppressants with some amounts of Codeine | Misdemeanor | Upto 1 year in jail and $5,000 fine |
Is Weed Legal In Pennsylvania?
The possession of marijuana is considered illegal in the state of Pennsylvania, and the possessor will have to face criminal charges in the state.
The table below shows some of the Pennsylvania weed laws and possible sentencing that one might face in the state with regards to marijuana possession.
| | | | |
| --- | --- | --- | --- |
| Classification | Substances Included | Criminal Charges | Sentencing |
| Marijuana possession | 30g or less | Misdemeanor | Upto 30 days in jail and $500 fine |
| Marijuana possession | More than 30g | Misdemeanor | Upto 1 year in jail and upto $5,000 fine |
Getting Help: Hope For The Future
The recovery facilities in the Cornerstone State reviewed in this article have one thing in common, apart from professionalism and excellent success rates: their therapists are well aware of the fact that addiction isn't something people can just turn their backs on. The type of treatment modality one chooses, whether residential, outpatient, daytime, or specialty, should be based on a variety of factors. For example, in the case of severe addiction, we recommend inpatient drug rehabilitation PA.
Find the best treatment options. Call our free and confidential helpline
Find Drug Rehabilitation Centers Near You Anywhere In the US
Addiction Resource team has compiled an extensive list of the top drug rehabilitation facilities around the country. Click on the state you are interested in, and you'll get a list of the best centers in the area, along with their levels of care, working hours, and contact information. Haven't found the rehab you need? Call the toll-free helpline below for professional assistance.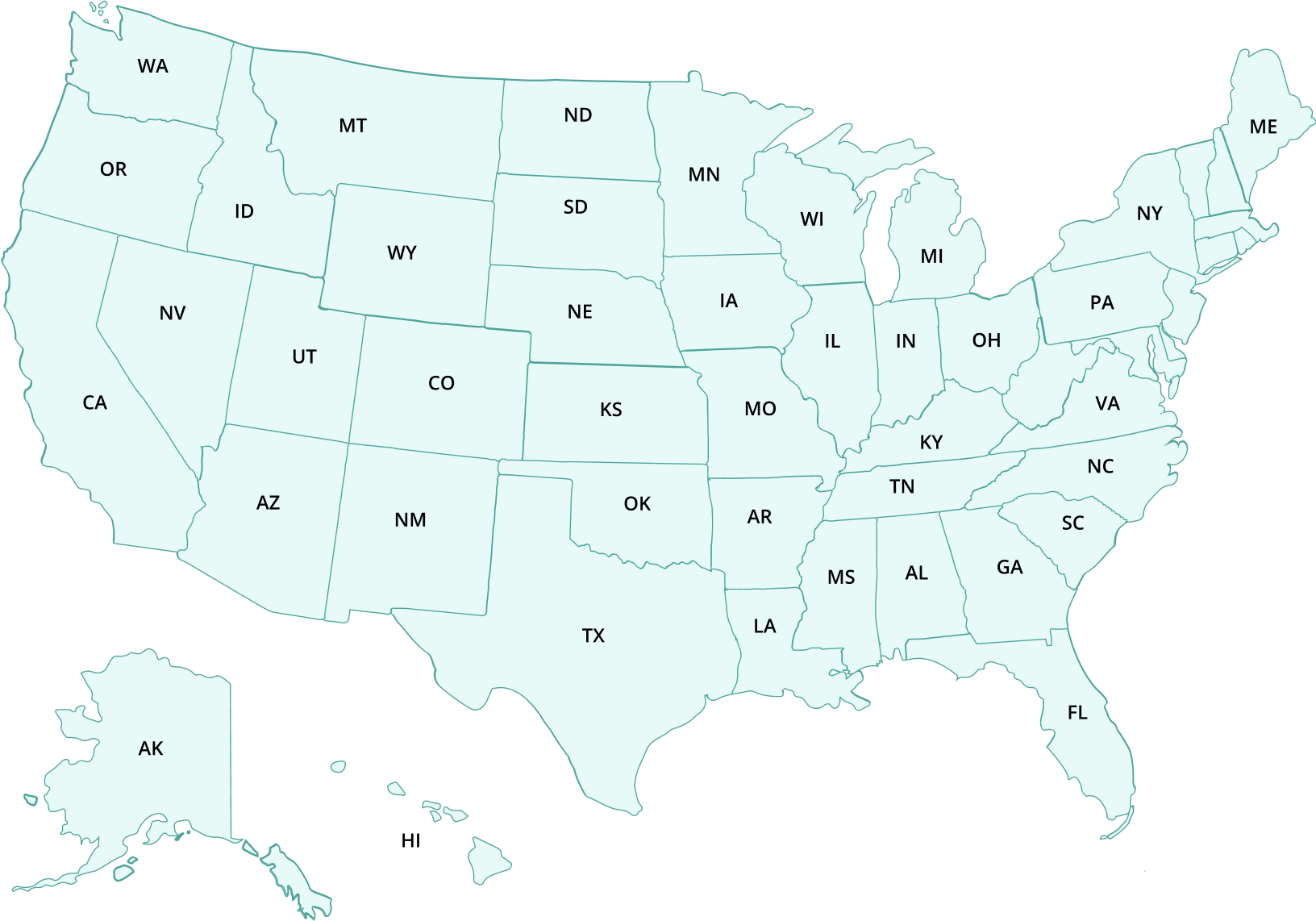 ---
Page Sources
The Opioid Threat in Pennsylvania. Dea.gov. (2018). https://www.dea.gov/sites/default/files/2018-10/PA%20Opioid%20Report%20Final%20FINAL.pdf.
Pennsylvania: Opioid-Involved Deaths and Related Harms | National Institute on Drug Abuse. National Institute on Drug Abuse. (2019). https://www.drugabuse.gov/drug-topics/opioids/opioid-summaries-by-state/pennsylvania-opioid-involved-deaths-related-harms.
Death Data Overview – OverdoseFreePA. Overdosefreepa.pitt.edu. (2018). https://www.overdosefreepa.pitt.edu/know-the-facts/death-data-overview/.