Addiction does not discriminate. People from any walk of life or socioeconomic status can succumb to substance abuse. Because of the addictive nature of alcohol and illicit drugs, recovery requires a comprehensive addiction treatment plan. Private drug rehab centers provide a safe, comfortable, and secure environment where those on recovery can focus on the intensive therapies necessary to get their life back on track.
At a private rehab center, each patient has the privacy of their room. Inpatient private alcohol treatment centers offer comprehensive programs with good success rates and a reduced chance of relapse. Although there is less freedom than an outpatient program, a private detox center's focused and structured environment is conducive to an increased likelihood of completing addiction treatment and lasting results. Read on to discover the advantages and cost of treatment at private alcohol rehab and recovery centers for substance abuse.
Private Rehabilitation Programs: An Overview
Seeking treatment for drug or alcohol addiction is a highly personal matter. A lack of distractions and privacy help people with substance use disorder stay focused on recovery. Private drug rehabilitation centers ensure confidentiality. Individuals who wish to avoid the complications of getting addiction treatment at state-funded facilities are good candidates for recovery at a private drug rehab center.
Although treatment at a private alcohol rehab center undoubtedly costs more, there is usually a shorter waiting list to receive therapy at these facilities. Studies have shown that people who experience long waiting times are less likely to ever seek addiction treatment. Long waiting times are also associated with more severe problems related to drug and alcohol use. A private rehab center offers expedited help, and in many cases, treatment on demand.
Because of their extensive financial resources, luxury or executive rehabilitation clinics can employ highly qualified staff and offer top-notch amenities. Residents at a private alcohol treatment center are guaranteed anonymity and seclusion to complete the recovery process. The wide range of focused and customized services at such facilities ensure that each patient's unique needs are addressed for the best chance of success. Private drug rehab is especially suitable for people with sensitive jobs, such as public figures and celebrities, high-level executives, and government officials.
The success rate at private rehabilitation centers is good because people with addiction problems receive focused attention, one-on-one sessions with highly qualified therapists and healthcare providers, customized treatment plans, a holistic approach to recovery, and more in-depth follow-up after completing the inpatient program.
Benefits of Treatment at Private Rehabilitation Clinics
Private addiction treatment centers offer some key advantages, which are summarized below:
Addiction recovery in privacy, seclusion, and anonymity
A wide array of treatment options
Customized treatment plans
Treatment for dual diagnoses (mental health issues, relationship problems)
Long-term rehabilitation programs of 60-90 days
Better amenities in rooms and public areas
Scenic location with peace and quiet for stress relief and relaxation
Activities such as yoga, meditation, swimming, and horse riding
Low staff-to-patient ratio
Less waiting time
Onsite accommodation for family members
In-depth aftercare and relapse prevention
Cons of Private Rehab Centers
Although private rehabilitation clinics do have their advantages, there are certain disadvantages associated with them as well. Some of these are listed below:
The most obvious disadvantage of a private rehab center is its higher cost.
Most private rehab centers do not provide insurance billing or accept insurance payments for their services. Or they may accept some percentage from insurance companies, whereas the remaining amount will have to be managed by the client.
Since private rehab centers usually offer a private and serene setting to their clients, they are usually located outside the mainstream city and far-off locations. This can become quite hectic for some people, especially for the ones attending outpatient rehab.
Another disadvantage of a private rehab clinic might be that the client finds himself/herself surrounded by other clients who are not comfortable with it. Of course, this can happen in a public facility as well. Still, in a private facility, one is paying a lot of money, so it can become even more troublesome for the client considering the amount they are paying while still not feeling comfortable.
5 Best Private Rehab Networks in The US
Private rehabilitation clinics offer many types of addiction treatment programs in beautiful and serene locations. Below are 5 of the best private rehabs in the US.
Betty Ford Treatment Centers: Addiction and Mental Health Treatment That Works
Hazelden Betty Ford has been providing compassionate care and specialized services to individuals with different types of addictions for more than 70 years. Their facilities are located in several states, including California, Colorado, Florida, Illinois, Minnesota, New York, Ohio, Oregon, and Washington. The facilities deal with addictions of Adderall, alcoholism, benzodiazepines, cocaine, marijuana, methamphetamine, opioids, heroin, and others in residential, inpatient, and partial hospitalization settings. They also have specialized treatment programs for teens, young adults, older adults, women, the LBGTQ community, and professionals. These specialized treatment programs ensure better success rates for recovery and relapse prevention.
This private rehabilitation center also offers mental health treatment services along with the sober living for men and women. The evidence-based treatments include the following therapies:
Acceptance Commitment Therapy
Cognitive Behavioral Therapy
Contingency Management/ Motivational Incentives
Dialectical Behavioral Therapy
Interpersonal Therapy
Medication-Assisted Therapies
Mindfulness-Based Cognitive Therapy
Motivational Enhancement Therapy
Motivational Interviewing
Psychoeducational Groups
Solution Focused Therapy
12-Step Facilitation
Journey Pure: Recovery With The Help of Nature
Journey Pure is a high-quality private rehabilitation center that offers its services in various locations. With their evidence-based and research-backed treatment modalities, they are able to bring about a positive change in the lives of their clients. They offer inpatient and outpatient treatment programs in Kentucky and Tennessee in 11 different locations. They offer substance abuse treatment for various drugs and alcohol along with mental health problems and co-occurring disorders. They also accept insurance from major insurance companies.
The Therapies at the Center Include a Wide Range of Research-Based Experiential and Holistic Therapies That Include the Following:
Cognitive-Behavioral Therapies (CBT)
Dialectical Behavioral Therapy (DBT)
Mindfulness-Based Cognitive Therapy (MBCT)
Music Therapy
Art Therapy
Equine Therapy
Adventure Therapy
Yoga
Kayaking
Ropes Course
Nutrition
Social Bonding
Relapse Prevention
Family Counseling
2-Day Family Program
Aftercare Coordination
Banyan Treatment Centers: Providing Growth Through Recovery
Banyan Treatment Centers span a complete network of providing detox, mental health, and addiction treatment facilities across the country. These locations are:
Baldwinville, MA
Chicago, IL
Philadelphia, PA
Boca Raton, FL
Lake Worth, FL
Palm Beach, FL
Milford, DE
Boston, MA
Gilman, IL
Laurel Run, PA
Stuart, FL
Pompano Beach, FL
Cathedral City, CA
Waelder, TX
They treat a number of addictions, including alcoholism, cocaine, heroin, meth, opiates, prescription drugs, benzodiazepines, and methadone. They also offer services for mental health issues and co-occurring disorders. The treatment is offered in detox, intensive inpatient, residential, stabilization, partial hospitalization, intensive outpatient, outpatient, and intervention settings. The therapies at this center include dialectical behavioral therapy, biofeedback, equine therapy, EMDR therapy, gestalt therapy, family counseling, pet therapy, and others. The centers also offer specialized treatment programs for the LGBT community.
Southeast Addiction Center: The Path To A New Life
Southeast Addiction Center is a premium and upscale drug and alcohol addiction treatment center that offers its services in Georgia and Tennessee. They provide personalized treatment plans for each client that is based on their unique needs and requirements. Their services are offered in partial hospitalization programs, intensive outpatient programs, and outpatient programs. They excel in offering medication-assisted treatment in conjunction with therapy, counseling, and cognitive behavioral therapy. They also offer relapse prevention, holistic treatment, family program, alumni program, and Vivitrol maintenance.
The Center Treats Several Addictions and Disorders, Including:
Alcohol
Cocaine
Fentanyl
GHB
Heroin
Opioid
ADHD
Anxiety disorder
Bipolar Disorder
Borderline Personality Disorder
Depression
Obsessive-Compulsive Disorder
Panic Disorder
PTSD and Trauma
Suicidal Ideation
American Addiction Centers: Your Recovery Begins Here
American Addiction Centers specialize in providing evidence-based treatment and mental health care that is tailored to each individual's unique case and needs. It has multiple locations in the states of California, Florida, Mississippi, Massachusetts, New Jersey, Nevada, Texas, Rhode Island, and others. The facilities are located along beaches and in the wilderness, where clients are given the opportunity to explore nature as part of their treatment.
They also offer multiple levels of care through medical detox, inpatient, outpatient, residential, therapy treatment, co-occurring disorders treatment, sober living, and aftercare. Depending on individual cases, the length of stay can be anywhere from 30-, 60-, and 90-day rehab.
This Private Rehabilitation Center Treats the Clients Through Various Therapies, Including:
Medication-Assisted Therapy
Family Therapy
Cognitive Behavioral Therapy
Dialectical Behavioral Therapy
EMDR
Wilderness Therapy
Animal Assisted Therapy
Music Therapy
Yoga Therapy
Art Therapy
Cost of Treatment at a Private Rehab
There are many benefits of private rehabilitation programs, but they come at a cost, typically a few thousand dollars per week. Since most substance abuse recovery programs typically run for 60-90 days, addiction treatment at such clinics is largely unaffordable for the general public.
Many private drug rehab centers offer financial planning and staggered payment plans. However, the expense of addiction treatment at these facilities can still be cost-prohibitive for most people. Insurance companies do not usually cover the cost of recovery at such centers or pay only partially for treatment at private rehab facilities. The good news is that the Affordable Care Act requires health insurance companies to provide coverage for substance abuse treatment. It is best to check with the rehab center whether insurance coverage is available for a particular plan.
How much does private drug rehab cost?
A short-term rehab program at a private rehab clinic of 28 or 30 days can cost about $25,000. There are reports of some centers charging nearly $50,000 for a month-long stay. The most luxurious rehabilitation centers reportedly cost $180,000 a month. The least expensive facilities cost $7,500 for a 30-day program at the lower end of the spectrum. Thus, the average cost of treatment at a private drug rehabilitation center is between $10,000 and $20,000 per month. Add to this the cost of travel to a secluded location, and treatment at private rehabilitation facilities becomes out of reach for many Americans.
It is worth remembering that the costs of substance abuse are considerable in addition to the adverse health consequences of addiction. For example, prescription pain pills can cost as much as $30,000 each year. A dependence lasting several years can set a patient back by a considerable sum of money. Add to this the cost of medical treatment and lost wages, and the cost of addiction becomes phenomenal. Private rehab, although expensive, has a proven success rate and saves the individual from years of financial loss due to addiction. Of course, rehab pays off in many other ways, including a happy, healthy life, good health, and renewed relationships.
Is a Private Rehab Center A Right Choice?
Given the high cost of private treatment for substance abuse, choosing the best program is critical. But, how can one know if private drug rehab is the right choice? There are several factors to consider, which are discussed below.
Treatment Options
The private recovery center should offer all the behavioral therapies and treatment modalities needed to address the patient's unique needs. This includes services for dual diagnoses, such as stress, PTSD, and underlying mental health issues that influence treatment.
Location
This is a key factor. Private rehab centers are often located in secluded locations, which have their advantages in terms of being conducive to recovery, but transportation logistics must be taken into account. It is also important to factor in the convenience (or inconvenience) of returning for outpatient services. One cannot undermine the benefits of escaping to a secluded, scenic location to recover in peace and focus on rehab. On the other hand, public facilities are usually located in dense, urban areas.
Amenities
When someone is paying thousands of dollars for drug or alcohol rehabilitation, a check of the amenities and activities offered at the recovery center is warranted. Private drug rehabs usually offer top-of-the-line amenities as compared to public rehabs.
Staff-to-Patient Ratio
Private rehab facilities have a low staff-to-patient ratio which ensures focused attention and customization of the recovery plan. However, since public facilities have limited budgets, their staff-to-patient ratio is quite high, making it difficult for the clients to receive undivided attention from the staff.
Credentials of Medical Professionals
The best private drug rehabilitation centers employ qualified professionals with certification from the American Board of Addiction Medicine. However, this may not be the case in a public rehab center where staff members are paid less, so highly qualified medical professionals may not opt to work for lesser pay.
Aftercare
Relapse prevention is a critical component of addiction recovery. After leaving the facility, a good private drug rehabilitation center offers continued support, including 12-step programs, group therapy sessions, and ongoing behavioral counseling. This may not be available in public rehabs since they are short of money and thus, may not offer aftercare services.
Success Rate
It is a good idea to ask questions about recovery rates and performance statistics. Check the success ratio of various treatment plans and read reviews. Some facilities are able to put prospective clients in touch with former clients. Private rehab facilities may have better success rates because of the focused attention given to clients and follow-up services than public rehabs.
Family Accommodation and Joint Therapy
Spouses, children, parents, and siblings play a critical role in recovery. Onsite accommodation for family members is incredibly useful for substance abusers with children. In addition, joint therapy sessions and family involvement are of vital importance for rehabilitation from drug abuse. Therefore, the availability of family therapy is an important deciding factor in choosing a rehab facility. Many private rehab facilities offer this type of accommodation, but this is not common in public rehabs.
Payment Plans
Considering that private drug rehabilitation is so expensive as compared to public rehabs, the payment plans offered by a center are a critical deciding factor. Insurance coverage also needs to be taken into account.
Get Enrolled In A Private Rehabilitation Center Today
There is hope and help for anyone who is suffering from substance abuse and mental health problems if they want to change their lives. And although the option of private rehabilitation may seem daunting at first because of its high cost, its advantages greatly surpass all of its cons. Through their high-quality treatment services and compassionate care of qualified staff, anyone can start their journey towards recovery and achieve permanent sobriety.
Find the best treatment options. Call our free and confidential helpline
Find Drug Rehabilitation Centers Near You Anywhere In the US
Addiction Resource team has compiled an extensive list of the top drug rehabilitation facilities around the country. Click on the state you are interested in, and you'll get a list of the best centers in the area, along with their levels of care, working hours, and contact information. Haven't found the rehab you need? Call the toll-free helpline below for professional assistance.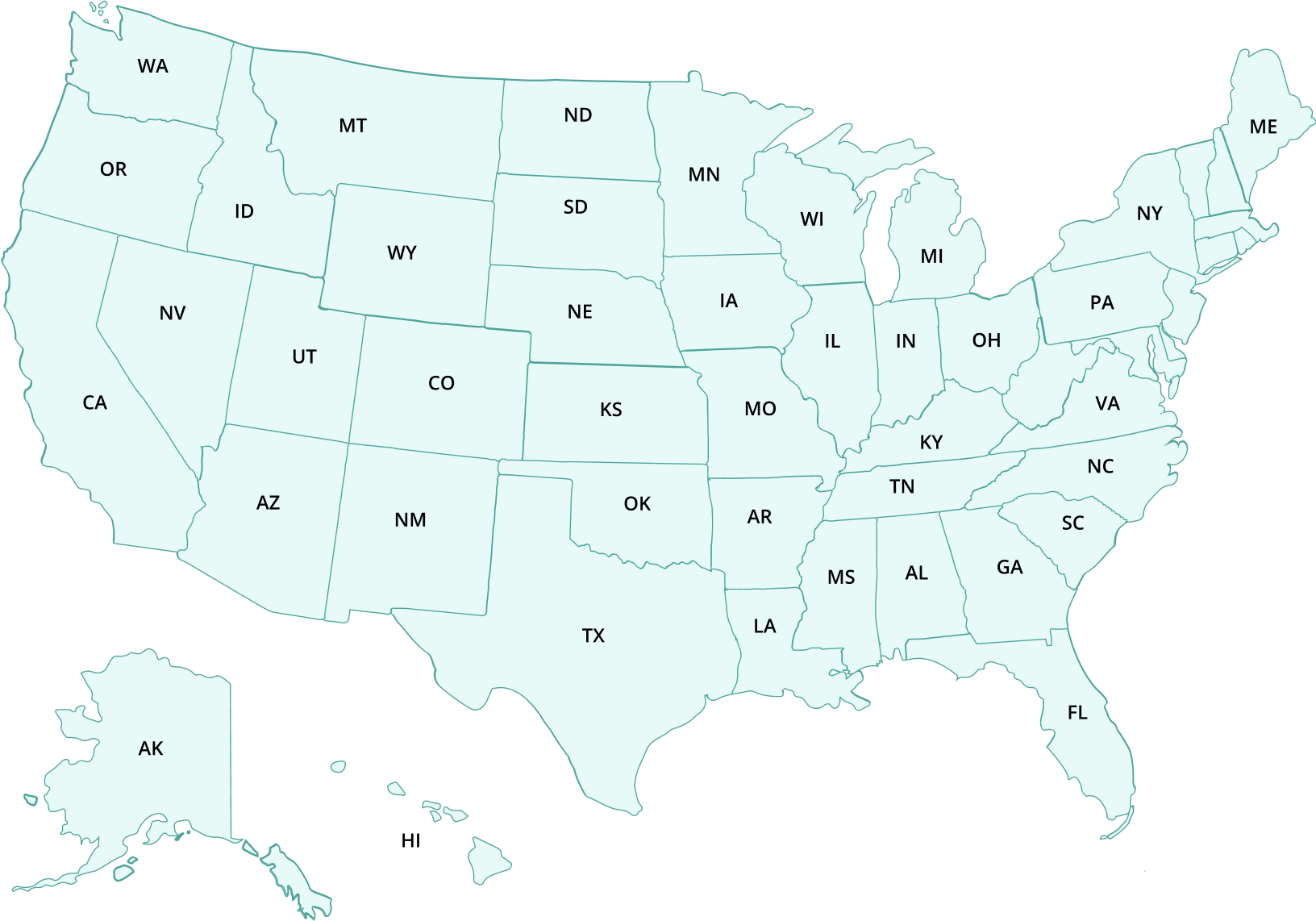 ---
Page Sources
Trends & Statistics | National Institute on Drug Abuse. National Institute on Drug Abuse. https://www.drugabuse.gov/related-topics/trends-statistics
Redko, C., Rapp, R. C., & Carlson, R. G. (2006). Waiting time as a barrier to treatment entry: perceptions of substance users. Journal of Drug Issues, 36(4), 831-852., https://www.ncbi.nlm.nih.gov/pmc/articles/PMC2396562/
Abuse, S., US, M. H. S. A., & Office of the Surgeon General (US. (2016). Early intervention, treatment, and management of substance use disorders. In Facing Addiction in America: The Surgeon General's Report on Alcohol, Drugs, and Health [Internet]. US Department of Health and Human Services., https://www.ncbi.nlm.nih.gov/books/NBK424859/
A Guide to Substance Abuse Services for Primary Care Clinicians. (2000) (1st ed., p. Treatment Improvement Protocol (TIP) Series, No. 24. Center for Substance Abuse Treatment. Rockville (MD)., https://www.ncbi.nlm.nih.gov/books/NBK64815/
Bowen, D. J., Neill, J. T., & Crisp, S. J. (2016). Wilderness adventure therapy effects on the mental health of youth participants. Evaluation and program planning, 58, 49-59., https://pubmed.ncbi.nlm.nih.gov/27311098/