Alcohol is the most widely abused substance in the United States, and many users combine it with other prescription and illegal drugs to enhance their effects. One such prescription drug is Viagra which is used to treat erectile dysfunction in men. Ethanol has its own adverse effects, which can result in even more severe and dangerous side effects and consequences when combined with other substances. Find out whether viagra and alcohol can be taken together, does alcohol affect viagra efficacy, what are the risks of combining Sildenafil and alcohol, and what precautions one should take regarding combining alcohol and this drug.
Can Alcohol Be Taken With Viagra And Does It Affect The Efficacy?
Viagra, also known as Sildenafil, is a prescription drug initially designed to treat hypertension, angina pectoris, and pulmonary arterial hypertension. It is a blue diamond-shaped pill which mechanism of action is to relax the muscles in the walls of blood vessels in certain areas of the body. Because of this action, it dilates arteries and helps to continue an erection. It is used to treat erectile dysfunction in men and helps them improve erectile response when they are already stimulated.
For many people, the combination of viagra and alcohol may seem exciting, and they think about combining these two in order to enhance their sexual experience. This combination may be considered safe, but only if ethanol is taken in moderation. However, this does not mean that such a combination will not prove dangerous in the long run. Combining Sildenafil and alcohol carries significant health risks, especially when abused over a long time.
Generally, drinking is often advised against while on any form of medication, whether melatonin and alcohol or any different combination. It is possible that Viagra with alcohol may have unpleasant results. According to research, people who abuse liquor and take Viagra for recreational purposes have a higher risk of side effects.
Possible Risks of This Combination
Viagra works by dilating the blood vessels and allowing more blood to flow through them. This act is not just limited to the penis, and blood vessel dilation occurs in other parts of the body as well. This can lead to low blood pressure and lightheadedness. Liquor can also have similar effects. When Sildenafil and alcohol are mixed together, these similar side effects become even stronger and thus result in severe side effects.
Typically ethanol negatively affects erectile tissues in the male reproductive system, causing erectile dysfunction, especially in ardent drinkers. This reverses the effect of the medication as Sildenafil is used as a counter medicine for erectile dysfunction.
This sexual health problem, erectile dysfunction (ED), is a common problem with many causes, and taking Viagra with alcohol is counter-intuitive for individuals who require Sildenafil to maintain an active sex life. Taking Sildenafil with alcohol results in side effects that certainly include a significant reduction in sexual performance.
Some of the Side Effects of Taking Viagra and Alcohol Together Include the Following:
Lightheadedness
Heart palpitations
Severe headaches
Vomiting
Nausea
Diarrhea
Blurred vision
Optic nerve swelling
Muscle breakdown
Flushing
Difficulty in breathing
Low blood pressure
Decreased ability to get aroused
Reduced ability to achieve to maintain an erection
Sudden hearing loss
Sudden vision loss
Increased intraocular pressure (pressure on the fluid inside the eyes)
Ventricular arrhythmias (irregular heartbeat)
Viagra And Different Alcoholic Beverages
Are there safe amounts when mixing Viagra with alcohol? It is safe to practice moderation during Viagra and alcohol use. When one plans to use Viagra, it is unsafe to drink in excess or indulge in social drinking, which is usually a motivation to participate in binge drinking. One or two glasses of wine or its close equivalents of beer or spirit should be harmless.
A drink is measured as 5 ounces of wine. It is equivalent to 12 ounces of beer, which equals one shot of spirit (1.5 ounces). To be safe, one may consider staying clear of ethanol for a period when Sildenafil should be used.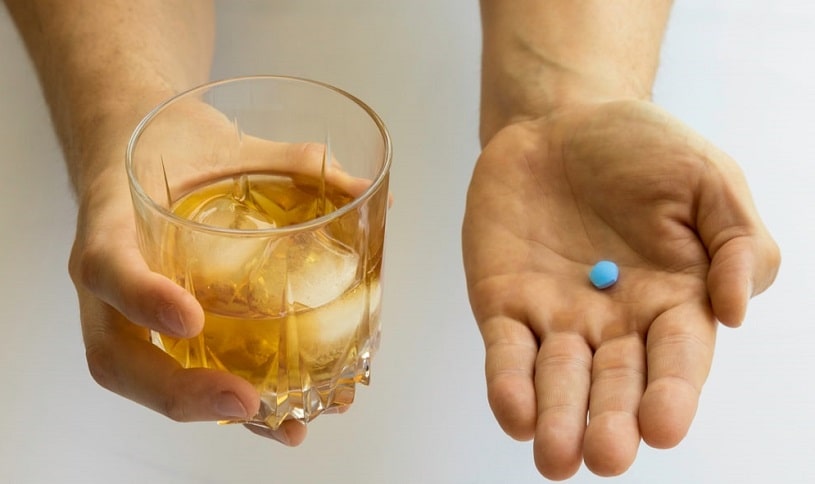 Only a doctor can decide upon a safe usage of Sildenafil with alcohol. Always consult with a medical professional before mixing any substances with drinking.
Many individuals struggle with ethanol abuse and addiction, either due to peer pressure, the influence of an alcoholic father, or other reasons. Whatever the case, an individual with a drinking addiction should probably abstain from ethanol completely while taking Viagra. The way Viagra interacts with liquor also depends on the type of alcoholic beverage in question.
These Different Interactions are Discussed Below:
Viagra And Red Wine
Various experts have deliberated on the Sildenafil and alcohol controversy. Some think that taking Viagra with ethanol can be dangerous, while some believe that this is untrue. A report showed that ethanol content in red wine presented no particular interaction with how Sildenafil works. The experiment utilized 750ml red wine containing 13.5% alcohol by volume. According to the study published in The American Journal of Clinical Nutrition, flavonoid-rich consumables, which include red wine, can reduce the incidence of erectile dysfunction.
Viagra And Greyhound (Vodka + Grapefruit Juice)
Grapefruit is known to interact with certain medications. According to research, the combination of viagra and grapefruit juice can result in side effects such as headaches, flushing, and low blood pressure. Although users will not be endangered, this combination should be avoided.
Drinking And Erectile Dysfunction
There are many possible causes of erectile dysfunction, one of which includes the excessive use of ethanol. Reports have shown that the high prevalence of erectile dysfunction in males is largely caused by ethanol abuse and dependency. It is a known fact that ethanol is a depressant that may induce gastric mucosal injury by releasing inflammatory mediators, which may, in turn, cause vasoconstriction and death of cells. So, how does drinking affect erectile dysfunction?
The male hormone testosterone is produced in the testes and is responsible for the complete male characteristics and physical development. Based on the NIAAA study, when a man drinks in large quantities over some time, it lowers testosterone production and causes the shrinking of the testicles. This reduces the volume and quality of the sperm.
Excess drinking may also lead to prostatitis, an inflammation of the prostate, resulting in swelling, pain, and urination problems. This can also lead to Alcohol-induced ED.
Alcohol-Induced Erectile Dysfunction Is Characterized by Sexual Irregularities Such As:
Loss of desire to participate in sexual activities
Difficulty in maintaining erections
Inability to achieve orgasm
Premature ejaculations
The risk of impotence is significantly higher in men who have been found to indulge in more than three ethanol units daily. Research has also shown that alcohol-induced sexual dysfunctions may be reversed with abstinence from drinking over some time. There is no specified period whereby sexual functions may be fully restored; however, there would be substantial changes that are peculiar to body type and other factors such as age, diet, and lifestyle.
Does Alcohol Affect Sex?
Alcohol and sex may sometimes go hand in hand, but how does liquor affect sex? it can have a range of effects on a person's sex life.
For a Man, Ethanol Affects Sex Life in the Following Ways:
It can be hard to achieve or maintain an erection
It can delay ejaculation
Excessive drinking can make it hard for a man to be aroused
Drinking too much on a regular basis can cause erectile dysfunction
It can make a person take sexual risks, which can have serious consequences
For a Woman, the Effects of Alcohol and Sex Might Include the Following:
It can increase sexual arousal if ethanol is taken in moderate quantities
Drinking too much can result in decreased sexual arousal
Drinking can make it hard to achieve orgasms
It can result in lesser lubrication
Getting Help
Before thinking of mixing alcohol and viagra, one should consult a doctor for proper counseling. Viagra and alcohol effects may vary from one person to the other. There are other alternatives to Viagra, which may pose less risk to health, such as natural herbs. Adequate information, advice, and resources on alcohol effects will also help understand its mechanism of action in the body. The physical dependence on ethanol will always lead to poor health and inevitable mixtures with medications. Therefore, the individual in question must seek medical treatment or enroll in a facility for alcoholism treatment to receive the requisite health advice and care.
Find the best treatment options. Call our free and confidential helpline
---
Page Sources
Bijil Simon Arackal, Vivek Benegal. Prevalence of sexual dysfunction in male subjects with alcohol dependence. Indian J Psychiatry. 2007 Apr-Jun; 49(2): 109–112. https://www.ncbi.nlm.nih.gov/pmc/articles/PMC2917074/
Antar V, Sutpideler N, Baran O, Bitirak G. Subarachnoid and intracerebral hemorrhage after alcohol ingestion and illicit use of Sildenafil. Turk Neurosurg. 2015;25(3):485-7. https://www.ncbi.nlm.nih.gov/pubmed/26037192
Kaur M, Singh A, Kumar B, Singh SK, Bhatia A, Gulati M, Prakash T, Bawa P, Malik AH. Protective effect of co-administration of curcumin and Sildenafil in alcohol induced neuropathy in rats. Eur J Pharmacol. 2017 Jun 15;805:58-66. https://www.ncbi.nlm.nih.gov/pubmed/28315678
Grinshpoon, A., Margolis, A., Weizman, A., & Ponizovsky, A. M. (2007). Sildenafil citrate in the treatment of sexual dysfunction and its effect on quality of life in alcohol dependent men: preliminary findings. Alcohol & Alcoholism, 42(4), 340-346., https://academic.oup.com/alcalc/article/42/4/340/160687?login=true
Kim, J. N., Oh, J. J., Park, D. S., Hong, Y. K., & Yu, Y. D. (2019). Influence of Alcohol on Phosphodiesterase 5 inhibitors Use in Middle-to Old-Aged Men: A Comparative Study of Adverse Events. Sexual medicine, 7(4), 425-432., https://www.ncbi.nlm.nih.gov/pmc/articles/PMC6963111/
Leslie, S. J., Atkins, G., Oliver, J. J., & Webb, D. J. (2004). No adverse hemodynamic interaction between Sildenafil and red wine. Clinical Pharmacology & Therapeutics, 76(4), 365-370., https://pubmed.ncbi.nlm.nih.gov/15470336/
Cassidy, A., Franz, M., & Rimm, E. B. (2016). Dietary flavonoid intake and incidence of erectile dysfunction. The American journal of clinical nutrition, 103(2), 534-541., https://academic.oup.com/ajcn/article/103/2/534/4564750
Jetter, A., Kinzig‐Schippers, M., Walchner‐Bonjean, M., Hering, U., Bulitta, J., Schreiner, P., ... & Fuhr, U. (2002). Effects of grapefruit juice on the pharmacokinetics of Sildenafil. Clinical Pharmacology & Therapeutics, 71(1), 21-29., https://pubmed.ncbi.nlm.nih.gov/11823754/
Dachille, G., Lamuraglia, M., Leone, M., Pagliarulo, A., Palasciano, G., Salerno, M., & Ludovico, G. M. (2008). Erectile dysfunction in patients with alcohol consumption. Alcoholism and Psychiatry Research, 44(2), 95., https://search.proquest.com/openview/280cb159e5c36598350e6da79a66610f/1?pq-origsite=gscholar&cbl=34821
Emanuele, M. A., & Emanuele, N. (2001). Alcohol and the male reproductive system. Alcohol Research & Health, 25(4), 282., https://pubs.niaaa.nih.gov/publications/arh25-4/282-287.htm