Christian drug rehab is an addiction treatment that puts faith and Christ at the base of healing and recovery. The purpose of Christian drug treatment programs is to help patients fight addiction, reduce the high addiction statistics in the country, and achieve sobriety with the help of Christian-based philosophies.
What Are Christian Rehabs?
A Christian rehab center is similar to any other type of rehab center. The purpose is the same, helping people fight addiction, but the approach is different. Christ is the base of the entire treatment plan, and the goal is to strengthen the spiritual foundation so that the patient can maintain sobriety.
Some of the Treatment Options Offered by Christian Rehab are:
Drug addiction education
Education on spiritual principles
Development of a relationship with God
Religious studies
Group therapy
Participation in meditation and prayer
Help during the withdrawal process
Relapse-prevention training
Christian alcoholism rehabs try to connect patients with God using a faith-based approach. God is the only solution to achieving long-term sobriety, and by maintaining a healthy spiritual relationship, the patient will be able to free themselves from addiction. Many such centers have ministers, priests, and other religious mentors among the staff.
Faith and belief have always been an integral part of treatment as it renews the mind and motivates the individual towards sobriety. At least 73% of addiction rehab centers in the US usually introduce religious elements and spirituality, which is often experienced in the 12-step program.
The contributions of faith-based support groups in the USA amount to $316.6 billion in economic savings yearly. About 84%of all scientific studies showed that faith played a significant role in addiction recovery and prevention. Eligibility for faith-based substance abuse rehabs differ. There are free faith-based rehabs and paid health facilities with varying levels of resources, privacy, and acceptable insurance types.
Top 6 Christian Rehabs In The US
Here are some of the best Christian substance abuse health facilities to contact in the US:
New Creation Recovery, Rancho Cucamonga, CA
This Christian inpatient rehab is a renowned clinic offering reliable addiction programs and mental health care. This Christian rehab for women offers a wide range of programs and dedicated staff with years of experience. Women benefit from comprehensive treatment, including outdoor activities, personalized diet plans, Bible study, and prayer in a relaxed ambiance.
The New Creation Christian rehab promotes addiction recovery through faith, detox, withdrawal management, and Christian recovery services for substance addiction such as heroin, alcohol, meth, MDMA, cocaine, and others.
Honey Lake Clinic – Christian Mental Health Treatment, Greenville, FL
Honey Lake Christian recovery center is designed to treat individuals struggling with substance addiction, psychological distress, and mental disorders such as anxiety, trauma, and the likes. They also provide Christian addiction counseling with a combination of intensive programs and integration of faith-based principles. The emphasis is typically on holistic healing, improving decision-making skills, and total rejuvenating the spirit, body, and mind.
It doesn't matter how severe the addiction is, Honey Lake Christian rehab has various treatment programs tailored to healing through bible teachings.
Faith Farm Ministries, Boynton Beach, FL
Another top Christian-based rehab center is Faith Farm Ministries. In the beginning, the center offered a 3-day program for men dealing with alcohol addiction, based on Biblical training. Today, the facility is one of the men-only centers that provide extensive rehabilitation to men with a 9-month recovery program based on educational courses, work therapy, fitness activities, group, and individual counseling.
Desert Cove Recovery, Alcohol & Drug Rehab, Scottsdale, AZ
One of the best Christian drug rehabilitation centers in Arizona is Desert Cove Recovery. The center is specialized in relapse prevention, teaching patients how to handle any future trauma or pain without returning to intoxicants.
The facility offers a holistic approach to addiction treatment in a safe and intimate environment. The program also includes parts of the 12-step program, and each patient benefits from a personalized treatment plan based on the Bible and Christian beliefs.
StoneGate Center, Azle, TX
StoneGate is a fully licensed Christian rehab facility with experts in the field of addiction and substance use disorders. It is one of the Christian rehab centers that excel in the incorporation of faith-based approaches as well as life coaching in treatment. Generally, Christian rehab centers offer 12-step programs with a focus on openness and letting go of situations beyond one's control, and submitting to a higher authority. The StoneGate Christian rehab center is no different. The Christian rehab facility has a vast area of land, with localized centers for men and women exclusively.
Celebrate A New Life, Lake Forest, CA
Unlike many Christian rehab centers that focus solely on faith and counseling as the ultimate solution to substance addiction, this Christian rehab combines physical, mental, and spiritual remedies to the symptoms of addiction. Christian addiction counseling is scheduled alongside various God-centric activities. Individuals suffering from critical levels of addiction are recommended for detox and comprehensive medication management. Other programs under this Christian addiction recovery include dual diagnosis, detoxification, drug management, residential care, alcohol treatment, and others.
The facility is well equipped with healthcare professionals, essential amenities and has a variety of evidence-based addiction treatment practices such as psycho-educational groups, therapeutic workshops, cognitive behavioral therapy, spiritual counseling, art therapy, and others.
What To Expect In The Christian Rehabs?
Once admitted to rehab such as Christian alcoholism rehabs, each patient is assessed to determine their specific needs and to benefit from a personalized therapy plan. The next step is helping the patient go through the chemical detox (if needed) and the withdrawal process.
After the patient is free from any drugs, the psychological therapies are applied through group and individual counseling and spiritual guidance. Psychotherapy can be associated with behavioral interventions and medications if needed. Counseling is faith-based, and it is based on strengthening the patient's relationship with Christ and the Bible.
In an inpatient facility, the patient will have to attend Church and faith-based groups and services regularly and will be encouraged to join a Christian 12-step group. Some centers offer unique services such as family programs and recreational outings once the drug rehab is completed. These services, provided through the patient's involvement in the Church or the Christian rehab's referral, are highly recommended to surround the patient with supportive and healthy groups.
Some Popular Treatment Therapies Used in Many Christian Recovery Facilities Include:
12-step programs
Family therapy
Peer to peer group therapy
Cognitive Behavioral Therapy
Spiritual counseling and development
Art therapy
Therapeutic activities, projects, and tasks
Physical fitness and nutrition management
Relapse prevention
Faith-Based Recovery Program Approaches
The therapies used in addiction treatment may be more general, or they could specifically be Christian-developed programs.
Standalone 12-Step approach
The 12-step approach is often used in conjunction with other therapies for Christian alcoholism rehabs and more. However, it can also be used on its own. While this approach is often presented in non-religious ways, it has its roots as a Christian rehab method. This can be seen in the steps of the rehab program. For example, in phase two, users must come to see that a power higher than themselves is needed to restore sanity—this higher power in the Christian interpretation being God and Jesus Christ. Step three is to turn one's life and will over to God. Other actions are similarly tied to religious principles.
Celebrate Recovery Approach
Pastor Rick Warren created the Celebrate Recovery approach in response to 12-step programs lessening their connection to God and Christ. It can be used in faith-based alcohol treatment centers, drug rehab facilities, and spiritually overcoming almost any addiction. The program is based explicitly on the Beatitudes and encourages participants to take things out of their own hands and place them into the hands of Christ.
There is a strong focus on letting go of blame, both self-blame and that directed towards others. The program centers on small groups to help foster fellowship within the faith-based rehab community.
Potter's House Approach
Potter's House approach is one that strictly focuses on addiction recovery. It is not meant to treat co-occurring disorders, and pharmaceutical interventions are not offered. It is a Christian-based alcohol rehab and drug rehab that combines vocational training, work therapy, church participation, and therapeutic programming to give residents the ability to live a better life.
Lazarus Project Approach
The Lazarus Project is offered through Bethany Church. However, it can be adapted by other Christian addiction treatment centers. It is a year-long program that requires a full-time commitment from the patients. The program emphasizes developing the body, soul, and spirit.
Elements Include:
exercise
classroom training
community service
Bible study
B-Group meetings
Participants work directly with a mentor throughout the program, and once finished, can become mentors themselves.
Combined Treatment
Christian drug treatment programs do not have to use just one of these approaches. These rehabs rarely do, instead of combining them and others in ways that best benefit patients. Users have to evaluate a facility and its offerings before determining which is right for them.
What Is The Spiritual Side Of Addiction Recovery?
One of the consequences of addiction is the individual's need to separate from family, friends, loved ones, and God. Any Christian-based rehab aims to help the individual develop or strengthen their relationship with God in their path towards recovery.
A religious person will feel more comfortable going through rehab in a facility where their spiritual focus is supported and emphasized, making them feel secure and confident in their ability to move past the addiction.
But the values taught in Christian drug rehabs do not only apply to individuals with strong religious beliefs. Spirituality is about connecting to God and forgiving past wrongs, living a renewed life, and loving all people equally. These are spiritual principles that are universally available and apply to anyone searching for a new focus in life.
Spirituality is About:
Receiving and giving support to those who need it
Finding one's moral compass by exploring their feelings and beliefs
Letting go of pride and realizing that anyone has human weaknesses
Learning how to respect oneself and others
Realizing that there is a way to improve the current situation with support and willpower
What Are The Benefits Of Christian Rehabs?
One of the benefits offered by a Christian drug rehabilitation is spiritual support. The individual focuses on prayer and meditation, which help them reconnect with themselves. This way, the patient gets closer to God while strengthening their relationship with the ones around them.
Community is also one of the benefits. The patient has the opportunity to connect with people who have the same beliefs, providing much-needed spiritual support.
Christian rehab facilities focus not only on the spirit but also on the physical addiction issues, offering medical help for detoxing and withdrawal symptoms. Patients are also engaged in healthy activities such as art therapy or yoga to relieve stress.
The pastoral staff in Christian drug rehab facilities also play an essential role in the success of the treatment. The patient can connect with a role model to promote positive growth and teach them how to control their actions and thoughts.
Faith-based drug rehab centers also provide living arrangements centered around faith for those who need a safe place to stay during their recovery.
What Are The Possible Downsides Of Christian Rehabs?
One of the possible downsides of Christian-based drug rehab centers is that if the patient is not religious, they will struggle and fight the treatment program.
Some patients, who grew up in a very strict Christian family, who defined godliness using punishment, might not feel comfortable in such a program and might experience significant internal conflict.
The same could happen to patients whose parents or friends demanded Christian ideals, but they acted in an un-Christian manner themselves. As a result, the patient will have difficulty in trusting the staff and might consider them hypocrites.
How To Know If The Christian Rehab Is a Right Choice For a Person?
Choosing any rehabilitation program is a decision that should not be taken lightly. First, the patient should be comfortable with the facility, treatment plan, staff, program, and peers.
Christian-based drug rehabilitation is an excellent choice for religious people or those who believe that spirituality is part of the treatment process. However, forcing oneself into a program that will make the patient question the methods used or trigger old issues will do more harm than good.
How To Find a Christian Rehab Center?
Many Christian addiction recovery centers offer affordable and high-quality treatment programs, but this does not mean they can address anyone's needs. There are also free faith-based rehabs for those who cannot afford a paid Christian recovery rehab.
When Looking for Such Center, Some Steps Should be Taken Until Finding the Right One:
Check treatments they offer – individual, group counseling, 12-step program, inpatient or outpatient rehabilitation, etc. Some centers also provide counseling sessions with family members. Also, in a faith-based rehab, the foundation of the counseling should be a spiritual belief in addition to psychological principles.
Find out what the faith basis is. The center might focus on a different set of beliefs or faith than one does. Not having the same spiritual principles means the patient will not feel comfortable with the program, and the results will not be the expected ones.
Check if the program is accredited and what are the qualifications of the staff.
Try to get in touch with former patients or find online reviews regarding their experience at that facility.
Check what aftercare programs they offer. After rehab, most patients still need support to continue using the techniques and principles acquired during the rehab program. The clinic should provide such aftercare or help the patient find an aftercare program.
Help Is Available
Whether it's a Christian alcohol rehab or free faith-based rehabs, getting the right help and resources for your loved one is now one phone call away. Being grounded in faith through the help of Christian alcohol rehab is extremely helpful due to the long-term advantages. This is because the newfound faith and self-confidence create discipline against substance abuse, leading to improved health and long-term sobriety. In addition, each facility provides the needed privacy, and all kinds of insurance are accepted. Contact a substance abuse rehab today.
Find the best treatment options. Call our free and confidential helpline
Find Drug Rehabilitation Centers Near You Anywhere In the US
Addiction Resource team has compiled an extensive list of the top drug rehabilitation facilities around the country. Click on the state you are interested in, and you'll get a list of the best centers in the area, along with their levels of care, working hours, and contact information. Haven't found the rehab you need? Call the toll-free helpline below for professional assistance.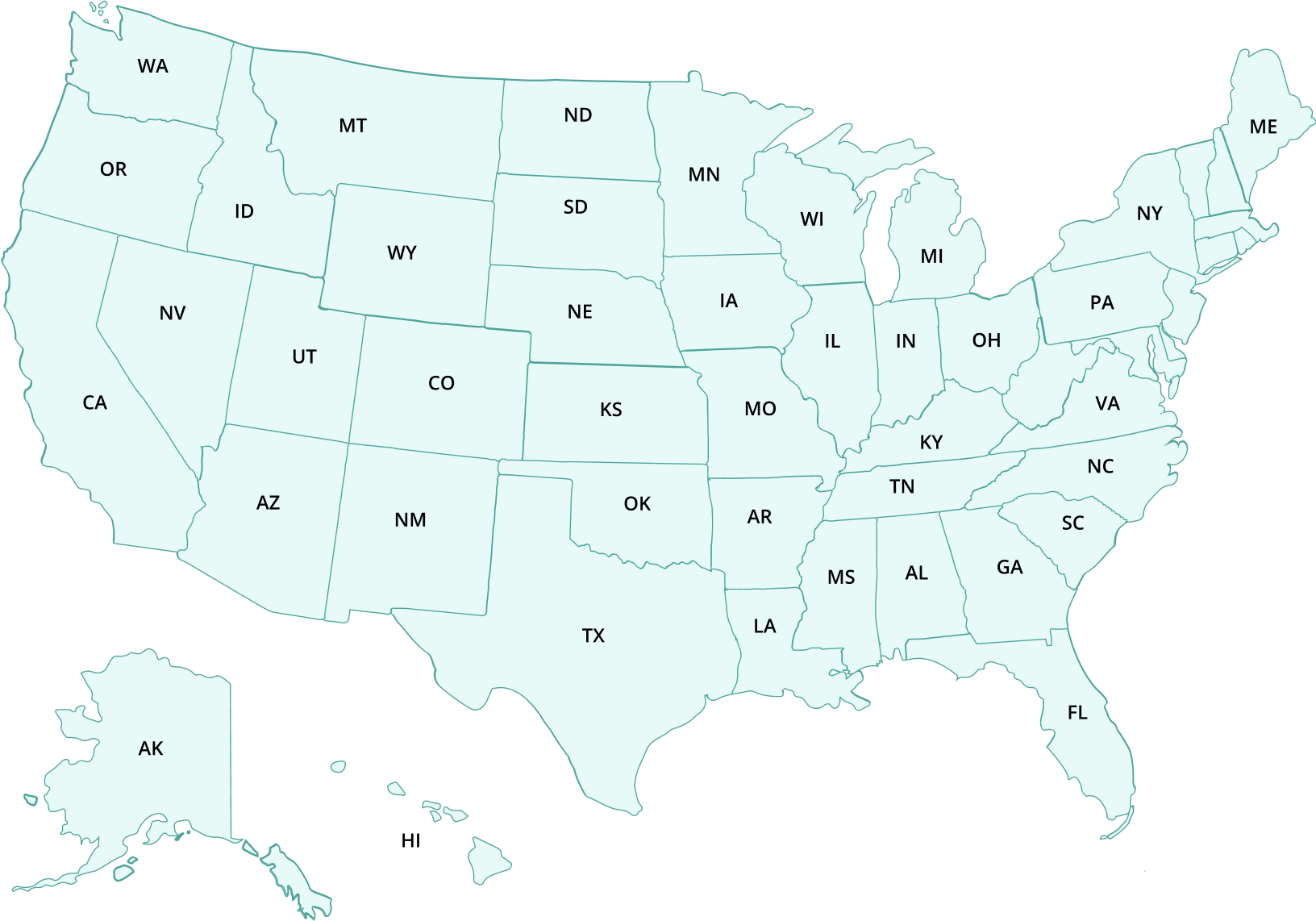 ---
Page Sources
Neff JA, Shorkey CT, Windsor LC. Contrasting faith-based and traditional substance abuse treatment programs. J Subst Abuse Treat. 2006 Jan;30(1):49-61. https://www.ncbi.nlm.nih.gov/pubmed/16377452
Lawrence RE, Rasinski KA, Yoon JD, Koenig HG, Meador KG, Curlin FA. Physicians' beliefs about faith-based treatments for alcoholism. Psychiatr Serv. 2012 Jun;63(6):597-604. https://www.ncbi.nlm.nih.gov/pubmed/22476161
SAMHSA. Key Substance Use and Mental Health Indicators in the United States: Results from the 2015 National Survey on Drug Use and Health. September 2016. https://www.samhsa.gov/data/sites/default/files/NSDUH-FFR1-2015/NSDUH-FFR1-2015/NSDUH-FFR1-2015.pdf
Anthony L. Norwood. Spiritual Rehab for the Wounded Christian. https://books.google.co.id/books?hl=en&lr=&id=DjSqDQAAQBAJ&oi=fnd&pg=PT5&dq=Christian+rehab&ots=WSJLJ2pGzm&sig=NL2gI3Tb3o9QCCW7BElZyVJ5vak&redir_esc=y#v=onepage&q=Christian%20rehab&f=false
Grim, B. J., & Grim, M. E. (2019). Belief, Behavior, and Belonging: How Faith is Indispensable in Preventing and Recovering from Substance Abuse. Journal of religion and health, 58(5), 1713–1750. https://doi.org/10.1007/s10943-019-00876-w https://www.ncbi.nlm.nih.gov/pmc/articles/PMC6759672/