As in many US states, drug-related issues are on the rise in Kentucky. Crack and opioids continue to gather popularity in recreational terms, while some even become addicted to opioids during a treatment process.
One of Kentucky's most abused drugs is fentanyl. This opioid has become an epidemic in the state, with addiction numbers constantly increasing. This reinforces the need for medical care for those suffering from addiction. There are many drug rehab centers in KY for that exact purpose. To help those who are suffering from substance abuse by encouraging them to enroll in the best rehabs in the state.
Top 7 Drug Rehabs In KY
When you are suffering from addiction, it is important you get help as soon as possible. Addiction can be incredibly hard to overcome alone. For this reason, many people seek out rehab centers. Here are the best rehab centers in Kentucky.
Healing Place, Louisville, KY
The Healing Place Louisville, KY is arguably the most renowned of all the drug rehabs in KY. Initially opening as a homeless shelter, the facility has now served as rehab for over 20 years. It helps people of all ages, genders, and situations and has an incredibly high success rate of previous patients staying sober.
The primary care at the Healing Place is detox. However, other services are used alongside that, such as mental health support. This rehab in Louisville, KY tends to use 12 step programs.
Karen's Place, Louisa, KY
Karen's Place takes a unique, more personal look at addiction. It is located in a substantial amount of remote woodland, which allows patients to relax and unwind during their rehabilitation. All patients at Karen's Place are residential, and the program is strictly for women. It also takes a Christian, spiritual approach to recovery. However, you do not have to be a Christian to join.
The facility is one of the many alcohol rehab Kentucky centers that also focus on other drugs. However, its unique take on mental health during addiction places it at the forefront of rehabs in the state.
Stepworks Recovery Center, Elizabethtown, KY
Stepworks drug and alcohol rehab takes pride in its variety of approaches to treatment. These methods include a residential drug rehab center where patients may stay whilst they receive care, as well as outpatient care, counseling, and more. During detox, inpatients are monitored throughout the process to ensure their health is the best it possibly can be.
Stepworks is available to both genders and also offers family care.
Chrysalis House, Lexington, KY
This is arguably one of the most important alcohol and drug rehabs in KY due to its purpose. Chrysalis house focuses on helping women who suffer from addiction, in particular, women who are pregnant or recently gave birth. Programs at the house also help women with their mental health through various treatments, as well as through any domestic violence in their lives.
Chrysalis House also goes one step further by helping women with their general healthcare, childcare, and even getting employment to ensure they can support their children. It is one of the few rehab facilities in the state to provide this kind of care.
Isaiah House, Willisburg, KY
Another of the drug rehabs in KY, IH offers a Christian basis to recovery through spiritualism and belief. The house helps those who are living with addiction in poverty and cannot afford treatment themselves. It goes one step further by ensuring an addict's family has the right support during their treatment so that they know how to deal with the situation.
The facility offers specialist individual treatment alongside counseling and relapse prevention. It also helps people to get their lives back on track outside addiction by helping them gain housing, employment, and more.
Landmark Recovery, Louisville, KY
Kentucky has been at the forefront in fighting the battle against addiction. Landmark Recovery is one of the many drug rehabs in KY that are offering outpatient, inpatient, residential, and other forms of treatment programs to fight alcohol and substance abuse. Their team of dedicated and highly professional staff members cater to each client's individual needs and goals to help them start their journey towards recovery and sobriety.
The treatment modalities at this rehab center include individual therapy, group therapy, CBT, medically assisted treatment, detoxification, and other types. Through all these programs, clients are taught the tools and knowledge through which they can conquer addiction and commit to long-term sobriety.
Hope In The Mountain, Prestonsburg, KY
At Hope In the Mountain, the main focus is to help people with addictions navigate the difficult road to recovery. This is one of the drug rehab centers in KY that offer a number of outpatient and residential programs through which clients are offered new horizons to lead a healthy and sober life. Each client is assessed and evaluated at intake, and a customized treatment plan is created for each individual. Such a customized plan ensures that each client is treated as an individual and each aspect of their physical, emotional, and spiritual being is healed.
Treatment and therapies include peer support groups, 12-step meetings, individual and group therapy, and other evidence-based approaches that ensure great success.
Addiction Treatment In Kentucky
For those who do become addicted to a substance, getting addiction treatment as soon as possible is vital. Addiction treatment in Kentucky is like many other states. There is a range of treatments offered for both genders, as well as children. Drug rehabs in KY also cater to women who are pregnant, as well as other more niche groups that may need treatment at Kentucky rehabs. These may include dual diagnosis treatments or psychological-based treatments.
Within the state, there is also plenty of range when it comes to treatment. Treatment can be purely science and medicine-based. It can also be based on spirituality. Many rehabs even choose to combine the two as a more effective treatment.
Due to Kentucky employing the Good Samaritan Law, drug and alcohol rehabilitation centers in KY can function far more effectively with law enforcement than in many states. This means that despite law enforcement being undermanned to deal with drug-related issues in the state, rehabs in KY can often help out.
According to the Office of Drug Control Policy, by 2016, local boards existed in 118 of 120 counties in the state of Kentucky. These boards effectively regulate the care and encourage a 3 pronged approach to combating addiction in the state. The board also encourages policies, such as being 100% tobacco-free and regular health care fairs and checks. The boards alone donated a 453,983.08 dollar heroin grant to the addiction care centers across the state, to help deal with the epidemic of opiate issues.
Kentucky Addiction Facts and Statistics
Substance abuse in Kentucky is increasing. Although this is not unusual, due to it being nationwide in the United States, it is still alarming. Recent media reports in the state highlight that overdose deaths are at a record-breaking all-time high, with over 200 deaths between 2014 and 2015.
These alarming reports become even more daunting when it becomes apparent which drug is the main cause.  According to The Office Of Drug Control Policy, fentanyl, an opioid painkiller, is the most frequently abused killer drug in Kentucky. The drug that is meant to help many is hospitalizing and killing them instead. This is due to how addictive the substance is. In fact, the drug's sudden popularity has made it increasingly challenging for law enforcement in the state to keep up, leading to an influx of people entering rehab facilities in Kentucky.
Another worrying fact about the fentanyl sold in Kentucky is that it is commonly mixed with even more potent drugs, such as heroin. This makes it challenging to tell which drug is actually the killer in many cases, meaning current fentanyl statistics-related deaths may be inaccurate. Fentanyl, including death when mixed with heroin, is currently liable for 623 deaths in the state, according to The Office Of Drug Control Policy.
In addition to fentanyl and crack, marijuana also has a large street presence in Kentucky. Despite not being anywhere near as dangerous as the aforementioned drugs, marijuana can be just as problematic. The substance is not known for causing death like fentanyl or crack. However, it can cause considerable life hampering psychological issues. This makes the role of substance abuse treatment centers vital.
Substance abuse that includes the abuse of prescription drugs along with heroin, methamphetamine, and fentanyl remains one of the most critical public health and safety concerns in Kentucky. According to the Kentucky Office of Drug Control Policy, $4.6 million grants have been announced to expand treatment and recovery services for substance abuse.
Some Other Drug Abuse Statistics in Kentucky are Listed Below:
According to the National Institute on Drug Abuse report of 2018, almost 23.4% of drug overdose deaths in Kentucky involved opioids.
Based on the report about opioid abuse in Kentucky, more than 1300 individuals died from drug overdoses in 2018.
increase of drug OD deaths
Report by the Kentucky Justice and Public Safety Cabinet of 2019 indicates that lethal drug overdoses among Kentucky residents totaled 1,316 which is a 5% increase of drug overdose deaths from 2018
Drug Laws In Kentucky
The State of Kentucky divides controlled dangerous substances into five schedules. Based on these schedules, the dangerousness of CDS is determined, and the corresponding penalties for personal possession are calculated.
The following table represents some of the drug classifications in the state and the corresponding Kentucky drug laws and penalties.
| | | | |
| --- | --- | --- | --- |
| Classification | Substances Included | Criminal Charges | Sentencing |
| Schedule I Drugs | Opiates and certain stimulants | Felony | Upto 20 years in jail and upto $10,000 fine |
| Schedule II Drugs | Raw opium, cocaine | Felony | Upto 20 years in jail and upto $10,000 fine |
| Schedule III Drugs | LSD and anabolic steroids | Misdemeanor | Upto 3 years in jail and upto $1,500 fine |
| Schedule IV Drugs | Flurazepam, butorphanol | Misdemeanor | Upto 1 year in jail and upto $500 fine |
| Schedule V Drugs | Narcotic Drugs, methamphetamines | Misdemeanor | Upto 1 month in jail and upto $250 fine |
Is Weed Legal In Kentucky?
It is illegal to grow or distribute marijuana in the state of Kentucky. If anyone is found in possession of marijuana, they can face legal charges. The table below shows some of the Kentucky marijuana laws and possible sentencing that one might face in the state with regards to marijuana possession.
| | | | |
| --- | --- | --- | --- |
| Classification | Substances Included | Criminal Charges | Sentencing |
| Marijuana possession | Less than 8 ounces | Misdemeanor | Upto 1 year in jail and $500 fine |
| Marijuana sale and trafficking | Less than 8 ounces | Class D Felony | Upto 5 years in jail and $10,000 fine |
| Marijuana possession | More than 5 pounds | Class C Felony | Upto 20 years in jail and upto $10,000 fine |
Getting Help With Substance Addiction in Kentucky
When it comes to getting help with addiction, there is a wide range of options to choose from the various rehabilitation centers in KY. Deciding which option is best for you can often be challenging. From purely medical help to psychological help, the abundance of options can fluster anybody. However, getting help is important, so you shouldn't let a tough decision prevent it from happening.
Addiction itself is hard to battle, but going to a treatment center will ensure you have the support you need during withdrawal and after.
Find the best treatment options. Call our free and confidential helpline
Find Drug Rehabilitation Centers Near You Anywhere In the US
Addiction Resource team has compiled an extensive list of the top drug rehabilitation facilities around the country. Click on the state you are interested in, and you'll get a list of the best centers in the area, along with their levels of care, working hours, and contact information. Haven't found the rehab you need? Call the toll-free helpline below for professional assistance.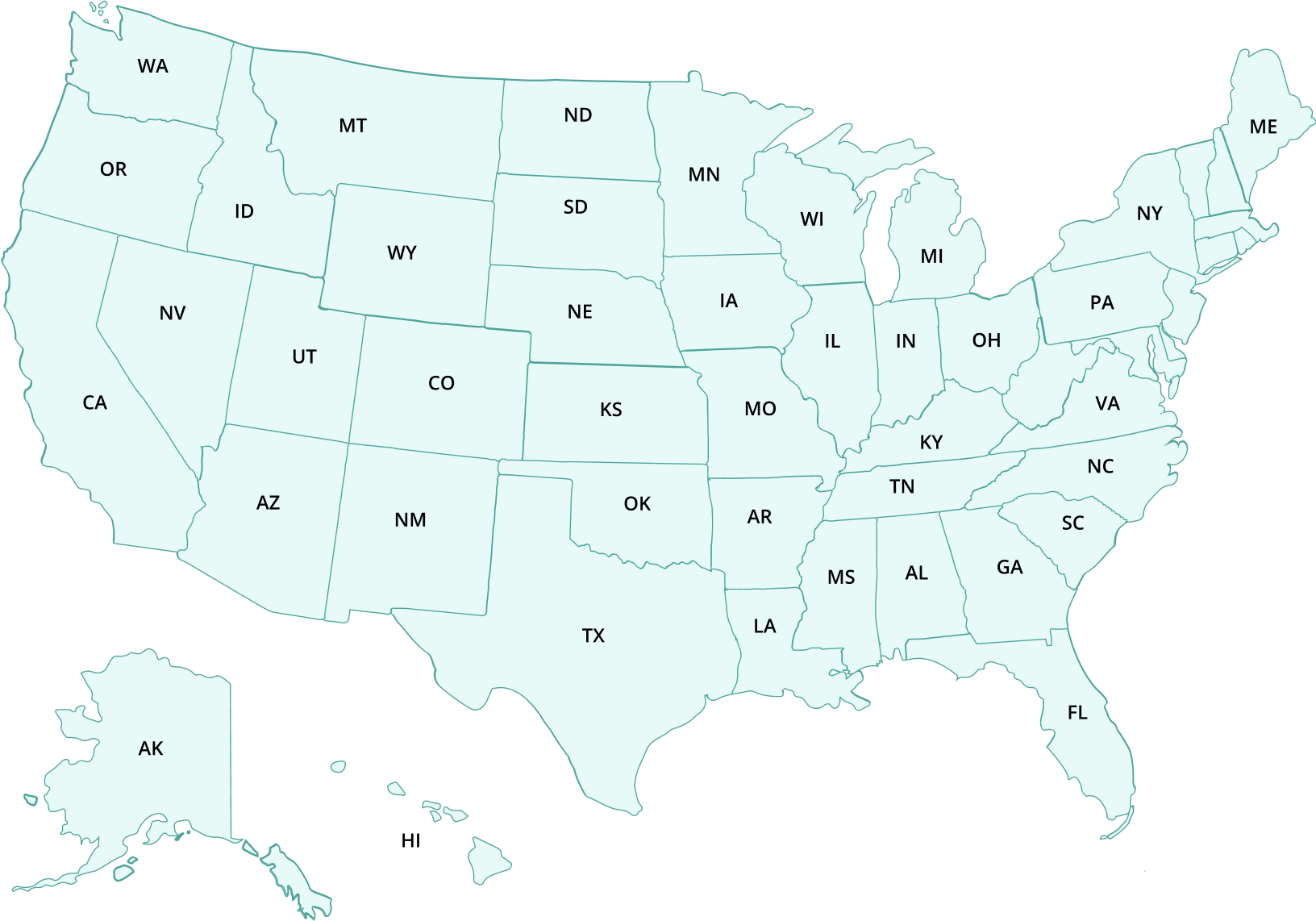 ---
Page Sources
Kentucky's Drug Epidemic - Office of Drug Control Policy. Odcp.ky.gov. (2020). https://odcp.ky.gov/Resources/Pages/The-Heroin-Fentanyl-Epidemic.aspx.
Kentucky: Opioid-Involved Deaths and Related Harms | National Institute on Drug Abuse. National Institute on Drug Abuse. (2018). https://www.drugabuse.gov/drug-topics/opioids/opioid-summaries-by-state/kentucky-opioid-involved-deaths-related-harms.
Opioid Abuse In Kentucky. Kychamber.com. (2019). https://www.kychamber.com/sites/default/files/pdfs/Opioid%20Abuse%20in%20Kentucky%202019%20-%20Updated%20Version_0.pdf.
Kentucky's Fight in the Battle Against Drug Overdose Deaths. Odcp.ky.gov. (2020). https://odcp.ky.gov/Documents/2019%20Kentucky%20Overdose%20Fatality%20Report%20PRESS%20RELEASE.pdf.