Alcoholics Anonymous (AA) meetings have been a source of help and assistance for millions of people across the globe as part of their substance abuse treatment. However, in the current global pandemic scenario (COVID-19), where social distancing is advocated, the traditional Alcoholics Anonymous meetups can no longer be carried out. However, one should not lose hope in this regard. This is where online AA meetings can be beneficial.
Read along further to find out about various AA gatherings online, their specifications and duration, their benefits, and information about AA meetings near me online.
Supporting Sobriety During A Global Pandemic
Based on the study about the impact of Alcoholics Anonymous and Narcotics Anonymous (NA) programs, they are proven to serve as a resource where individuals are offered peer support and fellowship in a step-by-step program to become and stay sober. Most individuals who attend drug rehab for their addiction treatment later attend NA or Alcoholics Anonymous meetups after they complete and stop their treatment. Through weekly in-person support and gatherings, individuals are taught to manage their stress regarding addiction and stay on the road to sobriety.
However, during the global pandemic of COVID-19, one of the worst things that those individuals have heard is the closure of all such AA meetings to implement social distancing.
Are AA Meetings Online A Solution?
People in recovery need this constant connection with their peers and support groups, especially in the time of forced isolation caused by a global pandemic. In the absence of such a connection, the chances of negative emotions rising once again and people falling prey to the temptation of addiction can become relatively high. In addition, those individuals can relapse easily in such a depressive, stressful, and isolated environment.
Therefore, a support connection must be maintained for all such individuals, even in isolation. This is where online AA gatherings come in. According to a 5-year follow-up study conducted about the effectiveness of attendance at NA and alcoholic anonymous groups after residential drug treatment, the results showed that the efficacy of existing treatment was improved for individuals who attended these interactions. Another research suggests that attending Alcoholics Anonymous gatherings is even more effective than psychotherapy.
In the pandemic era where face-to-face gatherings of alcoholics anonymous cannot be possible, a study was conducted to compare the effectiveness of face-to-face interactions and contact with virtual 12-step meetups. The study showed that videoconferencing offered a more accessible medium for all the attendees and can be an adequate substitute for face-to-face meetups. Another research concluded that virtual recovery support meetups might help mitigate a critical public health problem during an ongoing public health pandemic.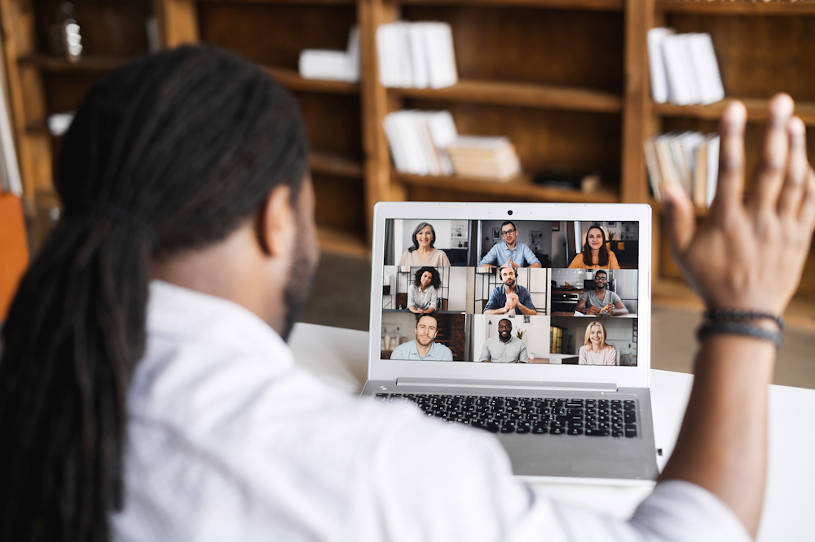 AA Online Meetings: What Are They?
AA meetings online are the new way through which a strong network of peer support, fellowship, and human connection is established while practicing social distancing at the same time. Individuals join virtual support gatherings from their own homes through various mobile and web-based applications. This helps them stay connected with their peers and friends in a time of stress and panic instead of adopting unhealthy coping mechanisms.
Individuals are urged to join online AA meetings now to continue their addiction treatment during COVID-19 and to remain sober even when they cannot physically be present at one location.
AA Meetings Online Resources
There are several online AA meetings USA that individuals can join to continue on their paths to recovery and sobriety. These virtual groups can be categorized based on whether they are 12-step based or not, gender-specific, or of some other type.
Most rehab hotlines can also specify various AA meetings online so people can join them according to their preferences. One simply needs to search for AA meetings near me online and get all the relevant information.
Some of These Different Types of Online AA Meetings Near Me Are Discussed Below:
12-Step Alcoholics Anonymous Virtual Meetings
These include 12-step Alcoholics Anonymous groups, where some of them offer virtual support for everyone. At the same time, some of them are closed groups providing the attendees to share their feelings and experiences in a safe environment. These AA intergroup online meetings are based on the 12 steps and the Big Book principles and offer a spiritual approach to healing.
Meeting Name
Description
Meeting Schedule
Email
Phone Number
12 Step Online
Online meeting place and discussion forum.
Monday, Wednesday, Friday 7:30 – 8:30 pm EST
brad@proweb
-solutions.net
–
12 Step Study Group of AA
Open meeting with selected reading from AA approved literature and topic discussions.
Daily 6:00pm Pacific time zone, 9:00pm EST
[email protected]
–
12+12 = Freedom Email Group
Adhere to the 12 traditions and learn from experience, strength, and hope.
[email protected]
–
12 StepMe Chat
Assist others in doing the 12 steps.
–
–
164 and Beyond
Open AA meeting.
Different options available
[email protected]
+1 415 762 9988
1st Things First a Foundation 2 Recovery
Based on the 12-step program, we help newcomers by working on steps on a monthly basis.
–
–
–
24/7 AA Online Video Meeting
Open meetings held 24 hours, 7 days a week.
Daily every hour
–
–
2nd and 3rd Step Discussion Group
Using the experiences that have helped alcoholics stay sober.
Daily 6:00pm EST/ 3:00pm PST
[email protected]
–
494 Lunch Bunch Group
Focussing on solution-based sobriety and recovery.
Monday to Saturday 12pm EST
[email protected]
(415) 762-9988
AA Action is the Key
The key to sobriety is through the 12 steps of AA.
Once a week
[email protected]
–
AA- Any Lengths
To help AAs stay connected.
Daily 12pm-1pm Pacific time
[email protected]
–
AA Big Book Cover-to-cover
Telephone meetings on reading and discussing the AA Big Book.
Daily 8pm EST
–
425-436-6200
AA Downunder Meeting
Voice chat room for recovering alcoholics.
Daily 8:30 EST
–
–
AA Friends
A small online group of alcoholics anonymous.
Saturdays 8am and 8pm EST
[email protected]
–
Along Spiritual Lines
An open online zoom discussion.
Daily 12pm EST
[email protected]
Atlanta Triangle Online Meeting
Online support for everyone.
Daily 1:00pm to 2:30pm EST
[email protected]
Attitude Adjustment Group
A closed AA group where everyone shares hope and experience to stay sober.
Mon to Sat 7:30am CST
[email protected]
+1 253 215 8782
Beginners Meeting
Weekly meetings for newcomers.
Wednesday 7pm EST
[email protected]
Brant Group
As Bill Sees It Meeting.
Tuesday 7:30pm EST
[email protected]
By the Book
Big Book Study.
Daily 9:00 pm EST
[email protected]
+1 312 626 6799
California Avenue Supper Group
Speaker meeting and open discussion.
Thursday 6pm PST
[email protected]
+1 312 626 6799
Chico New Life
Discussion meetings.
Sunday 7pm to 8:15pm PST
[email protected]
Cocoanuts
Regular meeting of alcoholics anonymous in San Francisco.
Sunday 9:00am to 10:30am PST
[email protected]
+1 646 558 8656
Corona Virus Group
San Antonio TX meetings.
Daily 7pm EST
[email protected]
Cross Talk Group
Based on the 12 steps and the Big Book.
Daily midnight EST
[email protected]
712-451-0235
Daily Reprieve
For anyone who wants to stop drinking.
Monday and Thursday 6pm to 7pm EST
[email protected]
+1 253 215 8782
Digitally Sober
Closed online text and voice chat meetings.
Monday 1:00pm CST
[email protected]
Early Risers
Virtual group meetings via Zoom.
Mon to Fri 7am EST

Saturday 9am EST

[email protected]
Eye Opener
Audio and video AA meetings.
Daily 6am PST
[email protected]
Friends Of Recovery AA
Zoom meeting of anyone who wishes to lead a sober life.
Mon to Thur, Sun 8pm EST
[email protected]
Hawaii Online Meetings
A safe place for everyone to share their experience and hope.
Mon to Fri 1pm and 7pm HST
[email protected]
+1 253 215 8782
Into Action Group
Closed AA meeting.
Tuesday and Friday 8pm CST
[email protected]
+1 646 558 8656
Kingston Fresh Start
Open meeting based on the 12 steps.
Monday 6:30pm EST
Love & Service Group
Open speaker meeting to discuss hope and strength.
Sunday 9:00 pm EST
+1 (408)638-0968
MAXIMUM Soberness
A group of healthcare professionals committed to walking the path of recovery.
Daily 7pm PST
[email protected]
+1 301 715 8592
Meditating Peacocks
Meditation and discussion through voice calls.
Tuesday 6:30pm EST
Mission First
Meeting for service members and veterans.
Friday 9 pm EST
[email protected]
Modem2Modem
Topic/discussion meeting based on the Big Book.
Saturday 8pm MST
[email protected]
1 (669) 900-9128
Never Alone Again
Meeting open to anyone who wishes to stop drinking.
Daily 8:30am, 12pm, 7:30pm EST
[email protected]
1-646-558-8656
The New Reality
Open to anyone who wishes to share with the group.
Daily 8:00 pm EST
[email protected]
+1 301 715 8592
One Day At A Time
Telephone meetings.
Daily 1pm EST
[email protected]
(712) 775-7031
Palenville Monday Night Step Group
Palenville Step group.
Monday 7:30 pm EST
+1 301 715 8592
Phoning It In
Reading from the Big Book.
Monday 7pm EST
[email protected]
1-480-660-5314
Radical Maintenance
Telephone step meeting focussed on steps 10, 11, and 12.
Daily 8:30am to 9:30am EST
[email protected]
605-475-4821
Recovery Journey
Safe online place for anyone who wishes to recover from .alcoholism.
Sunday, Monday, Thursday 7pm EST
[email protected]
ROHD Crew
Road Of Happiness Destiny.
Monday, Wednesday, Friday 7pm EST
[email protected]
Royal York Group
Closed group study of the Big Book.
Thursday 6:30 pm EST
[email protected]
Speakeasy
A NYC based open young people's meeting.
Wednesday 7pm EST
Spiritual Crosswalk Group
Based on the 12 steps.
Tuesday 8:30pm CST
[email protected]
Stow Sunday Morning
Open-speaker meeting of alcoholics anonymous.
Sunday 10:30 am to 12:30 pm EST
[email protected]
Surrender to Win
Online meetings that follow the traditions and principles of AA.
Daily 7:00 pm PST
[email protected]
+1 312 626 6799
Woodland Group
Meditation and reflection.
Daily 6:30 am PST
[email protected]
Young Guns Rapid City
Open topic discussion meeting.
Friday 7 pm Mountain time zone
[email protected]
Zoom into Sobriety
Open telephone discussion meetings.
Friday 7:30pm to 8:30pm EST
[email protected]
Atheistic Alcoholics Anonymous Virtual Meetings
Atheistic Alcoholics Anonymous meetups include all those online AA meetings zoom based on a secular approach and offer the group members to share their feelings and emotions. Some of these calls are open to anyone who wants to join, whereas the others are closed groups.
Men-Only Alcoholics Anonymous Virtual Gatherings
As the name suggests, these AA online meetings are gender-specific, where only men are allowed to join in closed group calls. Some of these meetups are based on the principles of the Big Book and 12 steps, whereas others are generalized groups.
Women-Only Virtual Gatherings of Alcoholics Anonymous
These women-only online AA gatherings offer women a safe and conducive environment to share their experiences and journeys. Some of these groups provide 12-step and Big Book guidance, whereas some offer fun and easy support groups where women from all walks of life can join.
Meeting Name
Description
Meeting Schedule
Email
Phone Number
AA Serenity
A closed women email meeting group.
Weekly discussions
[email protected]
–
AA Women in Recovery
A fun and easy women's support group.
–
[email protected]
–
As Bill Sees It Women's Meeting
Meeting for reflection and discussion.
daily
[email protected]
228 671 887
Cybriety Women's Groups
Closed group of women who want to lead a sober life.
Weekly
[email protected]
ER-12
Women from all walks of life sharing their experience.
weekly
[email protected]
GROW
The grateful recovering online women holds email meetings.
Weekly
[email protected]
KISS Group
Keep It Simple Sisters, a closed women's AA group.
Sunday and Wednesday
[email protected]
Secular AA
Women only closed meeting.
Sunday 10:00 am EST
Monday to Saturday 1pm EST
Sisters In Sobriety (SIS)
Weekly meeting of women only group.
Weekly
[email protected]
Sober Gals
Closed women group.
Sunday 5:30 pm to 6:30 pm EST
The Circle of Old Timers Women's Group
Women's only group focused on discussions of support.
Monday, Wednesday, Friday 11 am to 12:30 pm EST
[email protected]
Women's Sober Living
Member read AA literature and discuss.
Daily 7 am EST
[email protected]
Women's 10th step meeting
Women only group.
Wednesday 8:45 pm EST
[email protected]
LGBTQ Virtual Gatherings of Alcoholics Anonymous
These AA intergroup online meetings offer a safe place for members of the LGBTQ community to share their emotions and experiences without any fear of being judged. When they are surrounded by individuals similar to themselves, who understand them and with whom they can relate, they are better positioned to continue their sobriety journey.
What Do Online AA Meetings Look Like?
Alcoholics Anonymous meetups are held over the internet through various forums and applications. Individuals who want to attend live AA meetings online are given specific times to come on the internet and join the meeting in that format.
The video conferencing format is the one that resembles the traditional setup of Alcoholics Anonymous meetups the most since every member can see all the other Alcoholics Anonymous speakers in virtual meetups. This helps them maintain the personal touch while ensuring social distancing simultaneously.
Some of the Ways Through Alcoholics Anonymous Meetups Can Be Held Virtually Are:
Email recovery meetups
Chat Meetups or chat rooms
Discussion Forums
Alcoholics Anonymous Telephone Calls Or audio Calls
Social Media community groups
Alcoholics Anonymous groups through video conferencing such as Skype and Zoom
Duration Of AA Meetings Online
The duration of various closed and open AA meetings online on any particular day varies with each specific group. Usually, online AA meetings, video calls, audio calls, and other discussion groups can last from 1-2 hours in a day. Sometimes, a 30-minute slot is allotted for the speaker, followed by a question and answer session for 30 minutes. Each meeting has its own agenda and specific details of how it is carried out. Members are passed on all the required information before the meeting time to be prepared.
How to Stay Anonymous in AA Zoom Meetings Online?
The main advantage of an Alcoholics Anonymous meeting is its anonymity to its members. However, now during the pandemic, when the shift has been made to virtual meetups, the safety and anonymity of the members needs to be assured. Fortunately, this is possible with this service.
The Following Steps Can Be Taken to Remain Anonymous in Online AA Meetings Zoom:
 The first step in remaining anonymous in online AA meetings zoom is that the member needs to enter a name for the meeting, at which point they can choose whatever name they want.
If one is uncomfortable with showing their face, they can turn off their video and turn on the camera only when they feel comfortable during AA zoom meetings online.
If a person wants to turn on the video for better communication but is skeptical about the home conditions, he can sit while facing a wall so that only a solid background is visible.
If one does not feel comfortable while communicating in front of his family members, he can choose to use headphones while attending AA meetings online Zoom.
Benefits Of Online AA Meetings
Due to the study about the benefits of peer support groups in the treatment of addiction, the importance and advantages of Alcoholics Anonymous meetups cannot be undermined.
Some of the Most Common Benefits of Online AA Meetings Are Listed Below:
The most significant advantage of AA online meetings is during the COVID-19 global pandemic, as individuals can continue their AA meetings online while still practicing social distancing through a video conferencing service.
Individuals do not have to worry about the problem of reaching the meeting venue; they can simply attend the AA Zoom meetings online from the comfort of their homes.
Individuals can choose the type and time of their desired online meeting and attend it based on their availability.
With a diverse group of individuals attending the meeting, individuals can feel better connected with others who are on similar paths of recovery after detox and addiction treatment.
Individuals have the option to remain as anonymous as possible during the calls. If they are not comfortable with a video call, they can choose a chat meeting and express themselves in the way they want.
When individuals are not face-to-face with each other during an online meeting, they are less likely to feel embarrassed or self-conscious, which helps them benefit more from such gatherings.
Get Help Today By Attending Virtual Calls of Alcoholics Anonymous
In this era of information and technology, online AA meetings offer a number of advantages that are not possible in face-to-face contact and interactions. The most significant benefit of them is their accessibility and anonymity. A person just has to sit in his home and attend a meeting without even showing his face to others or only divulging the information he wishes to do so.
Whether someone is searching for Alcoholics Anonymous meets to attend as part of an aftercare program after they stop residential treatment or just want to accompany them to prevent relapse and hope for a sober future, AA meetings online Zoom offer an effective and efficient way in this regard. If one is looking for online AA meetings near me, there are several resources available in this regard which have been discussed above.
Frequently Asked Questions
Do I Have to Download Zoom in Order to Join AA Online Meetings?
You do not necessarily have to download the Zoom application to join a meeting or avail of this service. You can simply access the main webpage of Zoom: https://zoom.us, where you can choose the option "Join A Meeting." Then, enter the meeting ID and click Join. You can also download the Zoom application to make a meeting, but you can join even without downloading the app.
How To Join AA Zoom Meeting Online From a Smartphone?
You can join an online zoom meeting from a smartphone by clicking on the "Join by Phone w/Pass Code" option, where you will just be able to join the audio. In case you want to join the audio and video, click on the "Link to Join Online" button. Whichever way you choose to connect, you will be prompted to enter a display name visible to all the members.
Should Video Be Turned Off During the Meeting?
That is a decision that is entirely based on the person's consent. If he wishes to turn off his video or otherwise, it is their call and decision.
Can I add my own AA Zoom Meeting Online to This List?
Yes, you have the option of adding information about your Alcoholics Anonymous zoom online meeting to this list by simply sending your Alcoholics Anonymous letter to [email protected]
Find the best treatment options. Call our free and confidential helpline
---
Page Sources
Laudet, A. B. (2008). The impact of Alcoholics Anonymous on other substance abuse-related twelve-step programs. Recent developments in alcoholism, 71-89. https://www.ncbi.nlm.nih.gov/pmc/articles/PMC2613294/
Tracy, K., & Wallace, S. P. (2016). Benefits of peer support groups in the treatment of addiction. Substance abuse and rehabilitation, 7, 143. https://www.ncbi.nlm.nih.gov/pmc/articles/PMC5047716/
Bergman, B. G., Kelly, J. F., Fava, M., & Evins, A. E. (2020). Online recovery support meetings can help mitigate the public health consequences of COVID-19 for individuals with substance use disorder. Addictive behaviors, 106661. https://www.ncbi.nlm.nih.gov/pmc/articles/PMC7493730/
Barrett, A. K., & Murphy, M. M. (2021). Feeling supported in addiction recovery: comparing face-to-face and videoconferencing 12-step meetings. Western Journal of Communication, 85(1), 123-146. https://www.tandfonline.com/doi/abs/10.1080/10570314.2020.1786598
Knopf, A. (2020). Online meetings for 12‐Step and other support groups. Alcoholism & Drug Abuse Weekly, 32(12), 7-7. https://onlinelibrary.wiley.com/doi/full/10.1002/adaw.32667
Gossop, M., Stewart, D., & Marsden, J. (2008). Attendance at Narcotics Anonymous and Alcoholics Anonymous meetings, frequency of attendance and substance use outcomes after residential treatment for drug dependence: a 5‐year follow‐up study. Addiction, 103(1), 119-125. https://onlinelibrary.wiley.com/doi/abs/10.1111/j.1360-0443.2007.02050.x