Alcoholics Anonymous (AA) meetings have been a source of help and assistance for millions of people across the globe as part of their substance abuse treatment. However, in the current scenario of a global pandemic (COVID-19) where social distancing is advocated, the traditional AA meetings can no longer be carried out. This is where online AA meetings can be beneficial. Read along further to find out about various AA meetings online, their specifications and duration, as well as their benefits.
Supporting Sobriety During A Global Pandemic
Based on the study about the impact of Alcoholics Anonymous (AA) and Narcotics Anonymous (NA) programs, they are proven to serve as a resource where individuals are offered peer support in a step-by-step program through which they can become and stay sober. Most of the individuals who attend a drug rehab for their addiction treatment attend AA meetings after completing their treatment. Through weekly in-person support and meetings, individuals are taught to manage their stress regarding addiction and stay on the road to sobriety. However, in this global pandemic of COVID-19, one of the worst things that those individuals have heard is the closure of all such AA meetings to implement social distancing.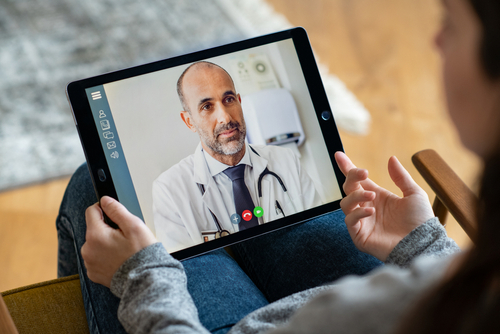 Are AA Meetings Online A Solution?
People in recovery need this constant connection with their peers and support groups, especially in the time of forced isolation caused by a global pandemic. In the absence of such a connection, the chances of negative emotions rising once again, and people falling prey to the temptation of addiction can become quite high. Those individuals can relapse easily in such a depressive, stressful, and isolated environment.
Therefore, a support connection must be maintained for all such individuals, even in isolation. This is where online AA meetings come in.
AA Online Meetings: What Are They?
AA meetings online are the new way through which a strong network of peer support and human connection is established while practicing social distancing at the same time. Individuals join online support meetings from their own homes through various mobile and web-based applications. This helps them stay in connection with their peers and friends in a time of stress and panic instead of adopting unhealthy coping mechanisms. Individuals are urged to join online AA meetings now to continue their addiction treatment during COVID-19 and to remain sober even when they cannot physically be present at one location.
AA Meetings Online Resources
There are several online AA meetings USA that individuals can join to continue on their paths to recovery and sobriety. These online groups can be categorized based on whether they are 12-step based or not, gender-specific, or of some other type.
Most rehab hotlines can also specify various AA meetings online so people can join them according to their preferences.

12-Step AA Meetings Online
Atheistic AA Meetings Online
Men-Only AA Meetings
Women-Only Online AA Meetings
LGBTQ Online AA Meetings
What Do Online AA Meetings Look Like?
AA meetings are held online through various forums and applications. Individuals who want to attend live AA meetings online are given specific times on which they can come online and join the meeting in that particular format.
The video conferencing format is the one that resembles the traditional setup of AA meetings the most since every member can see all the other AA speakers in meetings online. This helps them maintain the personal touch while ensuring social distancing at the same time.
Some of the ways through AA meetings can be held online are:
Email recovery meetings
Chat Meetings or chat rooms
Discussion Forums
Telephone Meetings Or audio Calls
Social Media community groups
AA group meetings through video conferencing such as Skype and Zoom.
Duration Of AA Meetings Online
The duration of various closed and open AA meetings online varies with each particular group. Usually, online AA meetings, video calls, audio calls, and other discussion groups can last from 1-2 hours. Sometimes, a 30-minute slot is allotted for the speaker, followed by a question and answer session for 30 minutes. Each meeting has its own agenda and specific details of how it is carried out. Members are passed on all the required details before the meeting time, so they can be prepared.
Benefits Of Online AA Meetings
Due to the study about the benefits of peer support groups in the treatment of addiction, the importance and advantages of AA meetings cannot be undermined. Some of the most common benefits of online AA meetings are listed below:
The biggest advantage of online AA meetings is during the COVID-19 global pandemic as individuals can continue their AA meetings online while still practicing social distancing.
Individuals can choose the type and time of their desired online meeting and attend it based on their availability.
With a diverse group of individuals attending the meeting, individuals can feel better connected with others who are on similar paths of recovery after detox and addiction treatment.
Individuals have the option to remain as anonymous as possible during the meetings. If they are not comfortable with a video call, they can choose a chat meeting and express themselves in a way that they want.
When individuals are not face-to-face with each other during an online meeting, they are less likely to feel embarrassed or self-conscious, which helps them benefit more from such meetings.
---
Page Sources
Alexandre B. Laudet, The Impact of Alcoholics Anonymous On Other Substance Abuse Related 12-step Programs, 2008, https://www.ncbi.nlm.nih.gov/pmc/articles/PMC2613294/
Kathlene Tracy and Samantha P. Wallace, Benefits of Peer Support Groups in the Treatment of Addiction, 2016, https://www.ncbi.nlm.nih.gov/pmc/articles/PMC5047716/