Alcoholics Anonymous (AA) meetings have been a source of help and assistance for millions of people across the globe as part of their substance abuse treatment. However, in the current scenario of a global pandemic (COVID-19) where social distancing is advocated, the traditional AA meetings can no longer be carried out. This is where online AA meetings can be beneficial. Read along further to find out about various AA meetings online, their specifications and duration, as well as their benefits.
Supporting Sobriety During A Global Pandemic
Based on the study about the impact of Alcoholics Anonymous (AA) and Narcotics Anonymous (NA) programs, they are proven to serve as a resource where individuals are offered peer support in a step-by-step program through which they can become and stay sober. Most of the individuals who attend a drug rehab for their addiction treatment attend AA meetings after completing their treatment. Through weekly in-person support and meetings, individuals are taught to manage their stress regarding addiction and stay on the road to sobriety. However, in this global pandemic of COVID-19, one of the worst things that those individuals have heard is the closure of all such AA meetings to implement social distancing.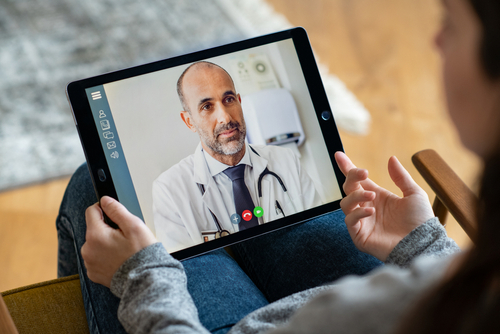 Are AA Meetings Online A Solution?
People in recovery need this constant connection with their peers and support groups, especially in the time of forced isolation caused by a global pandemic. In the absence of such a connection, the chances of negative emotions rising once again, and people falling prey to the temptation of addiction can become quite high. Those individuals can relapse easily in such a depressive, stressful, and isolated environment.
Therefore, a support connection must be maintained for all such individuals, even in isolation. This is where online AA meetings come in.
AA Online Meetings: What Are They?
AA meetings online are the new way through which a strong network of peer support and human connection is established while practicing social distancing at the same time. Individuals join online support meetings from their own homes through various mobile and web-based applications. This helps them stay in connection with their peers and friends in a time of stress and panic instead of adopting unhealthy coping mechanisms. Individuals are urged to join online AA meetings now to continue their addiction treatment during COVID-19 and to remain sober even when they cannot physically be present at one location.
AA Meetings Online Resources
There are several online AA meetings USA that individuals can join to continue on their paths to recovery and sobriety. These online groups can be categorized based on whether they are 12-step based or not, gender-specific, or of some other type.
Most rehab hotlines can also specify various AA meetings online so people can join them according to their preferences.

12-Step AA Meetings Online
Meeting Name
Description
Meeting Schedule
Email
Phone Number
12 Step Online
Online meeting place and discussion forum.
Monday, Wednesday, Friday 7:30 – 8:30 pm EST
brad@proweb
-solutions.net
–
12 Step Study Group of AA
Open meeting with selected reading from AA approved literature and topic discussions.
Daily 6:00pm Pacific time zone, 9:00pm EST
aaebookguy@gmail.com
–
12+12 = Freedom Email Group
Adhere to the 12 traditions and learn from experience, strength, and hope.
1212freedom1@gmail.com
–
12 StepMe Chat
Assist others in doing the 12 steps.
–
–
164 and Beyond
Open AA meeting.
Different options available
remotecommunities40@gmail.com
+1 415 762 9988
1st Things First a Foundation 2 Recovery
Based on the 12-step program, we help newcomers by working on steps on a monthly basis.
–
–
–
24/7 AA Online Video Meeting
Open meetings held 24 hours, 7 days a week.
Daily every hour
–
–
2nd and 3rd Step Discussion Group
Using the experiences that have helped alcoholics stay sober.
Daily 6:00pm EST/ 3:00pm PST
aavirtualnmeetings@gmail.com
–
494 Lunch Bunch Group
Focussing on solution-based sobriety and recovery.
Monday to Saturday 12pm EST
lunchbunch494@mail.com
(415) 762-9988
AA Action is the Key
The key to sobriety is through the 12 steps of AA.
Once a week
jaw_8675309@yahoo.com
–
AA- Any Lengths
To help AAs stay connected.
Daily 12pm-1pm Pacific time
phdarl@gmail.com
–
AA Big Book Cover-to-cover
Telephone meetings on reading and discussing the AA Big Book.
Daily 8pm EST
–
425-436-6200
AA Downunder Meeting
Voice chat room for recovering alcoholics.
Daily 8:30 EST
–
–
AA Friends
A small online group of alcoholics anonymous.
Saturdays 8am and 8pm EST
aafriends@usa.com
–
Along Spiritual Lines
An open online zoom discussion.
Daily 12pm EST
alongspirituallines@gmail.com
Atlanta Triangle Online Meeting
Online support for everyone.
Daily 1:00pm to 2:30pm EST
contact@atlantatriangleclub.org
Attitude Adjustment Group
A closed AA group where everyone shares hope and experience to stay sober.
Mon to Sat 7:30am CST
crystallakestmarysaa@gmail.com
+1 253 215 8782
Beginners Meeting
Weekly meetings for newcomers.
Wednesday 7pm EST
beginnersmeeting@gmail.com
Brant Group
As Bill Sees It Meeting.
Tuesday 7:30pm EST
brantgroup1960@gmail.com
By the Book
Big Book Study.
Daily 9:00 pm EST
Cyberbythebook@gmail.com
+1 312 626 6799
California Avenue Supper Group
Speaker meeting and open discussion.
Thursday 6pm PST
pathursdaysupper@gmail.com
+1 312 626 6799
Chico New Life
Discussion meetings.
Sunday 7pm to 8:15pm PST
caseydiphone@gmail.com
Cocoanuts
Regular meeting of alcoholics anonymous in San Francisco.
Sunday 9:00am to 10:30am PST
cocoanutsgroup@gmail.com
+1 646 558 8656
Corona Virus Group
San Antonio TX meetings.
Daily 7pm EST
surge98b@hotmail.com
Cross Talk Group
Based on the 12 steps and the Big Book.
Daily midnight EST
peter@coolasstuff.com
712-451-0235
Daily Reprieve
For anyone who wants to stop drinking.
Monday and Thursday 6pm to 7pm EST
DailyReprieve11190@gmail.com
+1 253 215 8782
Digitally Sober
Closed online text and voice chat meetings.
Monday 1:00pm CST
2stepdiscord@gmail.com
Early Risers
Virtual group meetings via Zoom.
Mon to Fri 7am EST

Saturday 9am EST

earlyrisershudson@gmail.com
Eye Opener
Audio and video AA meetings.
Daily 6am PST
PortlandEyeOpener@gmail.com
Friends Of Recovery AA
Zoom meeting of anyone who wishes to lead a sober life.
Mon to Thur, Sun 8pm EST
ysignori@gmail.com
Hawaii Online Meetings
A safe place for everyone to share their experience and hope.
Mon to Fri 1pm and 7pm HST
hawaiionlinemeetings@gmail.com
+1 253 215 8782
Into Action Group
Closed AA meeting.
Tuesday and Friday 8pm CST
intoactiongroup@outlook.com
+1 646 558 8656
Kingston Fresh Start
Open meeting based on the 12 steps.
Monday 6:30pm EST
Love & Service Group
Open speaker meeting to discuss hope and strength.
Sunday 9:00 pm EST
+1 (408)638-0968
MAXIMUM Soberness
A group of healthcare professionals committed to walking the path of recovery.
Daily 7pm PST
maximum.soberness@gmail.com
+1 301 715 8592
Meditating Peacocks
Meditation and discussion through voice calls.
Tuesday 6:30pm EST
Mission First
Meeting for service members and veterans.
Friday 9 pm EST
issionfirst212@gmail.com
Modem2Modem
Topic/discussion meeting based on the Big Book.
Saturday 8pm MST
modem2modemAA@gmail.com
1 (669) 900-9128
Never Alone Again
Meeting open to anyone who wishes to stop drinking.
Daily 8:30am, 12pm, 7:30pm EST
Slessurb1@gmail.com
1-646-558-8656
The New Reality
Open to anyone who wishes to share with the group.
Daily 8:00 pm EST
thenewrealityaa@gmail.com
+1 301 715 8592
One Day At A Time
Telephone meetings.
Daily 1pm EST
onedayatatime1pm@gmail.com
(712) 775-7031
Palenville Monday Night Step Group
Palenville Step group.
Monday 7:30 pm EST
+1 301 715 8592
Phoning It In
Reading from the Big Book.
Monday 7pm EST
acwb77@gmail.com
1-480-660-5314
Radical Maintenance
Telephone step meeting focussed on steps 10, 11, and 12.
Daily 8:30am to 9:30am EST
Radicalmaintenance@gmail.com
605-475-4821
Recovery Journey
Safe online place for anyone who wishes to recover from .alcoholism.
Sunday, Monday, Thursday 7pm EST
barbara.j.knight@gmail.com
ROHD Crew
Road Of Happiness Destiny.
Monday, Wednesday, Friday 7pm EST
meet@rohdcrew.com
Royal York Group
Closed group study of the Big Book.
Thursday 6:30 pm EST
Royalyorkgroup20@gmail.com
Speakeasy
A NYC based open young people's meeting.
Wednesday 7pm EST
Spiritual Crosswalk Group
Based on the 12 steps.
Tuesday 8:30pm CST
spiritualcrosswalkgroup@gmail.com
Stow Sunday Morning
Open-speaker meeting of alcoholics anonymous.
Sunday 10:30 am to 12:30 pm EST
StowSundayMorning@gmail.com
Surrender to Win
Online meetings that follow the traditions and principles of AA.
Daily 7:00 pm PST
mrsmassebeau@gmail.com
+1 312 626 6799
Woodland Group
Meditation and reflection.
Daily 6:30 am PST
mdmeans61@gmail.com
Young Guns Rapid City
Open topic discussion meeting.
Friday 7 pm Mountain time zone
buffalomaker@hotmail.com
Zoom into Sobriety
Open telephone discussion meetings.
Friday 7:30pm to 8:30pm EST
jlblists@gmail.com
Atheistic AA Meetings Online
| Meeting Name | Description | Meeting Schedule | Email | Phone Number |
| --- | --- | --- | --- | --- |
| A Spiritual Recovery | Email topics meetings and discussions. | Weekly email meetings | – | – |
| AA Atheists and Agnostics | A place to achieve and share recovery from alcohol addiction. | – | aa-atheists-and-agnostics@googlegroups.com | – |
| Atheist AA | Share experiences, strengths and hope. | | atheist-aa@googlegroups.com | |
| Beyond Belief Agnostics & Freethinkers | A secular AA format for atheists, agnostics, and others. | Saturday 6:30pm to 7:30pm EST | beyondbelieftoronto@gmail.com | +1 253 215 8782 |
| Madison Area We Agnostics freethinkers in AA | Closed meetings. | Daily, different times | Madison.FreethinkersAA@gmail.com | |
| Our Mostly Agnostic Group Of Drunks | OMAGOD meets online through Zoom. | Monday and Friday 7pm EST | omagodwebmaster@gmail.com | |
| The Jaywalkers Online | Online meeting for people who wish to quit drinking. | Wednesday and Saturday 6pm EST | mwilliams1220@gmail.com | |
| The Program Works Group | An open meeting for alcoholics anonymous. | Daily 8 pm EST | siteadvisor@theprogramworks.com | |
| The Three Five Group | A California-style speaker meeting. | Saturday 7 pm PST | themakovery@gmail.com | |
| West Orange NJ | Open meeting based on the steps. | Daily 8:30 am EST | whathavenot@gmail.com | |
| Winner's Circle | Daily Virtual Meetings. | Daily 7:30 am EST | | |
Men-Only AA Meetings
| Meeting Name | Description | Meeting Schedule | Email | Phone Number |
| --- | --- | --- | --- | --- |
| AAGentlemen | Male only group of 12 steps. | | aagentlemen@googlegroups.com | |
| Defective Characters | Men's closed Big Book discussion group. | Tuesday 6:30pm CT | jto2l64@yahoo.com | |
| Group 500 Speakers Meeting | Men only speaker meeting. | Friday 7-8:15pm CST | b.ruckster@gmail.com | |
| Liar's Club Boston | Closed men's discussion group based on recovery. | Daily 9:00 pm EST | liarsclubboston@gmail.com | |
| Men's Online Serenity Group | Closed, online, men's discussion meeting. | Tuesday 7pm PST | mensonlineserenity@gmail.com | +1 669 900 6833 |
| Men's Stag at the Hole In The Sky | Closed men's stag meeting of alcoholics anonymous. | Monday 6 pm PST | holeinthesky.zoom@gmail.com | |
| Rebellion Dogs | Closed online group of men. | Daily 12pm EST | rebelliondogs7@gmail.com | |
Women-Only Online AA Meetings
Meeting Name
Description
Meeting Schedule
Email
Phone Number
AA Serenity
A closed women email meeting group.
Weekly discussions
listkeep@oso-aa.org
–
AA Women in Recovery
A fun and easy women's support group.
–
aawomeninrecovery@yahoogroups.com
–
As Bill Sees It Women's Meeting
Meeting for reflection and discussion.
daily
asbillseesitbolingbroke@gmail.com
228 671 887
Cybriety Women's Groups
Closed group of women who want to lead a sober life.
Weekly
1cybrietyone@gmail.com
ER-12
Women from all walks of life sharing their experience.
weekly
er-12-subscribe@yahoogroups.ca
GROW
The grateful recovering online women holds email meetings.
Weekly
grow-owner@oso-aa.org
KISS Group
Keep It Simple Sisters, a closed women's AA group.
Sunday and Wednesday
kissgroup@yahoo.com
Secular AA
Women only closed meeting.
Sunday 10:00 am EST
Monday to Saturday 1pm EST
Sisters In Sobriety (SIS)
Weekly meeting of women only group.
Weekly
sis-owner@oso-aa.org
Sober Gals
Closed women group.
Sunday 5:30 pm to 6:30 pm EST
The Circle of Old Timers Women's Group
Women's only group focused on discussions of support.
Monday, Wednesday, Friday 11 am to 12:30 pm EST
delorismdc@gmail.com
Women's Sober Living
Member read AA literature and discuss.
Daily 7 am EST
womensoberlivingus@gmail.com
Women's 10th step meeting
Women only group.
Wednesday 8:45 pm EST
Nessasmaxin@gmail.com
LGBTQ Online AA Meetings
Meeting Name
Description
Meeting Schedule
Email
Phone Number
A Safe Place
A safe place for all.
Tuesday and Thursday 8:30pm EST
Kowboy001@gmail.com
(515) 604-9099
A Virtual Awakening
Closed AA meetings for women, nonbinary, and trans people.
Sunday 8:30pm EST

Thursday 1:00pm EST

avirtualawakening@gmail.com
+1 646 558 8656
AA4gaymen
A group of men from all walks of life share their experience.
Daily
AA4gaymen@yahoogroups.com
Goodlands
An LGBT AA group in San Francisco.
Sunday 2pm PST
LGBTQ+ & Friends AA Online
A supportive 12 step program.
Daily 6pm CST
lgbtqandfriendsaa@gmail.com
Rainbow Serenity
Closed online group of alcoholics anonymous for the LGBTQ community.
Weekly
RainbowSerenity-subscribe@yahoogroups.com
What Do Online AA Meetings Look Like?
AA meetings are held online through various forums and applications. Individuals who want to attend live AA meetings online are given specific times on which they can come online and join the meeting in that particular format.
The video conferencing format is the one that resembles the traditional setup of AA meetings the most since every member can see all the other AA speakers in meetings online. This helps them maintain the personal touch while ensuring social distancing at the same time.

Some of the ways through AA meetings can be held online are:
Email recovery meetings
Chat Meetings or chat rooms
Discussion Forums
Telephone Meetings Or audio Calls
Social Media community groups
AA group meetings through video conferencing such as Skype and Zoom.
Duration Of AA Meetings Online
The duration of various closed and open AA meetings online varies with each particular group. Usually, online AA meetings, video calls, audio calls, and other discussion groups can last from 1-2 hours. Sometimes, a 30-minute slot is allotted for the speaker, followed by a question and answer session for 30 minutes. Each meeting has its own agenda and specific details of how it is carried out. Members are passed on all the required details before the meeting time, so they can be prepared.
Benefits Of Online AA Meetings
Due to the study about the benefits of peer support groups in the treatment of addiction, the importance and advantages of AA meetings cannot be undermined. Some of the most common benefits of online AA meetings are listed below:
The biggest advantage of online AA meetings is during the COVID-19 global pandemic as individuals can continue their AA meetings online while still practicing social distancing.
Individuals can choose the type and time of their desired online meeting and attend it based on their availability.
With a diverse group of individuals attending the meeting, individuals can feel better connected with others who are on similar paths of recovery after detox and addiction treatment.
Individuals have the option to remain as anonymous as possible during the meetings. If they are not comfortable with a video call, they can choose a chat meeting and express themselves in a way that they want.
When individuals are not face-to-face with each other during an online meeting, they are less likely to feel embarrassed or self-conscious, which helps them benefit more from such meetings.
---
Page Sources
Alexandre B. Laudet, The Impact of Alcoholics Anonymous On Other Substance Abuse Related 12-step Programs, 2008, https://www.ncbi.nlm.nih.gov/pmc/articles/PMC2613294/
Kathlene Tracy and Samantha P. Wallace, Benefits of Peer Support Groups in the Treatment of Addiction, 2016, https://www.ncbi.nlm.nih.gov/pmc/articles/PMC5047716/