Non-12-Step Programs and How They Differ From Traditional Approaches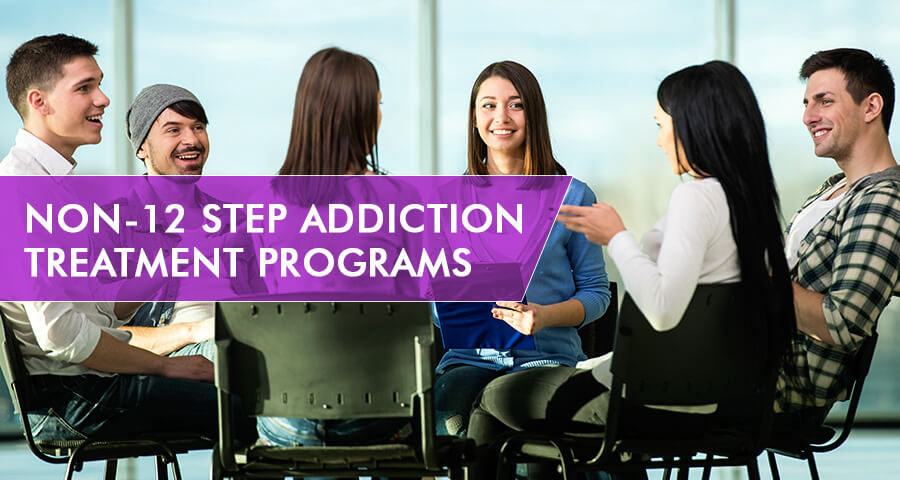 Important InformationThis information is for educational purposes only. We never invite or suggest the use, production or purchase of any these substances. Addiction Resource and it's employees, officers, managers, agents, authors, editors, producers, and contributors shall have no direct or indirect liability, obligation, or responsibility to any person or entity for any loss, damage, or adverse consequences alleged to have happened as a consequence of material on this website. See full text of disclaimer.
Several non 12 step rehab programs exist that are secular in nature. These 12 step alternatives generally ask recovering addicts to work on exercising self-control instead of seeking strength from an outside source of power. Non-12 step recovery programs tend to evolve with new research as well, and their approaches are more flexible than those of AA and other 12 step treatment groups. This is a crucial consideration as data of the National Survey on Drug Use and Health (NSDUH) show more than 20 million American adults battle with some form of drug or alcohol abuse.

Hope Without Commitment
Find the best treatment options.
Call our free and confidential helpline
Most private insurances accepted
Table of Contents
Non 12 Step Programs for Addiction Treatment
Statistics of the National Institute on Drug Abuse show addiction has a relapse rate of 50% on average, which qualifies it as a chronic disease. Support groups and aftercare services can help to promote sustained abstinence, which has been shown to reduce relapse rates. The duration of abstinence and relapse rate are inversely proportional – studies show that the relapse rate in individuals who abstain from alcohol and drug use for five years or more is lower than 15 percent. Some people find traditional 12 step programs help them, but others do not. Alternatives to 12 step programs rely not only on peer support, but also on internal motivation, and provide tools and mechanisms to minimize relapse. Most non 12 step rehab programs are free to join, with the only requirement being the desire to achieve abstinence and remain completely drug-free.

12 Step Alternatives Work – Evidence
Recovering addicts have better treatment outcomes when they're given choices instead of forced to accept one or another thing. Admittedly, little research has been conducted on non 12 step rehab, but AA researchers and psychologists Keith Humphreys and Lee Ann Kaskutas have found that 12 step alternatives benefit participants because of the fact that they share social support, abstinent role models and other curative features with organizations that have proven their long-term effectiveness. Some non 12 step recovery groups like SMART Recovery's technology of change has been sourced from well-established treatment approaches, which makes for an even stronger argument for its effectiveness through analogy. While traditional 12 step programs are effective where addiction is diagnosed and call for complete abstinence, their non 12 step rehab analogies differentiate between abuse and addiction and tailor their approaches accordingly. They also differ in that 12 step alternatives are non-spiritual.

The Facts of Non 12 Step Treatment Programs
A 2012 report by the National Center on Addiction and Substance Abuse at Columbia on addiction treatment showed evidence of the shortcomings of conventional approaches to addiction treatment. More specifically, it is the lack of flexibility that leads to failure.
Miriam J., a former alcohol addict, had a relapse following initial treatment at AA. She feels this might not have happened if she had known about the non 12 step alcohol treatment program Women for Sobriety at that time. She began to explore alternatives to 12 step programs like AA and found Women for Sobriety to be the right choice. Sitting in a room with other women who were like her made her feel less alone. She has been sober for three years now and has nothing but appreciation for this community of sober women ("sisters"), who have been so strong and supportive.
Common Non 12 Step Rehab Features
Alternatives to 12 step addiction recovery share a numbers of tenets. The key one involves taking personal responsibility for one's recovery from addiction. People helping people is a major part of non 12 step rehab and a pillar of the organization. It is believed that addicts who help other addicts recover also help themselves. Self-control and self-esteem are essential to recovery within the framework of any non 12 step program. 12 step alternatives do have a lot in common with their more traditional analogies – one obvious similarity is that members treat each other with dignity and respect. However, alternatives to 12 step organizations believe in offering problem drinkers and users a choice of behavioral change goals.
What 12 Step Alternatives Are There?
SMART Recovery
SMART Recovery is a non-profit, self-help support group for former addicts who wish to stop using drugs and/or alcohol long-term. Other problematic activities or behaviors also fall within the scope of this non 12 step recovery program. The organization cultivates self-empowerment and offers online and face-to-face meetings with peers, a 24/7 chat room, and an online message board. It is based on research that provides tools and mechanisms to help individuals alter negative thoughts in order to speed up recovery. This 12 step alternative follows a 4-point program that involves learning to manage urges, finding and maintaining motivation, coping with emotions, thoughts, and behavior, and striking and maintaining a balance in life. The wide array of tools and homework exercises this non 12 step rehab program offers its members helps them find internal motivation to bring about and maintain positive change with the end goal of long-term sobriety. Personal SMART recovery meetings follow the same format all over the world in an attempt to maintain consistency throughout the program. They usually go on for one and a half hours and are led by a trained facilitator. SMART meetings are open to anyone who is struggling with any kind of addiction.
S.O.S.
S.O.S. is another non-12 step program, non-religious in nature. Like the previous one, this non-profit, support organization is not affiliated with any outside establishment and is open to any individual who wishes to be free from alcohol and/or drug abuse. Continued abstinence is the only requirement to the members of this non 12 step recovery program. Membership is free and confidential. As no outside funding is allowed, donations may be requested on occasion in order to keep the groups running. S.O.S. prides itself on being non-religious. It is flexible and constantly evolves with new research.
A typical meeting of this non 12 step rehab group begins with announcements and a celebration of members' sobriety-related anniversaries. Most of the time is spent in group talks and interactions. Members work together as a collective and improve their quality of life by holding each other accountable and through long-term sobriety enhanced by peer support. Meetings take place around the world.
LifeRing Secular Recovery
As the name implies, this non 12 step recovery program does not rely on a higher power to attain sobriety. By believing that each addict has the power to control his or her vice, LifeRing facilitators make a conscious effort to motivate group members to find this self-control and strength.
LifeRing does not rely on sponsors or specific steps to attain sobriety. The non 12 step rehab organization lends support to members to find their own individual way to sustained sobriety. Among the treatment options available are face-to-face meetings, private one-on-one dialogues, and confidential connections via ePals, an email service where questions can be asked and answered. LifeRing meetings focus on the present, and past issues are not raised.
Women for Sobriety
Women for Sobriety (WFS) is one of the most important alternatives to 12 step programs. Founded 40 years ago by Jean Kirkpatrick, a woman suffering from alcoholism who ultimately overcame her problem by changing her negative thought patterns, this organization has around 100 groups in the United States and 20 in Canada today.
Aimed at improving women's sense of self-value, this non 12 step recovery program works from a position of empowerment in contrast to AA's focus on encouraging humility and limiting self-centeredness. The women in the group are encouraged to share their stories with each other as a means of learning how to manage their issues better. The founder's original approach to her own addiction treatment has not been abandoned – key emphasis is placed on replacing negative, self-destructive thoughts with self-affirming, positive ones.
Moderation Management
The 12 step alternative Moderation Management targets individuals who abuse alcohol, but are not addicted to it. Its members want to drink less or stop drinking entirely as well as bring other positive changes into their lives. This behavioral change program empowers members to accept personal responsibility for choosing their own path, be it abstinence or moderation, and stay on it, and offers a national support network to help them fulfill these aims. It promotes early recognition of risky drinking behavior, in particular where drinking in moderation is a more easily attainable goal. The groups are run by former members who became part of MM to resolve personal issues and ended up staying to help others. This non 12 step recovery program is recognized as an evidence-based one on par with other major mainstream rehabilitation and treatment organizations. MM creates a supportive, mutual-help environment that motivates people who are worried about their drinking to take action before drinking problems become severe. It features a professionally reviewed program of nine steps, which provides information about moderate drinking, limits, guidelines, drink monitoring exercises, self-management strategies, and goal setting techniques.

The Alternatives to 12 Step Programs: Nuance
The issue of nuance is appreciated by 12 step alternatives. The conviction that behaviors can be changed is a salient feature these programs have in common. Professionals and researchers agree that drug and alcohol abuse is a habit, unlike dependence, which is a disease. Non 12 step rehab organizations recognize that people who tend to overdrink or misuse drugs can suffer from alcohol- and drug-related problems to different extents, which is why moderation is a reasonable early option where problematic behavior is observed. Moderation is a practical, reasonable, and attainable recovery goal. Outcome studies prove that brief intervention programs can be cost-effective and highly successful.

12 Step Alternatives Can Prevent Addiction
Non 12 step recovery programs recognize that substance abuse should be addressed as soon as possible to keep it from turning into addiction. Individuals can make informed choices about moderation or abstinence-based on others' experiences, shared at meetings. Counteracting harmful habits is a worthwhile goal, especially when complete elimination of risk is not realistic, which traditional 12 step programs don't take into consideration. Non 12 step rehab philosophies recognize that people will change only if they willingly choose to do so. 12 step alternatives shorten the process of finding out whether total abstinence is a viable option by providing concrete guidelines.

Hope Without Commitment
Find the best treatment options.
Call our free and confidential helpline
Most private insurances accepted
View Sources
Introduction to SMART Recovery, https://www.smartrecovery.org/intro/
Secular Organizations for Sobriety (SOS), http://www.sossobriety.org
LifeRing Secular Recovery Approach, https://www.lifering.org/our-approach
Women for Sobriety Services, https://womenforsobriety.org/about/
Calls to our general hotline may be answered by Niznik Behavioral Health or other private treatment providers.