The 1.8 million residents of the state of WV are reeling under a crisis. The number of opioid-related overdose deaths in the state is the highest in the country. In fact, opioid overdose deaths saw a sharp increase from 1.8 deaths per 100,000 people in 1999 to 43.4 deaths per 100,000 in 2016.
The overdose rate in the state is almost three times the national average. In 2016, there were 733 overdose deaths in WV, primarily attributed to heroin and synthetic opioids. Looking at these statistics, it appears drug rehab centers in WV have their job cut out for them.
Statistics on alcohol-related behaviors among adolescents are equally discouraging. For example, among high school students, 18 percent report drinking alcohol for the first time before they turned 13, a percentage that is higher than the national average.
What are the challenges of substance abuse treatment in the Mountain State? Are there enough inpatient drug rehabs in WV to deal with the problem? Is affordable alcohol rehab available to citizens? Read on for a comprehensive overview of the scale of the problem and how you can beat addiction in WV.
6 Best Drug Rehabs in WV
Many outpatient and inpatient drug rehabs in WV offer a range of programs to help alcoholics get sober and drug addicts get clean. Here is a list of some of the top-rated drug treatment centers in WV.
Sparrow's Nest, Beckley, WV
This is a gender-based drug rehab in WV for women battling addiction. The program focuses on imparting spiritual, emotional, and practical life skills to recovering addicts in preparation for re-entry into society.
This center is top-rated for treatment effectiveness, accommodation, amenities, and meals and nutrition by past clients. Long- and short-term programs at residential treatment facilities provide housing and meals, and one-on-one individualized therapy with trained counselors ensures privacy and a chance to address the addict's unique circumstances and challenges. The 24/7 staff availability, daily classes, and clean amenities all contribute to successful recovery.
Call the helpline to learn more about the 12-month structured inpatient program at this West Virginia addiction treatment center that is run by trained life coaches with firsthand experience in overcoming substance abuse.
Parkersburg Comprehensive Treatment Center, Parkersburg, WV
This center offers outpatient substance abuse treatment for opioid addiction to individuals above the age of 18. The combined approach includes therapy and medical treatment for addiction. Doctors, nurses, and counselors work together to administer and monitor appropriate medications for addiction to heroin, morphine, and prescription painkillers. The type and dosage of medications are based on the patient's health status and addiction treatment needs.
The center has a welcoming environment where recovering addicts receive both individual and group therapy as well as aftercare planning. The idea is to equip patients with the support system and skills to get on the path to recovery as well as ensure relapse prevention. However, this facility has been caring for opioid addicts for more than a decade now, and does not follow a 12-step approach.
Call the helpline to learn how recovering opioid addicts can benefit from treatment at this drug rehab in WV.
Valley Healthcare System, Morgantown, WV
Although it is not a free drug rehab in WV, this federally-funded facility does offer low-cost treatment for chemical dependency to adults and adolescents. West Virginians can obtain care in three cities through programs based on the 12-step ideology. Both outpatient and residential services are offered, including DUI services and counseling for drug abuse in WV.
State-approved education for DUI and charges of public intoxication is also provided. In addition, recovering addicts can benefit from intensive outpatient programs and educational lectures. Clients also have access to adventure-based therapies such as horseback riding, camping, and hiking.
A highly structured 28-day residential program for chemical dependency in adult men and women is run by a multidisciplinary team that provides comprehensive care, including physical, mental, spiritual, and social aspects. Adult women with chemical dependencies can enroll in a gender-specific specialized residential extended care program that focuses on the unique needs of women in recovery.
Martinsburg Institute, Martinsburg, WV
Martinsburg Institute is a methadone & suboxone clinic in West Virginia that has been functioning since 2002. The institute is listed as a SAMHSA-Certified Opioid Treatment Program. Their main focus is on intensive outpatient treatment, although they offer other levels of care.
Martinsburg Institute offers clinical detoxification alongside other treatment programs such as 12-step, addiction counseling, medication-assisted treatment, individual counseling, group therapy, etc. It is one of the rehab centers in the state that accepts Medicaid insurance.
Jacob's Ladder Brookside Farm, WV
This drug rehab in WV is a working rehab farm in a majestic location. As part of the addiction treatment, residents make an active contribution to the daily functioning of the farm.
The campus includes several studios and historic buildings in a rural community for a sanctuary-like feel in the hills. The long-term residential treatment program includes drug detox and conventional addiction treatment along with music, meditation, arts, yoga, and wilderness adventure therapy for a holistic approach to recovery. Personalized treatment approaches include mindfulness and cognitive therapy. The program is family-inclusive, with therapy sessions and coordinated visits included in the plan.
Thomas Memorial Hospital, South Charleston, WV
Thomas Memorial Hospital is one of the leading healthcare centers in WV, and their addiction treatment programs have proven helpful for people struggling with substance abuse.
The hospital usually recommends a supervised medical detoxification process before residential treatment for people struggling with an addiction to substances such as alcohol, benzodiazepines, or opioids. This helps flush the substance's system to a large degree first – ahead of the introduction of other treatment programs.
TMH offers both detoxification services and medication-assisted treatment, using drugs such as buprenorphine, suboxone, and methadone. They also offer treatment services for dual diagnosis, which means that they accept people diagnosed with co-occurring mental health disorders based on the availability of skilled staff in that department.
For levels of care, TMH offers inpatient, intensive outpatient, and outpatient care. The center accepts both men and women, and they even have special programs for pregnant women. Payment methods such as Medicare, Medicaid, Military Insurance, Private Health Insurance, and Cash/Self-Pay are all accepted at this hospital.
Beating Addiction at West Virginia Drug Rehabilitation Centers
Given that WV has the highest percentage of opiate overdose mortality in the country, it is not surprising that affordable and effective rehabilitation facilities are in demand in the state. Do residents have to pay for addiction treatment out of pocket, or are there free drug rehab centers in WV? What are some of the specialized rehab programs in the state?
Court-ordered DUI safety and treatment programs are available to citizens. These programs consist of an intervention, followed by treatment and education for people struggling with alcoholism. An intake evaluation is performed before admission to the 18-hour program conducted over six weeks.
Children with substance abuse problems can benefit from treatments offered by Child Outpatient Services that address a range of conditions, including aggression, anger management, and mental health conditions. Drug treatment centers in WV have partnered with the school system in the state to offer counseling sessions during school days.
A holistic approach to teen addiction treatment addresses substance abuse and other issues, such as eating disorders, problems with self-esteem, depression, social anxiety, and bullying.
Drug Abuse Statistics In West Virginia
According to the Drug Enforcement Administration, 1 in 10 people in WV are battling addiction. With the highest drug overdose rate in the entire country and more than 260 overdose deaths in the tri-county area alone in 2016, there is no denying that the problem is monumental.
Trends in Prescription Drug Misuse in WV:
In 2014, 199 deaths in WV were attributed to oxycodone, and 133 were hydrocodone-related.
The number of drug overdose deaths rose sharply by 605 percent from 1999 to 2010.
Heroin Abuse:
Among high school seniors in WV, 1 in 5 has easy access to heroin.
WV has the 11th highest heroin-related overdose rate in the country.
Fentanyl Abuse in WV:
There was a 227 percent increase in fentanyl overdose deaths in WV from 2014 to 2015.
Counterfeit pharmaceuticals and illicit opiates flood the illegal drug market in the state and contribute to the high overdose death rate.
Crystal Meth:
Most of the methamphetamines in WV come from Mexican suppliers, although some clandestine labs in the state produce small quantities of the drug in powder form.
There has been a gradual increase in toxic exposure to methamphetamines, with 46 incidents reported in 2015, which was a 19 percent increase compared to the previous year.
Half a million Americans have a heroin use disorder.
The rate of painkiller prescriptions is 138 per 100 people, the highest in the nation.
More than 60 percent of overdose deaths in the state are due to illicit pharmaceutical drugs.
West Virginia Drug Laws
Following the national grouping, the schedules of controlled substances under West Virginia drug laws are as follows:
Unlike many other states, WV does not have separate laws and penalties for the possession of various types of controlled substances – the penalties are usually the same, and they are all treated as misdemeanors.
On that note, the details are as follows:
| | | | | |
| --- | --- | --- | --- | --- |
| Substance/Schedule | Criminal Charges | Detail | Sentencing (Potential Imprisonment) | Sentencing (Potential Fine) |
| Schedule I | Possession | Any amount | 90 days to 6 months in jail – could be doubled for repeat offenders | Up to $1000 |
| Schedule II | Possession | Any amount | Same as above | Same as above |
| Schedule III | Possession | Any amount | Same as above | Same as above |
| Schedule IV | Possession | Any amount | Same as above | Same as above |
| Schedule V | Possession | Any amount | Same as above | Same as above |
For possession with the intent to distribute, or sale/trafficking of controlled substances, the penalties are more serious.
West Virginia Weed Laws
In 2015, WV was among the top 5 marijuana-producing states in the country. Favorable climate and rough terrain are conducive to indoor and outdoor cannabis cultivation in many parts of the state. That year, the DEA eradicated 22 indoor and 275 outdoor fields.
However, it wasn't until 2017 that WV lawmakers accepted the use of the substance as a medical treatment for specific qualifying conditions. This group of medical conditions includes Amyotrophic Lateral Sclerosis (ALS), Cancer, Chronic or Intractable Pain, Crohn's disease, Intractable spasticity, HIV/AIDS, Huntington's disease, Epilepsy & intractable seizures, Multiple Sclerosis, Neuropathy, Parkinson's disease, PTSD, Sickle cell anemia and Terminal Illnesses/diseases.
Currently, recreational use of the substance is illegal, and breaking these West Virginia weed laws can lead to jail time and huge fines. In fact, the medical marijuana program also restricts the allowed forms of cannabis to infused pills, oils, topicals, liquids, and dermal patches, as well as in "dry leaf" or "plant form."
Addiction Recovery in West Virginia: Make It Happen
The ultimate goal of any drug or alcohol rehab program is a complete recovery for the addict. Addiction can seem like an insurmountable problem. Yet, with a little hope and a lot of determination, there is no reason it cannot be overcome. Effective recovery programs in the Mountain State offer addicts the best chance to put drugs and alcohol behind them forever.
If you or a loved one are dealing with substance abuse or addiction in WV, consider reaching out to drug rehab in WV as soon as possible.
Find the best treatment options. Call our free and confidential helpline
Find Drug Rehabilitation Centers Near You Anywhere In the US
Addiction Resource team has compiled an extensive list of the top drug rehabilitation facilities around the country. Click on the state you are interested in, and you'll get a list of the best centers in the area, along with their levels of care, working hours, and contact information. Haven't found the rehab you need? Call the toll-free helpline below for professional assistance.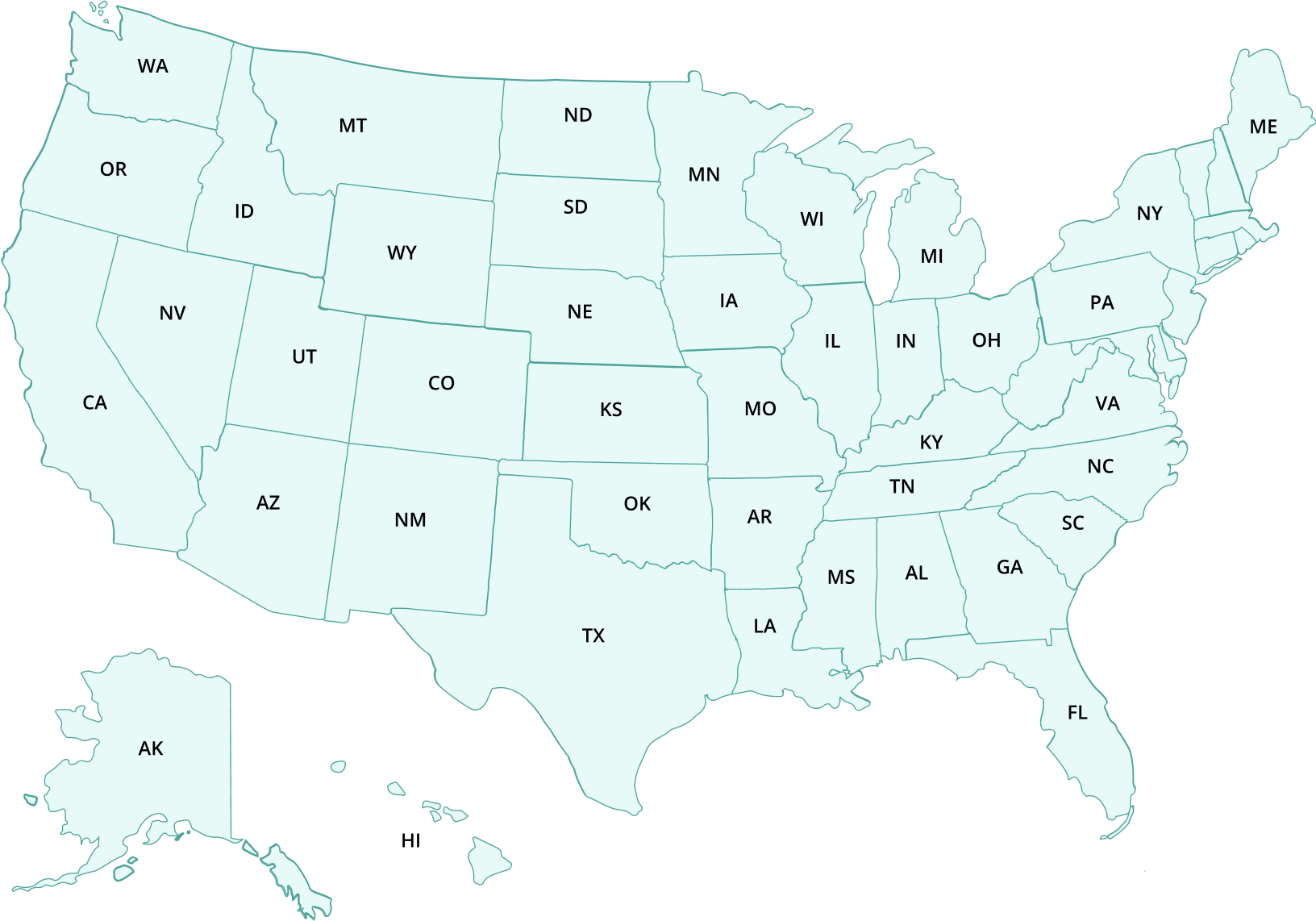 ---
Page Sources
West Virginia: Opioid-Involved Deaths and Related Harms. (2021, April 13). National Institute on Drug Abuse. https://www.drugabuse.gov/drug-topics/opioids/opioid-summaries-by-state/west-virginia-opioid-involved-deaths-related-harms
THE PRESCRIPTION DRUG ABUSE EPIDEMIC. (2013). OFFICE OF U.S. SENATOR JOE MANCHIN. https://www.manchin.senate.gov/imo/media/doc/The%20prescription%20drug%20abuse%20epidemic.pdf?cb
Key Substance Use and Mental Health Indicators in the United States: Results from the 2015 National Survey on Drug Use and Health. (2015). Substance Abuse and Mental Health Services Administration. https://www.samhsa.gov/data/sites/default/files/NSDUH-FFR1-2015/NSDUH-FFR1-2015/NSDUH-FFR1-2015.htm
West Virginia Department Health & Human Resources. Bureau for Public Health, Jim Justice, Bill J. Crouch, Rahul Gupta, WEST VIRGINIA DRUG OVERDOSE DEATHS HISTORICAL OVERVIEW 2001-2015 August 17, 2017 https://dhhr.wv.gov/oeps/disease/ob/documents/opioid/wv-drug-overdoses-2001_2015.pdf
Office of Population Affairs, Adolescent Health, https://opa.hhs.gov/adolescent-health?facts-and-stats/national-and-state-data-sheets/adolescents-and-substance-abuse/west-virginia/index.html
NIDA. 2020, April 3. West Virginia: Opioid-Involved Deaths and Related Harms. Retrieved from https://www.drugabuse.gov/drug-topics/opioids/opioid-summaries-by-state/west-virginia-opioid-involved-deaths-related-harms