Vermont may not be the first state you think of when it comes to the drug addiction epidemic. However, there are thousands of individuals needing to recover from addiction all the same. Doing this is not easy, but going without rehab makes it even harder because getting clean is about more than not using the substance; it is about reframing thoughts and responses, discovering and addressing behavioral conditions, and preparing for a lifelong journey in sobriety. Although hard, it is not impossible with the right drug rehab centers in VT or local detox centers on your side. Rehabilitation centers in Vermont have all the requirements to ensure that you or your loved one get all the help needed.
Where to Go to Get Clean and Sober in VT: Our Top 7 Choices
Vermont is a state that is pretty short on addiction rehab treatment options. However, that does not mean that it lacks quality rehabs. There are numerous drug rehabs in Vermont with varying programs, methodology, and treatment techniques. Those who are seeking luxury Vermont detox centers can also find facilities that suit their needs. Below, we have selected the top seven addiction treatment centers in the state.
Brattleboro Retreat. Brattleboro, VT
Brattleboro Comprehensive Treatment Center, also known as Brattleboro Retreat, is a residential treatment center offering various inpatient programs for children, adolescents, and adults. The addiction rehabilitation treatment center is located in the city of Brattleboro in VT and accepts patients as young as six years old for residential treatment.
Part of what makes Brattleboro Retreat so successful as a rehab center is that it does not strictly treat those suffering from addiction. Instead, it is a comprehensive behavioral health center. This allows the clinical staff at the center to address the issues fueling the addiction, not just the addiction itself. Despite being a large center employing hundreds of people, they strictly treat behavior and mental health issues.
Brattleboro Retreat is one of the oldest medical facilities and perhaps the oldest drug rehab center in VT, with nearly two centuries in operation. It is open to working with numerous insurance policies.
Serenity House Inc, Wallingford, VT
Serenity House is a smaller division of the larger Recovery House network. Located in Wallingford, VT, it offers comprehensive residential addiction rehabilitation treatment, including detoxification services. The center works to craft an environment that feels similar to home, offering comfort and support.
Residents have access to nursing care and on-call physician care at all times while staying at the rehabilitation center. With a limit of 24 patients at a time, the staff can provide one-on-one care as often as needed. Both men and women are welcome at Serenity House in VT as long as they are over the age of 18.
Valley Vista, Bradford, VT
Valley Vista is a residential treatment facility located in Bradford, VT. It divides its addiction treatment rehabilitation programs based on gender and age with men-only, women-only, and teen-only programs offered, making the treatment process less intimidating for patients. There is staff on-site at all times, and each patient is assigned a primary therapist who oversees their care.
At Valley Vista, therapy moves beyond the typical 12-step approach, but their care is still informed by this approach. In addition to traditional methods, cognitive behavioral therapy is used. However, their program is still based on spirituality, so patients who are not spiritually inclined should keep this in mind when considering Valley Vista for rehab.
In addition to these treatment methods, Valley Vista offers Vermont residents time with therapy dogs, anger management sessions, and yoga classes. The rehabilitation center accepts Medicaid and other insurance programs.
Howard Center, Burlington, VT
At Howard Center, the treatments offered are strictly outpatient programs, including detoxification. While this does restrict addiction treatment to a degree, it also makes it more accessible to those who either cannot afford inpatient care or who have commitments that preclude it. Howard Center in VT can treat patients as young as 12-years-old. The location varies depending on the program.
Centerpoint School is the Howard Center program for teens, treating those between the ages of 12 and 18. In addition to addressing behavioral health, the center also works to assist those with special education needs who are otherwise being underserved—and as such, potentially triggering their reliance on addiction. Chittenden Clinic offers medication-assisted treatment, including methadone detox. They also have rehabilitation specifically for those who drive while under the influence, counseling services, and a safe recovery program.
Howard Center wants everyone to be able to access the care they need, so prospective patients should speak to them regarding the cost of treatment.
Phoenix House, Burlington, VT
Phoenix House is a chain of transitional living and recovery support located throughout the state. It is important to note Phoenix House is not a rehabilitation center in the traditional sense; rather, it offers education and counseling to addicts convicted of driving under the influence and provides sober living to those in the recovery stage. However, many still classify it among drug rehabs in Vermont.
The minimum residency period for Phoenix House is three months, and the maximum is 24 months. It is one of the only drug rehab treatment centers in the state that works directly with the Vermont Department of Corrections, offering on-site treatment at correctional facilities throughout the state. It is part of the larger group called Phoenix House New England, which has been in operation since 1967. Learn more about the successful treatment history of this facility by calling the helpline.
University of Vermont Medical Center, Burlington, VT
UMVhealth is one of Vermont's best outpatient drug rehabs, offering a wide variety of services and treatments for addiction and underlying mental issues. The rehab treatments cut across physical, neurological, and others. The medical center is well equipped with basic amenities as well as professional hands such as therapists, pathologists, registered nurses, and many others.
Unlike many drug rehabs in Vermont, you can find treatment, not only for addiction but also for other medical conditions such as stroke, brain trauma, Neurological degenerative diseases, lymphedema, and other conditions.
BAART Programs Newport, VT
BAART Programs is one of the drug and alcohol treatment centers in Vermont that provides an ideal and serene environment for those who are suffering from the effects of addiction. They strongly believe in the efficacy of evidence-based therapy in combination with medication-assisted treatment.
This drug and alcohol rehab in Vermont utilizes the best detoxification techniques to ensure a safe treatment. BAART is CARF and SAMHSA accredited, and its programs are suited to men, women, young adults, and the elderly.
The Possibilities for Recovery in Vermont
Because VT is such a small state, both in terms of landmass and in terms of population— about 623,500 residents statewide—VT drug rehab centers are in relatively short supply. Most online lists of drug and alcohol rehab centers in Vermont will feature more rehabs in neighboring states than in VT itself. In any case, Vermont rehab centers are ubiquitous and have tailored programs to suit specific needs.
Since there are so few rehab centers in Vermont, it is important that prospective patients critically examine the addiction rehabilitation treatment centers available to them. So, what should people look for in quality Vermont drug treatment centers? Any center worth considering should abide by addiction recovery best practices, which include dual diagnosis treatment, which addresses underlying behavioral health problems such as bipolar disorder, treatment of co-occurring disorders such as chronic pain, and therapies that help patients build the skills needed to remain drug-free for the long term.
It is vital that those entering treatments understand addiction is considered to be a curable disease. Like many other diseases, it can be managed. This means rehabilitation is only the first step in addiction treatment; once rehab is complete, recovery lasts a lifetime. The alcohol treatment centers in Vermont would also recommend aftercare programs that would help the patient maintain sobriety after proper reintegration into regular daily routines.
Why Is There a Demand for Drug Rehabs in Vermont?
If you asked a random person to name a state where drugs are abused more heavily than the national average, chances are, VT would not be one of the states they would name. Despite not being known for substance abuse, drug and alcohol addiction in Vermont are quite high. Nearly 14 percent of Vermont residents report monthly use of illegal drugs, while the national average is just 8.82 percent, necessitating a great need for drug rehabs in Vermont.
VT also sees a high rate of overdose deaths when compared to nationwide statistics, which is perhaps the biggest reason for more Vermont rehab centers. Heroin addiction contributes to the greatest number of deaths, with prescription opioids and fentanyl being the second and third most common causes of overdose death in VT. Cocaine also contributes to deaths. Drug overdoses contribute to more deaths than firearm accidents and homicide combined. The drug epidemic impacts teens as well as adults, leaving many in VT in need of addiction rehabilitation treatment. The need for drug rehabs in Vermont can be adequately backed by these statistics of drug abuse prevalence and substance addiction in the state.
As incredible as it may seem, VT was counted as one of the top ten states with the highest rate of illicit drug use among individuals aged 12 years and above from 2009 to 2010.
Most drug treatment admissions in the state cited more of other opiates with the inclusion of prescription medications.
In 2018 drug overdose deaths in VT totaled about 127 cases, with opioid use as one of the leading causes of death.
Many drug and alcohol rehab Vermont have taken preemptive measures to anticipate and support as many individuals in need of rehabilitation as possible. Full recovery at Vermont rehab centers is largely dependent on the type of addiction, history, level, underlying issues, and many other health-based peculiarities.
In 2013-2014, at least 30% of teens and young adults within the age range of 12 to 20 reported using alcohol in the past 30 days.
About 13.73 % of the local residents in VT admitted to the use of illicit drugs in the previous month. This was higher than the national average of 8.82%
VT medical practitioners wrote at least 42.4 opioid prescriptions for every 100 patients in 2018.
Vermont Drug Laws
There is a long list of guidelines in relation to the possession and sale of illicit drugs in VT. Firstly, Vermont drug laws are firmly against the possession, use, and distribution of scheduled drugs, including prescription drugs. A person who knowingly participates in any of these activities will be imprisoned or fined. It Is therefore imperative to know what drugs are illegal to possess in order to avoid breaking the law. Since heroin, meth, and other forms of scheduled substances are illegal, what are Vermont weed laws?
Is Weed Legal in Vermont?
Medical marijuana was legalized in 2004, making it legal for patients with a certain health condition to possess and cultivate marijuana without penalties. Although medical marijuana is legal, this does not decriminalize the possession of the substance.
Here are some laws and penalties of weed possession in the state.
| | | | |
| --- | --- | --- | --- |
| Drug Offense | Penalty | Possible Incarceration | Maximum fine |
| 1 oz or less | Zero penalty | NA | $0 |
| 1 to 2 oz (1st offense) | Misdemeanor | 6 months | $500 |
| 1 to 2 oz (subsequent offense) | Misdemeanor | 2 years imprisonment | $2,000 |
| 2 oz to 1 lbs | Felony | 3 years | $10,000 |
Health and Hope Through Vermont Rehab Treatment Centers
While there are few drug rehabilitation centers in Vermont, there are still centers that offer quality care that is accessible to VT residents. While having fewer addiction rehabilitation treatment centers to choose from does mean that finding the right fit might be more difficult, ultimately, Vermont rehab centers are varied enough to find a good option. Now is the time to start the search and get clean.
Find the best treatment options. Call our free and confidential helpline
Find Drug Rehabilitation Centers Near You Anywhere In the US
Addiction Resource team has compiled an extensive list of the top drug rehabilitation facilities around the country. Click on the state you are interested in, and you'll get a list of the best centers in the area, along with their levels of care, working hours, and contact information. Haven't found the rehab you need? Call the toll-free helpline below for professional assistance.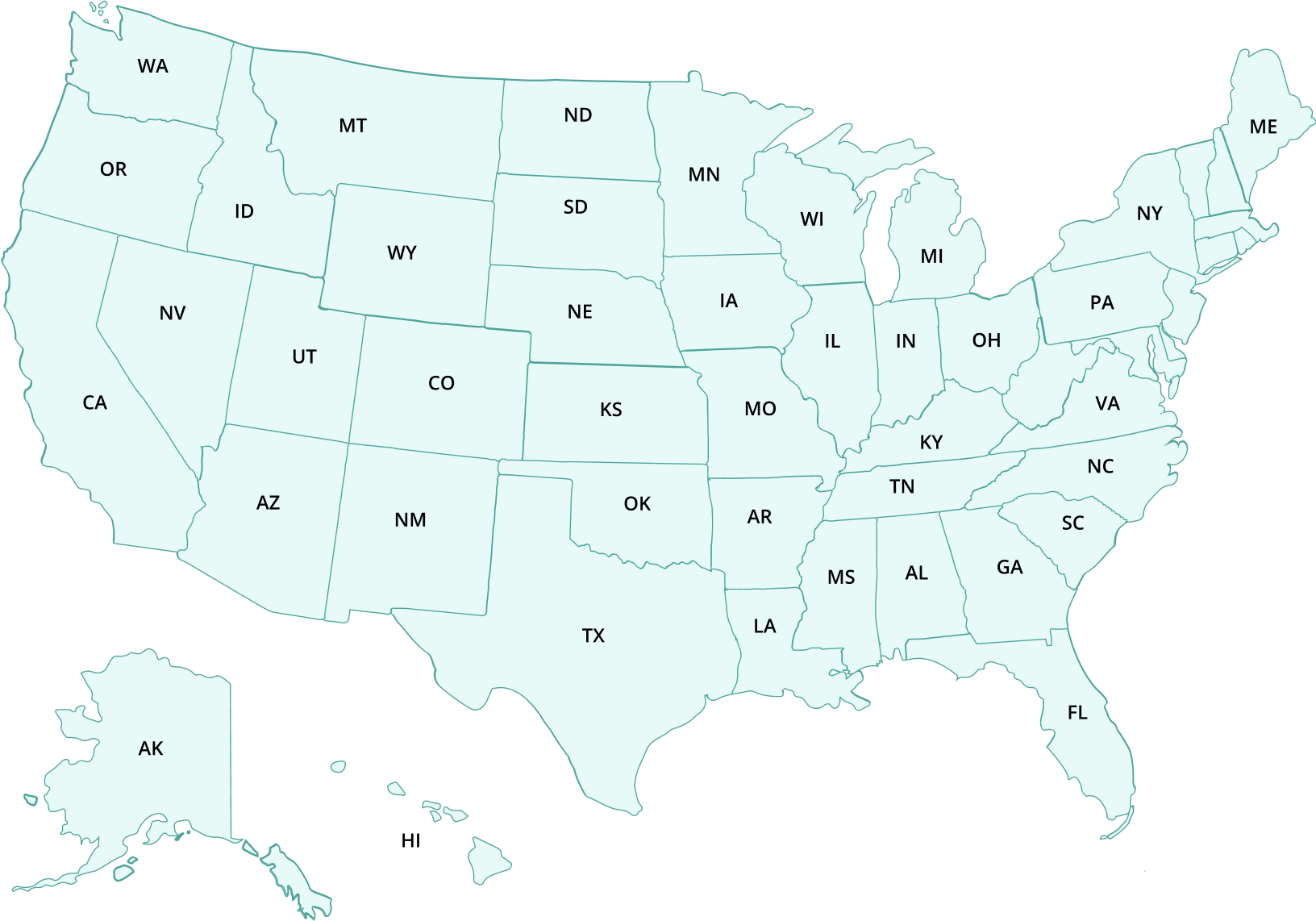 ---
Page Sources
Executive Office of the PResident of the United States. Vermont Drug Control Update https://obamawhitehouse.archives.gov/sites/default/files/docs/state_profile_-_vermont_0.pdf
Vermont Department of Health, National Survey on Drug Use and Health Vermont Data, February 2016, https://www.healthvermont.gov/sites/default/files/documents/2016/12/ADAP_NSDUH_Vermont.pdf
NIDA. 2020, April 3. Vermont: Opioid-Involved Deaths and Related Harms. Retrieved from https://www.drugabuse.gov/drug-topics/opioids/opioid-summaries-by-state/vermont-opioid-involved-deaths-related-harms
United States Census Bureau, QuickFacts of Vermont, https://www.census.gov/quickfacts/fact/table/VT/PST045219
Center for Disease Control and Prevention. National Center for Health Statistics. Stats of the State of Vermont, https://www.cdc.gov/nchs/pressroom/states/vermont/vermont.htm