Resolving to get sober from alcohol and illicit drug use is a big undertaking—it may be the most critical step a person can take in their life. Arizona has many resources and choices available for those in need of addiction treatment. During foggy times in someone's life, it may be difficult to pinpoint all alternatives for recovery. The following is a list of well-known rehabs that will help with the decision-making process.
Top 5  Rehab Centers in Arizona
Scottsdale Recovery Center
With locations throughout Scottsdale and Phoenix, Scottsdale Recovery Center is known for their effective residential addiction treatment centers for both young adults age 18-35 and those 35 and older. The long-term platforms for sobriety are offered on a continuum of care. Often, an intervention tips off the care process. A planned crisis intervention performed by a trained substance abuse interventionist is unquestionably critical according to Scottsdale Recovery. Scottsdale Recovery Center offers the full scope of residential style and intensive outpatient treatment for substance abuse issues, as well as for those struggling with dual-diagnosis disorders.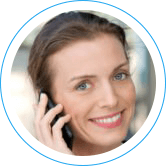 Hope Without Commitment
Find the best treatment options.Call our free and confidential helpline
Cottonwood
Cottonwood is a notable mood disorder and addiction treatment facility located on 35-acres in the foothills of Arizona overlooking Tucson. Cottonwood prides themselves on their kind and skilled staff that provide an integrative approach to treating drug and alcohol abuse along with co-occurring illnesses. At Cottonwood, their philosophy of care considers that mental, emotional, physical, and spiritual aspects of life are interconnected and equally important to the overall health and wellness of a human being. The intensive adult program includes a foundation of twelve-step recovery concepts, medical management, family involvement, group therapy, nutritional counseling, relapse prevention, and experiential therapies.
Renaissance Recovery
The term renaissance means a renewal of life and energy. Renaissance Recovery Center in Gilbert, Arizona, works to bring a meaningful life outside of addiction. The addiction recovery therapists are proactive problem solvers that tackle the underlying issues that lead people to addiction. The individualized treatments that employ mindfulness and social support include intervention assessments, intensive outpatient, dual-diagnosis management, aftercare, support groups, and detox referrals.
Arizona Addiction Center
In most cases, clients of the Arizona Addiction Center will be either in the age range of 18-35 or 35 and over and are immersed in their chemical dependency. In many cases, especially given the rise in heroin, opioid, and prescription medication use, a patient will need to undergo a medical detox. Arizona Addiction Center is fully equipped to handle most scenarios.
The full-scope of their treatment services include:
Addiction Intervention and Family Guidance
Medical Detoxification
Short-Term and Long-Term Residential Treatment
Complete Life Coaching and Guidance
Intensive Outpatient Treatment
Transitional Recovery Housing
Family Integration and Therapeutic Support
Canyon Crossing Recovery
Canyon Crossing Recovery is designed for women, ages 18 to 65 who struggle with chemical dependency, to discover new behaviors that embrace self-love and respect. Canyon Crossing Recovery is in Prescott, Arizona.
Programs include:
Transitional Living
Outpatient Services
Sober Living
Boundary and Relationship Therapy
Relapse Prevention
12-Step-Based Therapy
Educational Workshops
What Rehab Programs You'll Find in Arizona
Residential Drug and Alcohol Treatment Centers in Arizona
Within the state of Arizona, there are several drug and alcohol rehab facilities that offer residential programs. Each program will provide unique forms of treatment. Examples include group meetings, group counseling, individual counseling, and psychotherapy, along with different classes for building life skills. The following rehabs are examples of rehabs that provide residential drug and alcohol treatment.
The River Source
Inpatient rehab is more structured than an outpatient program. The River Source's programs are structured with this mentality, proposing intense, rigorous treatment plans that work quickly and efficiently to detox the body and work toward sobriety. Part of their full continuum of care includes a 30, 60, and 90-day treatment program that builds up the mind, body, and spirit. A longer stay, which is ideal, allows the patient additional time to heal and learn coping skills in a supportive environment. The average length of stay is 60 days for inpatient drug treatment, but extended periods are best when possible.
Verhelst Recovery House
Since 1969 the Verhelst Recovery House has helped individuals recover from alcohol and drug abuse. As a transitional agency, their goal is to provide six months of residential care to men 18 years or older residing in Cochise County, or other areas within the State of Arizona. The Verhelst Recovery House also provides a location for community-based Alcoholics Anonymous and Narcotics Anonymous.
Rehab Centers That Take Medicare in Arizona
Nearly one in five residents in the U.S. is expected to be 65 and older in 2030. By 2050, this age group is projected to increase to more than 88.5 million people. According to the U.S. Census Bureau, Arizona's 65 and up population is growing more than most other states. It is comforting to know that Medicare will pay for some substance abuse treatment for people 65 or older. Several rehabs in Arizona accept Medicare, here are two facilities to help begin the search.
Oasis
For over two decades Oasis has been a trusted provider of successful mental, behavioral, and psychiatric health treatment in Arizona. To aid in recovery, their experts will craft residential and intensive outpatient programs based on the patient's needs. The adult inpatient program at Oasis Behavioral Health is designed to encourage clients to take the initiative in addressing their acute psychiatric problems. The program serves adults, ages 18 and older, who are experiencing a crisis and need a safe setting in which medical intervention can be administered.
Valle del Sol
A full range of services is offered by Valle del Sol's licensed staff. Services include help for addiction and substance abuse; mental health and counseling, group and family therapy; medication management; and court-ordered treatment. Valle del Sol's outpatient treatment is created to teach adults healthy strategies for dealing with the stress and difficulties associated with alcoholism and other drug addictions.
Arizona is hit with a large volume of smuggled drugs because of its proximity to the Mexican border. The state is regarded as the hub of the illegal drug trade on the bi-coastal routes in the U.S. This gives rise to the high level of addiction found in the state. However, if someone gets overwhelmed with drug or alcohol addiction, there are various treatment options in Arizona to meet their needs.