Government officials are grappling for an accurate picture of the drug abuse problem in the Cowboy State. Even though it is the least populated state in the nation, inpatient drug rehab centers in Wyoming are struggling with long waiting lists. According to a University of Wyoming study, non-medical use of prescription painkillers in the state is comparable to the national average. Yet, the death rate from illicit and prescription opioids has risen steadily from 1.4 in 2003 to 7.5 deaths per 100,000 population in 2015.
Certain counties exceed the state average in prescription medication misuse. Prescription drug abuse is highest among middle and high school students in Hot Springs, Campbell, Platte, and Washakie Counties. Carbon County reports the highest number of inpatient visits for opioid abuse.
Wyoming rehabs are providing care to an increasing number of people with alcoholism and dangerous drinking patterns such as binge drinking. Alcohol use in the state is higher than the national average. The CDC reports 210 deaths in Wyoming each year due to excessive drinking.
Are Wyoming drug treatment centers equipped to provide care to residents with substance use disorders? What are the unique challenges of drug rehab in the Cowboy State? Read on to find out more.
Drug Abuse in Wyoming: What Do the Numbers Say?
Wyoming is in the top 10 states in the nation for illicit drug use among adolescents aged 12-17 years. More than 7 percent of residents report using illicit drugs within the past month. According to the Centers for Disease Control (CDC), there were 99 drug overdose deaths in the state in 2016. There is some good news though. Drug-induced deaths in Wyoming continue to be lower than the national average. Marijuana is the most common drug of abuse. In fact, nearly half the admissions to Wyoming drug treatment centers are related to marijuana use. Methamphetamine and prescription opioid abuse is a growing concern. Less commonly abused are ecstasy and inhalants. Here are some statistics that reveal the scale of the drug issue in the state.
Substance Use Disorders in Adolescents
One study revealed the startling statistic that more than 40 percent of 10th to 12th graders in Wyoming could be classified as drug abusers.
19 percent of high school students report drinking alcohol before age 13.
20 percent of adolescents admit to binge drinking, higher than the national average of 18 percent.
Heroin and Opioid Abuse in Wyoming
The opioid prescribing rate in Wyoming is slightly above the national average.
Naloxone, an opioid-overdose reversal agent, was administered on 737 ambulance trips in 2016-2017.
In 2014-2015, 0.36 percent of individuals 12 or older used heroin in the past year, similar to the figure for the entire nation.
Alcohol Abuse in the Cowboy State
Wyoming has some of the highest rates of alcoholism in the country.
In 2011, more than 18 percent of adults and more than 25 percent of high school students in Wyoming admitted to binge drinking.
The Challenges of Addiction Treatment at Wyoming Rehabs
A little over half a million people occupy Wyoming's expansive 100,000 square miles of rugged landscape. Due to the low population density, the entire state qualifies as a frontier area. The economy is relatively poor, relying primarily on mining, gas, oil, and tourism. Does the geography and economy of the state make it difficult for people to get treatment for substance addiction at drug rehab centers in Wyoming?
According to the Substance Abuse and Mental Health Services Administration (SAMHSA), more than 3,200 residents of Wyoming were enrolled for substance abuse treatment on a single day in 2015. Of these, about 43 percent had both drug and alcohol problems. But not everyone who needs professional help for substance abuse is getting it.
Challenges of Addiction Treatment in Wyoming
Logistics: The state's population, although small, is widely spread out with many people living in rural areas with limited access to substance abuse recovery programs. Addiction treatment is logistically difficult outside the large cities in the state.
Waiting List: The number of beds in inpatient drug rehab centers in Wyoming is not enough to meet the demand of patients needing treatment with various lengths of stay.
Meth Labs: There has been a proliferation of meth labs and the drug has spread deep into the social fabric of the state, putting addiction treatment facilities under strain.
Top 5 Best Drug Rehab Facilities in Wyoming
There are several options for people seeking drug and alcohol treatment in the Cowboy State. Wyoming drug rehab centers offer a number of programs to help addicts fight back and start their journey towards a brighter future.
1. Curran Seeley Foundation
Founded in 1988, this private, nonprofit organization provides drug and alcohol counseling and addiction treatment services to several communities in and around Teton County. Clients can expect caring, confidential, and cost-effective treatment at their office in Jackson. The intensive outpatient program is accredited by CARF and adheres to the highest standards in patient-centered care.
Trained counselors treat patients with dual diagnosis through modalities such as CBT and DBT for relapse prevention. Clients meet for individual and group therapy sessions at a spectacular campus with rolling hills and farmland as the backdrop. Find out more about the family program and aftercare plans at this outpatient drug rehab.
2. Pathfinder
This drug rehab center in Wyoming provides court-ordered treatment for alcohol and drug addiction in adults as well as diversion treatment ordered by the juvenile justice system. The facility is a treatment provider for the Circuit DUI Court in Laramie County. Substance abuse disorders are treated through drug abuse detox and intensive outpatient programs that have proven efficacy manifested through reduced arrest rates in graduates.
Recovering addicts can benefit from diversions, interventions, DUI victim impact panels, and alcohol traffic safety classes. Following initial drug and alcohol assessment, clients undergo individual and group counseling with mandatory Narcotics Anonymous and/or Alcoholics Anonymous attendance. Click here to read more about the gender-specific women's intensive outpatient program at this center.
3. Fremont Counseling Service
Established in 1959, this nonprofit, CARF-accredited addiction treatment facility provides substance abuse and mental health services to clients in Fremont County and surrounding communities. The center offers discounted fees to deserving individuals based on household income and family size. People of every race, gender, nationality, and religion are welcome here. Insurance coverages accepted include Medicare, Medicaid, and CHIP.
Treatment modalities include an intensive outpatient program, family and group counseling, psychiatric consultation, and abstinence monitoring for relapse prevention. Clients have access to a 24-hour, 7-days-a-week crisis response service. More information can be obtained from the facility's official website.
4. Peak Wellness Center
A leading provider of substance abuse rehab in Wyoming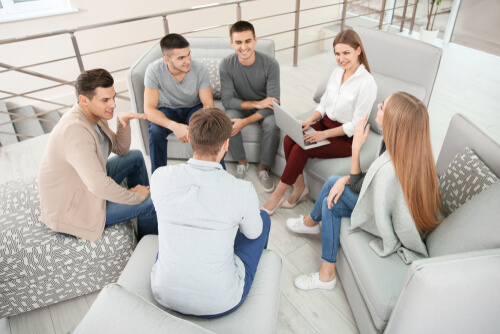 for more than 50 years, this addiction treatment center has a staff of nearly 200 with more than 100 clinical specialists providing care at locations throughout the southeastern part of the state. The residential substance abuse treatment for adults includes comprehensive, effective treatment through detoxification, intensive outpatient therapy, psychiatric care, and advanced medication-assisted treatment. Individual and group therapy is offered to family members. Specialized programs for addicted youth are available. Clients are introduced to 12-step meetings. Drug testing is carried out to reinforce abstinence.
Long-term aftercare and relapse prevention are part of the recovery plan at this private, nonprofit clinic. Clients looking for affordable addiction treatment can ask about the sliding scale fee schedule. Thousands of people have benefited from addiction treatment at Peak Wellness Center which has four locations including a residential facility in Laramie. Learn more on the facility's official website.
5. Trinity Teen Solutions
This Wyoming drug treatment center is a faith-based Catholic residential facility for troubled teenage girls. A variety of evidence-based treatment modalities are used for young women battling mental health and substance abuse issues. Therapy sessions include dialectical behavioral therapy, cognitive behavioral therapy, and eye-movement desensitization reprocessing, among others. The residential program is designed to remove the teenager from life stressors and negative distractions.
The girls are allowed to connect with nature, learn new skills, and let down their guard. The treatment team at this facility encourages changes in behavior by building trust. Family therapy and regular updates keep parents up-to-date on the adolescent's progress. Located at a sprawling ranch with views of picturesque Wyoming mountain ranges, the facility is an ideal place for teen girls to recover, recoup, and relearn. Click this link to read testimonials from past clients and their parents.
Finding the Best Drug Rehab in Wyoming
There is no single drug rehab that is the best for everyone. One addict may benefit from vocational rehab in Wyoming while another may need court-ordered addiction treatment. Not everyone can travel long distances, and many recovering addicts prefer local rehabs.