According to the Substance Abuse and Mental Health Services Administration, in California, the average illicit drug use in the state is around 3,213. Additionally, the most commonly abused substance is marijuana, followed by cocaine and pain relievers. Alcohol abuse and tobacco addiction are also prevalent. Due to these addictions, these affected individuals experienced depression, with a prevalence rate of 8.24%, and other emotional stress.
The question is, can Nsight Psychology & Addiction rehab in Newport Beach offer support to these individuals?
Nsight Recovery & Addiction: An Overview
Founded in 2014 as one of the private, non-profit organizations in California, this Newport Beach rehab offers inpatient and outpatient treatments and therapies for those battling with trauma, eating disorders, process addictions, personality disorders, bipolar disorders, drug and alcohol addiction. One great thing about Nsight rehab in Newport Beach is that being an alcoholic or drug addict is not a prerequisite for enrollment in the programs. Over half of the clients enrolled in this facility have never used illegal substances or excessive alcohol.
Furthermore, evidence-based, person-centered care is offered by Nsight Newport Beach Rehab. As a result, this facility's approach to treatment starts with a thorough grasp of each patient's background, relationships, and circumstances. An accurate diagnosis and tailored treatment plan developed by a multidisciplinary team that involves the client and their family lays the groundwork for change to start now and last for the rest of the patient's life.
Find the best treatment options. Call our free and confidential helpline
Housing and Food at Nsight Recovery
Nsight Recovery is a rehab facility in the Newport Beach area focused on treating both men and women for addiction, basic mental health issues, and trauma. The facility is divided into three buildings: the Clinical Building, the Residential Facility, and Sober Living. In the Clinical Building, couples counseling office, comfortable group rooms, reception area, biofeedback room, client lounge, family counseling office, individual therapy rooms, and client computer training center can be seen. The Residential Facility has two living rooms, four private bedrooms, a spacious kitchen, and a backyard. Lastly, in Transitional Living, there are 4 semi-private rooms with two beds in each room, a comfy living room, and a spacious kitchen. For the food, the meals are prepared by a dietitian and are served three times a day with snacks in between.
Generally, the housing at Nsight Recovery is simple but very comfortable, especially for teen clients. All the buildings are well-maintained and regularly clean to keep stillness not just in the hearts of the clients but in the environment in which they are residing as well.
Nsight Recovery Treatment Options
The following levels of care are offered at Nsight Recovery:
Partial Hospitalization Program
For evidence-based treatments in this Newport Beach rehab, take a look at the information below:
Alcohol Addiction
Drug Addiction
Mental Health Disorders

Anxiety
Depression
Trauma
PTSD
Mood Disorders
Bipolar Disorder
Borderline Personality
Mania
The Nsight Recovery drug treatment program is created to give clients the structure and support they need to maintain their recovery while reintegrating them back into regular life. The substance abuse program gives participants the assistance they need to handle the challenges they will encounter once they finish treatment and return home.
Therapies at Nsight Newport Beach
The following types of modalities are offered at Nsight Newport Beach:
Individual Therapy
Group Therapy
Family Therapy
For experiential therapies, take a look at the information below:
One great thing about Nsight Newport Beach is that it offers 5-7 weekly evening support groups. This therapy technique is effective in allowing the clients to share their emotions to reduce the emotional burden they currently have.
Payment Options
Nsight Recovery accepts self-payment and health insurance. To cover the cost of treatment, Nsight Psychology & Addiction works with a variety of insurance companies. Verification of insurance can be found on the facility's official website.
Licenses and Accreditations
Nsight Psychology is accredited by The Joint Commission and the Commission on Accreditation of Rehabilitation Facilities (CARF).
Nsight Newport Beach Advantages and Amenities
As stated, Nsight Recovery is a very simple one. Thus, it does not have many amenities. Instead, it focuses on the availability of great services it can offer the clients. At Nsight Recovery, Clients can take advantage of a fitness facility, walking trails, adventure excursions, outdoor eating, and lounge areas. 
There is also this NeuroStar TMS Therapy for Depression program. Clients who experience at least two of the following symptoms can request evaluation:
Depression medications are not working
The symptoms of depression cannot be controlled
The side effects of depressions medications are too much
The side effects of antidepressants are worrisome
Seeking non-drug therapy for depression alternatives
Lastly, the Aftercare Program of Nsight Recovery standout as well. In this California rehab center, the staff believes that returning to "the real world" after being in a secure, regulated environment can be a difficult task. The good news is that after clients are discharged, they will continue to get the support they experienced during their time at Nsight. The alumni staff will occasionally contact them to see how things are doing, especially during the vital first several months. 
Staff at the Nsight Recovery
Over ten licensed experts and 20 support team members work at Nsight Psychology & Addiction. A professional therapist with a master's or doctoral degree facilitates each group or individual therapy session.
Mary Helen Beatificato
Nsight Psychology & Addiction's CEO and General Counsel is Mary Helen Beatificato. She graduated with AA degrees in paralegal studies and business administration before earning a BA in political science at Long Beach State University. Following the completion of these undergraduate degrees, she continued her education at Western State College of Law, where she earned her Juris Doctor in 2002.
She founded Nsight Psychology & Addiction in 2013 and has since promoted the rights of individuals with substance addiction and mental health diagnoses. Advocating for the constitutional rights of persons in recovery is her life's work as a lawyer and CEO of Nsight. Particularly in the context of public housing.
Jerry Grosso
Dr. Grosso is a licensed marriage and family therapist with more than 20 years of experience helping people and families deal with trauma, addiction, and depression. Prior to enrolling at Chapman University, where he earned a Master of Arts in Psychology, he graduated with a Bachelor of Arts in Psychology from San Diego State University. In order to address chemical dependency, Dr. Grosso pursued further education and earned a doctorate in clinical psychology. The California Association of Marriage and Family Therapists recognizes him as a member in good standing (CAMFT).
Stephanie Herring
Dr. Herring brings more than 28 years of experience in the field of treating and recovering from chemical dependency to the treatment team at Nsight Psychology and Addiction. Dr. Herring has established a reputation for herself inside the legal system over the past eight years, earning the utmost respect, confidence, and rapport from judges, district attorneys, the probation department, and criminal defense lawyers. Her main objective has been to promote alternative sentencing in the form of treatment rather than imprisonment for individuals with mental illness and substance dependency.
Find Drug Rehabilitation Centers Near You Anywhere In the US
Addiction Resource team has compiled an extensive list of the top drug rehabilitation facilities around the country. Click on the state you are interested in, and you'll get a list of the best centers in the area, along with their levels of care, working hours, and contact information. Haven't found the rehab you need? Call the toll-free helpline below for professional assistance.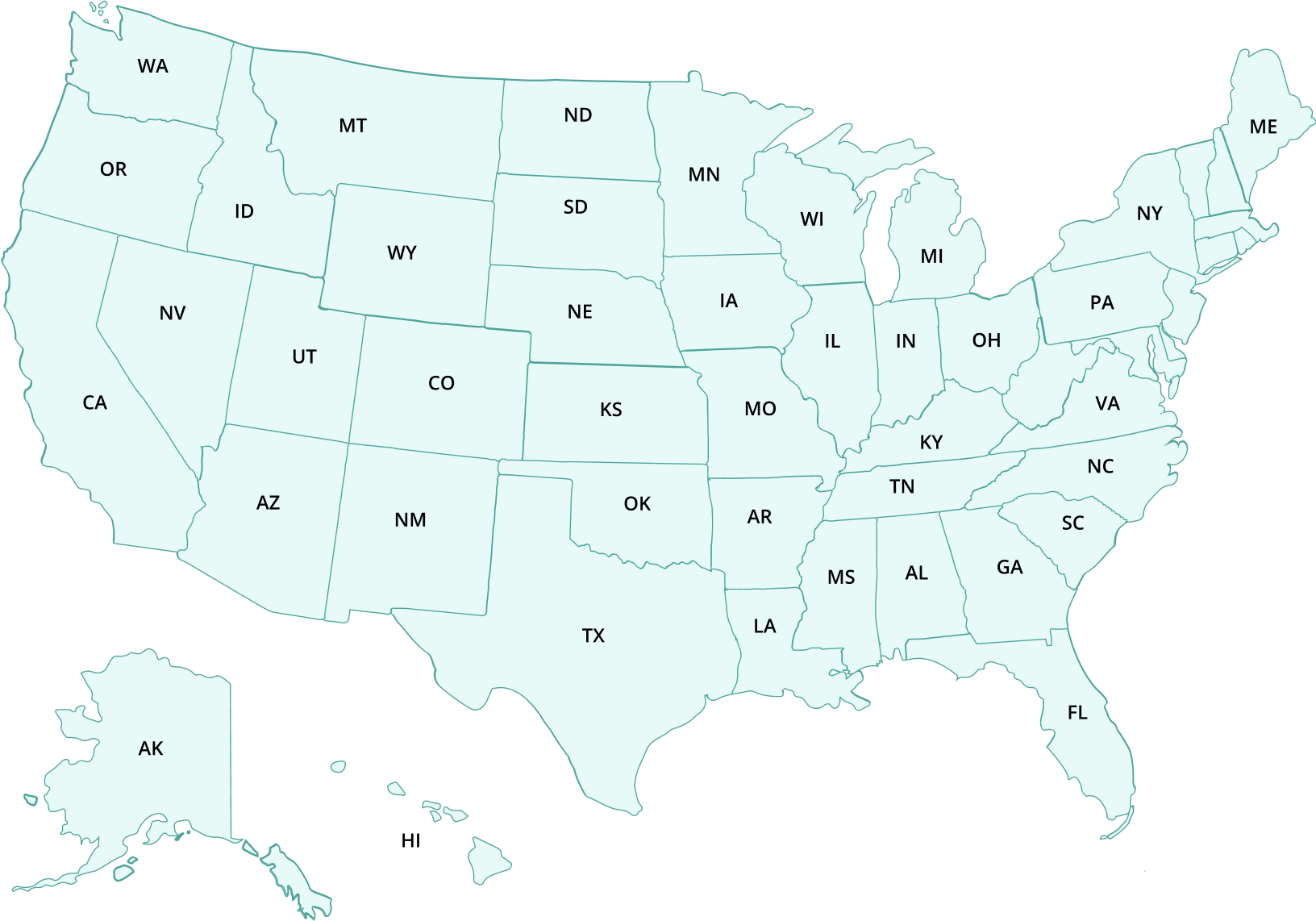 ---
Page Sources
California (CA). (2014.). CBHSQ Data. https://www.samhsa.gov/data/report/california-ca-0