According to the Substance Abuse and Mental Health Services Administration, the rate of illicit drug use in California is around 15.4%. These statistics are higher compared to the national rate, which is around 14.7%. Moreover, the rate of individuals in California with Substance Use Disorder is around 9.6%. Additionally, 5.6% of these individuals experienced major depressive episodes due to drug addiction.
The question is, can the Restore Detox Center help these individuals struggling with addiction?
Restore Health and Wellness Center: An Overview
Founded in 2015, Restore Detox Center is a private rehab & for-profit organization that is focused on treating co-occurring illnesses and substance misuse. For a genuinely comprehensive therapy, the facility incorporates both conventional techniques and alternative therapies. The medical detox, residential treatment, PHP, IOP, and sober living are just a few of the comprehensive continuum of care that the experts at Restore Health & Wellness can offer in their tailored treatment plans. The 12-Step facilitation, cognitive behavioral therapy, reality therapy, Gestalt therapy, goal setting, diet, exercise, and meditation are all used in Restore's addiction treatment programs.
Adult men and women ages 18 and older can get residential therapeutic services from Restore Detox Center in a setting free from drugs and alcohol. The recovery model of treatment used by Restore Treatment was developed over many years of research and countless hours of working with patients at all stages of recovery. Their continual mission is to reintroduce men and women to themselves in a caring way. At Restore Rehab, the facility's main goal is to help those who require high-caliber, specialized support with their drug and alcohol detoxification and rehabilitation. In addition, the accredited and certified addiction treatment programs provided by Restore Center, LA, help clients achieve and maintain permanent sobriety by providing relief from the physical signs of drug and alcohol withdrawal and enhancing their emotional health.
Find the best treatment options. Call our free and confidential helpline
Housing and Food at Restore Center California
Restore Rehab is only 22 miles from Los Angeles and is situated in a picturesque area surrounded by mountains. Two wings of the sprawling private estate include separate living spaces for men and women. The campus is very relaxing. Being enrolled in Restore Center California is like being in a private villa with a swimming pool. Inside the campus, clients can enjoy a cozy living room, small rooms, and day rooms. Sometimes, outdoor activities are also done in the yard of the facility.
There are 4 buildings on the campus. One of these is the detox facility. In the Restore Detox Center, there is a huge gazebo, garden, comfy living room, and spacious dining area. Regarding food, the meals are served 3x a day with snacks in between. These meals are planned and prepared by a nutritionist.
Restore Health and Wellness Center Treatment Options
The following levels of care are offered in Restore Detox Center:
For specific treatments, take a look at the information below:
The length of treatment in Restore Center, LA, depends on the severity of the addiction, how long the addiction has been, the type of substance use, and other health conditions of the clients.
Therapies at Restore Rehab
When it comes to therapies, the following types of modalities are followed in Restore Center, LA:
Individual Therapy

Group Therapy

Family Therapy
Moreover, healthcare workers follow holistic and experiential approaches when offering these therapies. Some of the therapies in this facility include the following:
Art Therapy

Chiropractic Care

Exercise Therapy

Meditation

Nutritional Therapy

Pain Management

Wellness Programs

Yoga Therapy
After treatments and therapies, clients will receive a unique relapse prevention plan from their respective therapists to ensure a successful recovery.
Restore Rehab Payment Options
In this facility, self-payment and health insurance are accepted. Some of the insurance companies covered are Aetna, Cigna, BlueCross BlueShield, Humana, EmblemHealth, Premera, Meritain Health, Anthem, AmeriHealth, Beacon, CoreSource, and Regence.
Licenses and Accreditations
Restore Health and Wellness Center is accredited by The Joint Commission.
Restore Rehab Advantages and Amenities
Clients can benefit from top-notch lodging at Restore, as well as amenities like a heated pool, volleyball court, outdoor lounge, and open greenery. Aside from this, Restore Center, LA, is also an LGBT-friendly campus. Generally, the advantage of this facility is that it focuses more on offering evidence-based treatment to clients. 
Staff at the Facility
The team at Restore Center, LA, is composed of certified addiction treatment professionals, psychiatrists, licensed therapists, interventionists, and coordinators. 
Nicholas Russi
The Executive Director, Nicholas, has spent the last 19 years working in the field of substance misuse and mental health. In order to give clients the best possible care, he is personally motivated and inspired by his own life experiences and nearly two decades of work in the field of substance abuse. Since 2021, Nicholas has worked with the team at the facility to provide a secure and healing environment for the clients enrolled. Currently in charge of all departments at Restore Health, Nick is eager to build a setting that fosters development and healing. He is currently certified as a clinical supervisor and a professional AOD counselor in the state of California.
John R. Mulvey, LCSW
Since 1993, John R. Mulvey, LCSW, has had a license in the state of California. He earned his MSW at UCLA, where he also graduated. John has nearly 30 years of experience assisting clients. In addition to supervising interns, he has facilitated group and individual treatment. John's patients have regularly given him high marks for both his group and individual treatment sessions. One of John's student interns put John forward for the Supervisor of the Year award. Over the course of many years, he has managed inpatient and outpatient programs and given clinical leadership to a range of treatment programs.
Joshua Rood
Joshua has worked with clients who abuse drugs and alcohol since 2014 at the Union Rescue Mission (URM) in Skid Row, Los Angeles. Joshua began as an intern, responsible for helping clients who were homeless enroll in drug rehab and sober living programs. Joshua was also in charge of managing undergraduate and graduate interns working in the marketing division's customer intake office. He oversees program development, client care, quality assurance, and therapeutic expertise and methods in grief, loss, and bereavement, including Motivational Interviewing, Problem Solving Therapy, Acceptance, and Commitment Therapy.
Find Drug Rehabilitation Centers Near You Anywhere In the US
Addiction Resource team has compiled an extensive list of the top drug rehabilitation facilities around the country. Click on the state you are interested in, and you'll get a list of the best centers in the area, along with their levels of care, working hours, and contact information. Haven't found the rehab you need? Call the toll-free helpline below for professional assistance.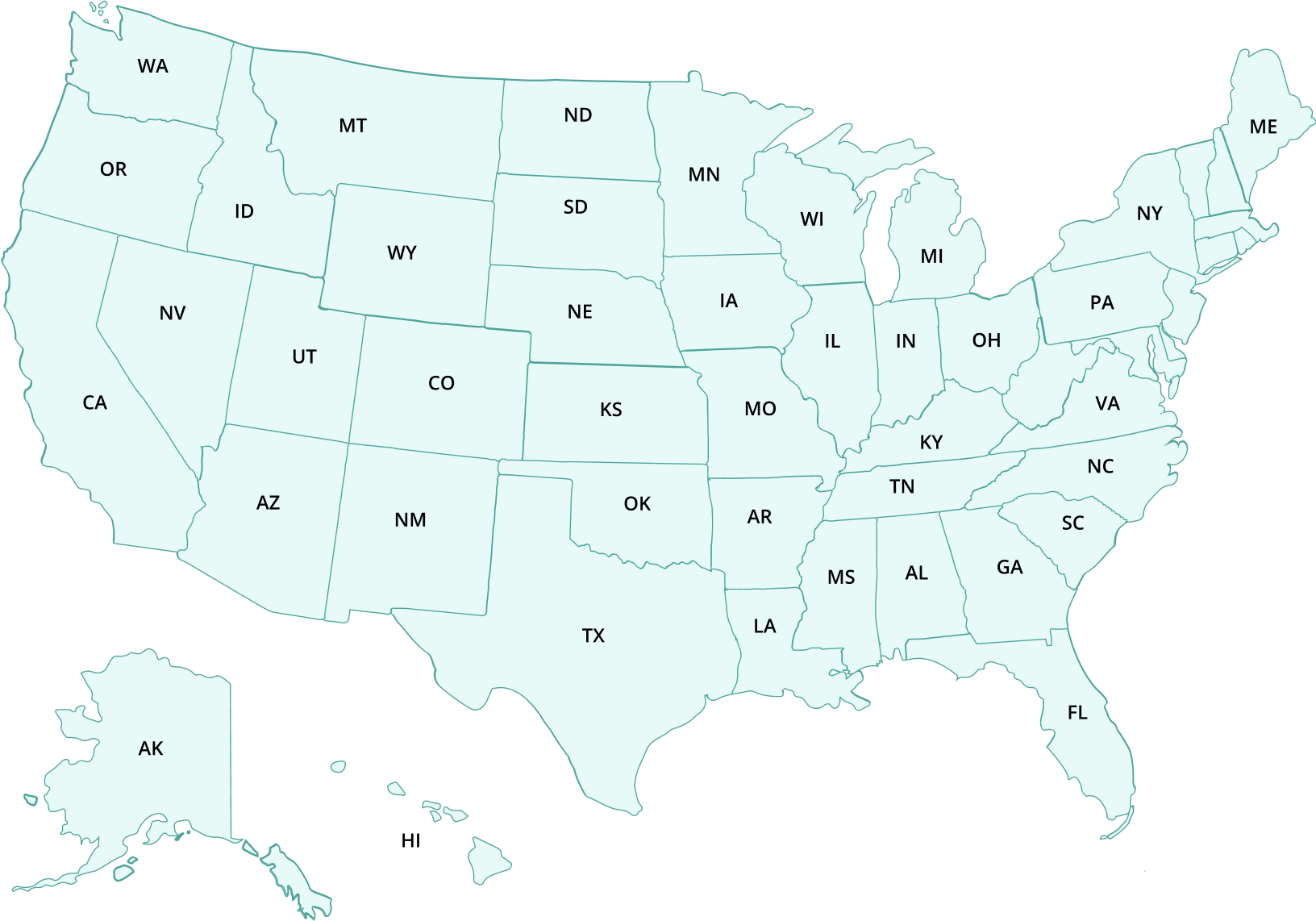 ---
Page Sources
National Survey on Drug Use and Health | CBHSQ Data. (2022). Retrieved from https://www.samhsa.gov/data/data-we-collect/nsduh-national-survey-drug-use-and-health