Meloxicam is a drug that brings anti-inflammatory relief for chronic pain associated with arthritis. Meloxicam 15 pills, also known as Cipla 159 or the 159 pill, are sold on the market under the generic name Meloxicam, and branded names: Mobic and Vivlodex being the most popular. On the one hand, a wide variety of Meloxicam pills provide an option of pain relief and treatment for doctors and patients. On the other hand, it may not be very easy to find the right tablet in such a variety. In this case, this Meloxicam pill identifier is the right tool for any patient prescribed this medication.
What Does Meloxicam Look Like
Due to the myriad of manufacturers that produce Mobic, either as a generic medication or branded, these drugs come in many different shapes, colors, and sizes. Therefore, it can be helpful to have information on how to identify the different forms of its pills.
Meloxicam Brand and Generic Variations Are Available as Follows:
Pill 100
Pill 100 is made by Carlsbad Technology, Inc. It is a round yellow pill with one blank side and 100 imprinted on the other. It is a pill that contains 15 mg of the substance.
Pill 15
This Meloxicam 15 mg pill is known as Pill 15, with a 15 imprinted on one side. It is oval-shaped, yellow, and is manufactured by Lupin Pharmaceuticals, Inc. Patients should use it with caution as the medication can cause GI and heart side effects.
3230 WPI
The 3230 WPI has those characters written on one side, around the circumference. It is a Meloxicam 7.5 mg pill that is manufactured by Watson Pharmaceuticals. It is round and yellow.
5 Pill
Carlsbad Technology, Inc. makes the 5 Pill. It comes in a similar design to the Pill 100 that they also make: yellow and round, with the number 5 emblazoned on one side. It is 7.5 mg, which is half the strength of the Pill 100.
512 pill
This round, yellow tab is the 512 tablet from Caraco Pharmaceutical Laboratories. It has the number 512 imprinted on one of its sides. Its strength is 7.5 mg. In general, using Meloxicam with alcohol should be avoided as it can increase the risk of heart and GI side effects occurring.
513
Caraco Pharmaceutical Laboratories also manufactures the 513, which is an oval-shaped Meloxicam 15 mg pill. It is yellow and has 513 printed on the side. 15 mg tablets are more likely to cause adverse health effects than 7.5 mg ones. Taking the medication after or with food helps reduce the risk of some of those negative reactions.
G 14 7.5
Glenmark Generics, Inc. is the company behind the 7.5 mg tablet called G 14 7.5. This one has imprints on both sides, with one side saying G14 and the other 7.5. These round and yellow tabs are easy to identify with the text on either side.
7.5 Pill
The 7.5 Pill is a product of Lupin Pharmaceuticals. There is no text on one side, but the other side has 7.5 written on it, which is the dosage of this round, yellow tablet. It is essential to make sure your medical doctor knows any drugs you use alongside this one because of Mobic interactions and adverse health effects like heart conditions.
93 7234
The 93 7234 has a very rounded oval shape and a yellow tone. As its name suggests, it has the number 93 written on one side and 7234 on the other. This Meloxicam 7.5 mg tablet is manufactured by Teva Pharmaceuticals USA, Inc.
93 7299
This one is similar to the previous pill as both are manufactured by Teva Pharmaceuticals, USA, Inc. It also has numbers imprinted on each side, with 93 on one side, similarly, and 7234 on the other. However, this 15 mg tab is distinct as it is four-sided with gently rounded corners.
APO MEL 7.5
Apotex Corp. is the company that produces this. It has a dosage of 7.5 mg, which is demonstrated on one side, which has MEL 7.5, with APO opposite. It is yellow and round. Due to the risk of side effects, such as certain heart conditions like increased blood pressure, a doctor can consider Mobic alternatives.
APO MEL 15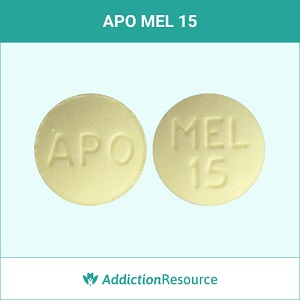 Also from Apotex Corp., the APO MEL 15 has a dosage of 15 mg, with a similar yellow and round appearance. It has APO, and MEL 15 imprinted on either side.
B419
B419 is a bit of a long pill, with B419 written on a side. Produced by Breckenridge Pharmaceutical, Inc. It has a deeper yellow color than most of the other tablets and a relatively long oval shape. There is 15 mg of the drug in each one.
C 79
Aurobindo Pharma is the maker of these round, very pale yellow tabs. These can easily be identified as either side has C or 79 written on it. It is a 7.5 mg pill, which is less risky to cause side effects than those with double that dose.
C 80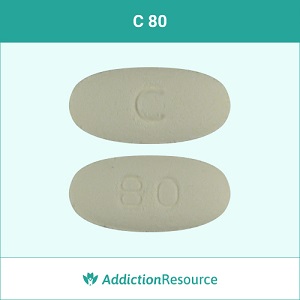 C 80 is also manufactured by Aurobindo Pharma. The shape differs significantly from C 79 as it has double its dosage, with 15 mg. This oval, yellow pill displays C and the number 80 on either side.
C158 Pill
Meloxicam is used for the treatment of the pain of rheumatoid arthritis and arthritis, so many people undergoing treatment of that condition may be familiar with round, yellow tabs that look like the C158 Pill. However, this one is made by Cipla USA and has C and 158 on either side. It contains 7.5 mg.
CIPLA 159
CIPLA 159 proudly shows the number 159 on one of its sides, but flip it over, and the letters for the word CIPLA take up half of the circumference. It is round and pale yellow, and CIPLA 159 carries 15 mg of Meloxicam inside. The manufacturer of the 159 pill is CIPLA USA.
cor 175
This bright yellow tablet is produced by a company called Corepharma LLC. Only one face has anything written on it, with the number 175 squeezed just below 'cor.' This is a Meloxicam 7.5 mg. The withdrawal symptoms seen when the drug is stopped include the return of symptoms of the patient's rheumatoid arthritis.
cor 176
The cor 176 is extremely similar to the cor 175 tablet from Corepharma. The only significant difference is the dosage (15 mg) and a single-digit increment. It is the same deep yellow color, round, and has 'cor' typed above 176.
G14 15
The G14 15 is produced by Glenmark Generics, Inc. Its shape is oval, and its color is a very light shade of yellow. As the name gives away, this is a 15 mg tablet, with the number 15 written on one side and G 14 opposite it.
IP 205
Vivlodex IP 205 is a distinct-looking capsule, with one part of the shell being pink and the other blue. It is one of the lowest dosages that it can be acquired in, at just 5 mg. The blue part of the shell has 5 mg printed on it, and the pink says IP 205. Iroko Pharmaceuticals is the manufacturer.
IP 206
Also from Iroko Pharmaceuticals, LLC, the IP 206 is double the strength of IP 205, at 10 mg. It takes on a distinct color scheme, retaining the blue tone on half of the capsule shell but using a bright red for the other half. 10 mg is written on the blue half and IP 206 on the red.
077 Novitium 10 mg
077 Novitium 10 mg is a white capsule produced by Novitium Pharma, LLC. Each half is essentially identical, differing only in the text written on it, with 077 and 'novitium 10 mg' written on either.
Mobic M 15
The M 15 is another light yellow, oval pill. It has a stylized M on a face, with the number 15 on the flip side. It is manufactured by Roxann Laboratories, Inc. Meloxicam 15 mg tablets like this are the highest dosage obtainable in a single tablet. They are the most likely to be involved in Mobic abuse.
M 66
The yellow and round M 66 tablet is a product from Mylan Pharmaceuticals, Inc. It has M written above 66 on one of its faces. This tab carries a dosage of 7.5 mg of Meloxicam.
M 89
Besides the M 66, Mylan Pharmaceuticals, Inc. also makes the M 89. It has twice the dosage of Meloxicam, at 15 mg. It is round and yellow like most of the other pills. It has the letter M printed above 89 on just one face of the tablet.
M LOGO
Boehringer Ingelheim Pharmaceuticals, Inc. makes the M LOGO 7.5 mg Mobic tablet. It has a stylized M, with the company's logo drawn on the opposite end. It is a round, yellow tablet. Despite the relatively small dosage, these drugs can cause adverse health effects. For instance, they can increase the risk of negative health effects related to the heart, like increased blood pressure.
S 160
Strides Acrolab Limited is the company that makes the S 160 tablets. These are yellow tablets, shaped like ovals with slightly pointed tips. S 160 is imprinted on the side of the pill. The dosage of Meloxicam is 7.5 mg.
S 161
Produced by Strides Acrolab Limited, just like the S 160 pill, the S 161 has the same yellow and oval shape, with S 161 written on the side instead. It has 15 mg instead, making it a stronger choice, though more prone to Mobic abuse.
T 152
With a single T emblazoned on one of its round sides and 152 on the opposite one, the yellow T 152 is a product of Ascent Pharmaceuticals, Inc., containing 7.5 mg of the substance.
T 153
Although it's also from Ascent Pharmaecuticals, Inc., T 153 takes an oval shape instead of the round one. It helps differentiate it from the other yellow pill, especially as this one is a Meloxicam 15 mg tablet. Individuals with high blood pressure should be cautious when using NSAIDs such as this.
UL 7.5 mg
The small and round UL 7.5 mg pill from Unichem Pharmaceuticals might be a little difficult to tell apart from many other tabs containing this drug. It is round and yellow just like the rest, with the imprint being the distinguishing factor thanks to UL being on a side and 7.5 seen when it is flipped over.
UL 15 Pill
The UL 15 pill is Unichem Pharmaceuticals' 15 mg version of Meloxicam. It is yellow and oval-shaped. Comparing Meloxicam vs. Celebrex may come up for patients who deal with ulcers, as celecoxib is less likely to cause GI bleeding than the UL 15 pill.
ZC 25
ZC 25 is a small, pale yellow tab from Zydus Pharmaceuticals. One of its round sides has the letters ZC printed above the digits for the number 25. The opposite side is completely blank. This tab contains Meloxicam 7.5 mg.
ZC 26
ZC 26, also from Zydus Pharmaceuticals, is the 15 mg variant of their ZC 25 pill. ZC 26 is similarly yellow and round, with ZC written right above the number 26. It is important to contact your medical doctor for information before combining analgesics such as Meloxicam and tramadol for pain relief.
Is there any Difference Between Meloxicam, Mobic, and Vivlodex?
Meloxicam refers to both generic and branded varieties. Branded Meloxicam 7.5 mg pills and 15 mg pills are sold in tablet forms, whereas Vivlodex is sold only in capsule form. In Europe, its brand names include Melox, Recoxa, and Movalis. Oral suspension forms are available in branded forms as Mobic and a generic variant. Keep in mind that Meloxicam adverse reactions may happen due to certain medical conditions, such as increased blood pressure, GI bleeding, and blood thinning (leading to easy bleeding).
Dosage Forms
Branded Meloxicam may come with the distinguishing marks of manufacturers.
It Can Be Purchased in the Following Strengths per Brand:
Generic Meloxicam: 7.5 mg, 15 mg tablets; 7.5 mg/mL, 15 mg/mL oral suspensions
Mobic: 7.5 mg, 15 mg tablets; 7.5 mg/mL oral suspension
Qmiiz: 7.5 mg, 15 mg orally disintegrating tablets
Vivlodex: 5 mg, 10 mg capsules
Anjeso: 30mg/mL aqueous dispersion (for IV injection)
Vivlodex capsules are made colored half red and half blue. Branded and generic oral suspensions are administered at 0.125 mg/kg. Meloxicam alternative form is also available as a topical anti-inflammatory gel at 0.3% strength.
The specific dose of these drugs prescribed depends on a few factors, such as the indication Meloxicam is used for in the particular person. While a Mobic 7.5 mg tab is a standard option that many physicians start a patient off with, a higher dose may sometimes be provided. A Meloxicam 15 mg tab could be given to a patient if the initial dosage of the medication does not seem to provide them with effective relief of their symptoms. Even though higher doses may be provided when the person has more severe symptoms, it's vital not to exceed the maximum amount.
How to Choose the Best Form of Meloxicam
Meloxicam 15 mg tablet information indicates that these drugs are approved for adult use only. Children should not be given more than 7.5 mg of any of these drugs. Capsules are prescribed to adults requiring dosages of 5 mg and 10 mg. Both tablet and capsule forms are prescribed to treat pain of osteoarthritis and rheumatoid arthritis, according to the FDA's prescribing information.
The oral suspension form of Meloxicam is recommended for the treatment of juvenile rheumatoid arthritis among children two years old and up.
Take Meloxicam 15 mg Responsibly
Use Meloxicam 15 mg yellow pill or any of its varieties only as prescribed. Extra care must be taken not to go beyond recommended daily thresholds for any variation of the Mobic pill. Patients should avoid taking Mobic with alcohol as this can result in stomach bleeding. Dangerous food and drug interactions with Meloxicam should be checked and discussed with a medical doctor before taking Meloxicam. This information is vital for them to prescribe the appropriate medication.
Notice that it's possible to overdose on Vivlodex because only one pill is permitted per day. Therefore, make sure to use the prescribed dosage only.
If any symptoms of Mobic abuse have been noticed, a patient should look for support in detoxing from Meloxicam and breaking free from addiction and its dangers to the health with the help of drug rehab.
Find the best treatment options. Call our free and confidential helpline
---
Page Sources
United States Food and Drug Administration, Mobic (Meloxicam) tablets prescribing information, 2012, https://www.accessdata.fda.gov/drugsatfda_docs/label/2012/020938s022lbl.pdf
Türck, D., Busch, U., Heinzel, G., Narjes, H., & Nehmiz, G. (1995). Effect of food on the pharmacokinetics of meloxicam after oral administration. Clinical Drug Investigation, 9(5), 270-276. https://link.springer.com/article/10.2165/00044011-199509050-00004
Aw, T. J., Haas, S. J., Liew, D., & Krum, H. (2005). Meta-analysis of cyclooxygenase-2 inhibitors and their effects on blood pressure. Archives of internal medicine, 165(5), 490-496. https://pubmed.ncbi.nlm.nih.gov/15710786/