Baclofen is commonly presented in round or oval forms. All official manufacturers of this medication typically have distinguishing marks imprinted on each tablet which, in many cases, also carries information about the dosage.
An example is the 20 mg Baclofen pill. Each one of these has 832 BC20 imprinted on it. The same applies to the Baclofen 10 mg tablet. Instead, these are imprinted with BAC 10 832 on both sides.
Baclofen Pill Identifier
What does Baclofen look like? Identifying a Baclofen pill and knowing the exact kind is an essential skill for those who deal with addicts and drugs. This information provided can help them calculate or estimate the Baclofen dosage that patients were abusing. It can also help those who use the medicine for legitimate purposes to be sure of which medication they are using if confused.
Listed below are the many different Baclofen drugs and varieties available in the market, pictures, and their distinct features:
White Round TV 4096
TV 4096 is a round, white tablet that is manufactured by Teva Pharmaceuticals. It has TV written on one side and 4096 opposite. This tablet has a 10mg strength.
White Oval V 22 65
V 22 65 is a Baclofen 10 mg tablet. It is white and oval-shaped, with a slight groove separating it into two sections. It makes it easier to split in half for 5mg portions. There is a V on the side without the groove and 22 and 65 on either half. It's made by Qualitest Pharmaceuticals.
BAC 10 832 Pill
BAC 10 832 is a round white pill that has a Baclofen dosage of 10 mg. It has 832 imprinted on one side of it. This pills are made by Upsher-Smith Laboratories.
White Z 4097 Pill
The Z 4097 pill is made by IVAX Pharmaceuticals. This one is white and round, with 20, representing the 20mg dosage, written on one side, and Z 4097 on the opposite.
Patients should be aware of Baclofen pill interactions to avoid taking medications that will produce negative effects.
White Oval V 22 66
V 22 66 is a white oval or capsule-shaped pill. It has a V on one side and 22 and 66 separated by a tiny groove on its back. It allows the 20mg pill to be split into two 10mg pills and is manufactured by Qualitest Pharmaceuticals.
832 BC 20 (832 Round White Pill)
This pill is similar to the BAC 10 832 tablet. Both are made by Upsher-Smith Laboratories. This one is also white and round, but instead of 10mg, it is 20mg. It has one blank side, and the opposite face has a horizontal groove with 832 on top and BC 20 under.
White Round N 029
Like most of these pills, N029 is also a white, round pill manufactured by Northstar Rx LLC. This pill has a dosage of 10mg. There is N029 written on one side, but the second side is blank with nothing but a horizontal groove, making it easier to split.
White Round LCI 1330
Baclofen LCI 1330 is manufactured by Lannett Company. It has LCI 1330 written on one side of it, except the letters are separated from the numbers by a horizontal line for easy splitting. LCI 1330 is a white and round 10mg pill.
10 DAN 5730
On one side of 10 DAN 5730 is simply the number 10. This represents the Baclofen dosage in the drug, at 10mg. On the second side of this white, round pill are DAN and 5730, separated by a horizontal groove. It is made by Watson Laboratories.
20 DAN 5731
20 DAN 5731 can be considered the older brother to 10 DAN 5730 and is similarly white and round with a horizontal groove separating DAN and the number 5731. On the second side, there is the number 20 instead. This one is made by Watson Laboratories as expected.
10 Z 4096
These pills are mostly white and round, with 10 Z 4096 being no different. It has 10 written on one face as it's a 10mg tablet, and Z 4096 is written on the opposite side. Teva Pharmaceuticals manufactures it.
White Round 291 Tablet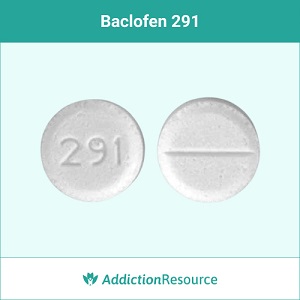 Tablet 291 has a rather simple appearance. One face is blank but for a horizontal groove, while the other has nothing but the number 291. This 10mg pill is made by Caraco Pharmaceuticals.
White Round 292 Tablet
This Baclofen pill has 292 written on one side and the groove on the other for easy splitting. It is a 20 mg pill made by Caraco Pharmaceuticals.
White Round LCI 1337
CI 1337 is a round, white tablet. One face is entirely blank. On the opposite side, LCI and 1337 are separated by a horizontal groove. The tablet has 20mg of the medication but can be easily split into 10mg. It is made by the Lannett Company.
BN 10 G
BN 10 G is a circular white tablet manufactured by Mylan Pharmaceuticals. This is a 10mg tablet, with an isolated G on one face and BN and 10 on the other.
BN 20 G
BN 20 G can be considered a step up from the tablet above. Similarly, white and circular, but the dosage is 20mg. It has the same G on one side, but BN and 20 are separated by a line on the other side, and it is made by Mylan Pharmaceuticals as expected.
N030
Manufactured by Northstar Rx LLC, N030 is a white, round tablet that is very simple in appearance, being white and round, with one side simply showing N030 and the other a horizontal line. The dosage is 20mg.
Yellow Round MX 23
X 23 is a bit different from the pills seen so far. It's Baclofen 10 mg with a round shape but is distinctly yellow instead and made by Matrix Laboratories. There is MX and 23 written on one side while the other is blank.
Yellow Round MX 24
Also made by Matrix Laboratories, MX 24 is another yellow pill, but it has a dosage of 20mg. The distinctive features are similar, with one blank side and another showing MX and 24 separated by a horizontal groove.
White Round 023 Tablet
Made by TruPharma LLC, the 023 tablet is one of the few 5 mg tablets available. It is white and round, with one blank side and the other simply imprinted with 023.
024 Tablet
Also made by TruPharma, the 024 tablet is very similar to the 023 tablet. White and round, with 024 engraved on one face but is Baclofen 10 mg instead, and as such, there is a horizontal groove on the blank side for splitting it in two.
025 Tablet
The 025 tablet is just like its other siblings made by TruPharma. It has 025 on one surface and a horizontal line for splitting the pill on the other. It's round, white, and has a Baclofen dosage of 20mg.
U-S BAC 10
The U-S BAC 10 tablet is a Baclofen 10 mg tablet made by Upsher-Smith Laboratories. That explains the meaning of the initials imprinted on it. One side has U-S, and the other has a thick groove with BAC on one surface and 10 on the other. It is a circular white tablet.
Baclofen 1285
Baclofen 1285 is a minimalist tablet like so many others. It is white and round, with a groove on one side and the number 1285 on the other. It's a Baclofen 10 mg pill made by Zydus Pharmaceuticals.
343 U
The 343 U tablet is another white round pill with a blank side and the other with the letter and number divided by a horizontal groove. The dosage is 10mg, and the tablet is made by Unichem Pharmaceuticals.
344 U
344 U is similar to the above tablet in that Unichem Pharmaceuticals make it. It is white and round, has a blank side, and the other side is imprinted with U on top and 344 below, segregated by a line. This is a 20mg pill.
20 20 LIORESAL
The 20 20 Lioresal pill is a white and long oval pill. Manufactured by Novartis Pharmaceuticals and as expected, is a 20mg tablet. It has the brand name, Lioresal, imprinted on one surface and the number 20 written twice on the other side but separated by a deep vertical groove.
What are Baclofen Generic and Brand Names?
Except for the various generic manufacturers, three are well-known Baclofen brand names. The three best-recognized brand names are:
Lioresal
Kemstro
Gablofen
This drug is also sold on the market as BAC 10 832, LCI 1330, Z 4096, and MX 23, among many others.
Lioresal is available in oral as well as intrathecal preparations. This brand name is available as an oral Baclofen 10 mg tablet and 20 mg dosage, as is Kemstro (currently discontinued). Under the generic name, the drug is sold at a 5 mg dosage. Cream is also available for the treatment of cases requiring a topical application.
Gablofen is available only in intrathecal preparation. The attending physician will order tests to establish that a patient's symptoms have a positive health response to Baclofen effects before a pump is set up for long-term administration of the drug.
Baclofen Dosage Forms
Baclofen is available in two forms – oral tablets and intrathecal form. Intrathecal administration refers to administering drugs with an injection into the spinal canal or the subarachnoid space. An intrathecal pump can be used for this process to relieve muscle spasms. The pill doses are limited to two options – Baclofen 10 mg and 20 mg.
What is Baclofen 10 mg?
Baclofen 10 mg is the smallest single dose in pill form. However, the Baclofen pill can be split into two 5 mg tabs for smaller doses. The intrathecal form, whose use is shown to be quite effective with its health effects and improvement in muscle spasm symptoms, is available in two different sets of dosages – one set with preservatives and the other set without them:
Without Preservatives:
500mcg/ml
1000mcg/ml
2000mcg/ml
How to get Baclofen Prescription?
It's a prescription medication, and it is required to get it from an experienced practitioner or doctor.
To Get a Prescription for Lioresal, a Patient Should Go Through the Following Process:
If individuals suffer from muscle spasms, they must visit their doctor to get a prescription.
Depending on a patient's medical history and disease, the Baclofen dosage and ways of taking it will be adjusted.
A medical doctor who provides Baclofen prescription assistance can also give helpful information on where to get a prescription discount.
Can Lioresal Be Obtained Without a Prescription?
Lioresal is required to be obtained exclusively based on a prescription from an appropriate healthcare professional. Those who frequently abuse this medication may attempt to procure it through illegal sources like online or street dealers. It is important to notice that such actions can be legally prosecuted.
Taking this medication without informing a doctor can have significant effects on the health. This is even more true when used for recreational purposes. The CNS depression it causes can result in impaired balance and drowsiness that can put the user and others in harm's way. It can be even more pronounced for those with CNS disease. The chance of Baclofen overdose occurring is also increased.
Therefore, it's not recommended to get Lioresal without medical causes, buy it online without prescription, or seek it from a vendor or pharmacy. The consumer also needs to be aware of certain parameters like prescription dose, which cannot be acquired without consulting with a doctor. However, there are some known natural alternatives to Baclofen that patients can try without any prescription.
Identifying Baclofen Tablets
What Does Baclofen Look Like? It can be challenging to tell the various kinds of Baclofen tablets apart from one another. The difference of a single number can mean as much as double the dosage. Using pill identifiers like this is the best way to be sure of the dosages being dealt with.
This drug can have dangers when used in excess or abused. There should be no hesitation in contacting a medical professional if the dosage is uncertain.
For those dealing with addiction to Baclofen, there are treatment centers available to ensure that the path to recovery is as short as possible.
Find the best treatment options. Call our free and confidential helpline
---
Page Sources
Floyd, C. N., Wood, D. M., & Dargan, P. I. (2018). Baclofen in gamma-hydroxybutyrate withdrawal: patterns of use and online availability. European journal of clinical pharmacology, 74(3), 349–356. https://pubmed.ncbi.nlm.nih.gov/29198063/
Medical Advisory Secretariat (2005). Intrathecal baclofen pump for spasticity: an evidence-based analysis. Ontario health technology assessment series, 5(7), 1–93. https://www.ncbi.nlm.nih.gov/pmc/articles/PMC3382401/
Jagatsinh Y. (2009). Intrathecal baclofen: Its effect on symptoms and activities of daily living in severe spasticity due to spinal cord injuries: A pilot study. Indian journal of orthopaedics, 43(1), 46–49. https://www.ncbi.nlm.nih.gov/pmc/articles/PMC2739492/
White W. B. (1985). Aggravated CNS depression with urinary retention secondary to baclofen administration. Archives of internal medicine, 145(9), 1717–1718. https://pubmed.ncbi.nlm.nih.gov/4026500/