Klonopin (Clonazepam) is a drug used to treat seizures, panic disorder and anxiety. There are plenty of Clonazepam pills available on the market. Each one is different in color, shape, and imprint. The colors denote the dosage of Klonopin pill. The significant identifier is the imprint identifying the manufacturer and the dosage. Users can come across pills with imprints Teva 833 or V 2531 or others, and it is essential to know what these letters and numbers mean. This article serves as a pill identifier to make it easier to recognize different pills.
Klonopin Colors: What They Mean
Klonopin is the brand name of the benzodiazepine clonazepam. Roche Laboratories is the only manufacturer of the brand name Klonopin, and the colors blue, orange, and white differentiate the strength of the medication. Roche also identifies the drug with a K-shaped cutout in the tablet. Along with it, there is an imprint of the dosage and the company name. A half-milligram tablet is orange, a one-milligram pill is blue, and a two-milligram tablet is white. They also make a disintegrating tablet for those who experience difficulty swallowing tablets, and these are white with the dosage imprinted on one side.
Roche Klonopin
COLOR
IMPRINT
IMAGE
DOSAGE
Orange
K-shaped perforation in the tablet with an imprint of 1/2 and ROCHE.
0.5mg
Blue
K-shaped perforation with an imprint of 1 at the top and ROCHE on the bottom.
1mg
White
K-shaped perforation in the tablet with an imprint of 2 at the top and ROCHE on the bottom of the pill on one side.
2mg
White
Called a "wafer," this tablet is an orally disintegrating tablet. The strength or dosage is imprinted on one side. Fractions denote the portion of mg; for example, 0.5mg dosage has the mark 1/2.
0.125mg=1/8

0.25mg=1/4

0.5mg=1/2

1mg=1

2mg=2
The combination of the color, shape, and imprint on medication identifies the drug, the strength, and the manufacturer. Medications approved by the Food and Drug Administration are required to have unique identifiers or imprint codes for easy identification. The purpose of the colors is to tell pills apart.
Clonazepam Colors: The Generic Klonopin
Clonazepam gained approval as a generic drug in the late 1990s. Multiple pharmaceutical companies produce the generic version in various colors, for example, Teva 833 or blue pill c1. The imprint acts as a descriptor of manufacturer and strength. Most insurance companies, including Medicaid and Medicare, will only pay for a generic prescription unless a prescriber can justify the expense of the brand name. The justification usually requires trying generic versions first.
Orange Klonopin
There are two versions of orange Klonopin pills, each of them containing 0.5mg of Clonazepam.
Orange Pill 1 2
The imprint on an orange pill 12 is a number 1 above a horizontal line and a number 2 below the horizontal line. The supplier is Accord Healthcare, Inc. Snorting Klonopin pills is dangerous and can cause additional adverse reactions.
APO c-0.5
The imprint is placed on one side and lets the user identify the manufacturer Apotex Corp. Klonopin half-life can be as long as 60 hours, which means it can be detected by drug tests for a long time.
Yellow Klonopin
There is no standard strength for yellow pills. However, most of them contain 0.5mg of clonazepam. The exception is R34, containing 1mg.
R34 pill
Yellow Klonopin pill with capital R above the number 34 is supplied by Actavis. The strength is 1mg.
273 .5
Caraco Pharmaceutical Laboratories supply this type of Klonopin pill. It contains clonazepam dosage of 0.5mg. This is the usual daily dosage prescribed at the beginning of treatment.
M C 13
One side of this tablet has a capital M imprint, and the other side is with C above a horizontal line with 13 below it. It contains 0.5mg dose of clonazepam.
V 2530
The Klonopin pill with an imprint V 2530 contains 0.5mg of the active ingredient. Its inactive ingredients are lactose monohydrate, silicon dioxide, magnesium stearate, microcrystalline cellulose, and croscarmellose sodium.
Teva 832
TEVA is imprinted on one side and 832 above a horizontal line on the other side. The strength is 0.5mg. Another tablet version has an imprint of the number 93 above 832.
E 63
It has the same strength as Teva 832, being 0.5mg. The imprint is a stylized capital E over 63.
Watson 746
Watson 746 pill contains 0.5mg dose of clonazepam. Watson Pharmaceuticals supply it. It has a round shape and the size of 8mm.
Blue Klonopin
Blue Klonopin is supplied by different manufacturers, but the dosage is the same, which is 1mg. All the pills are small and round in shape.
Blue Pill C1
This Klonopin pill has the imprinted letter C and 1. The manufacturer is Accord Healthcare, Inc., the same as an orange pill 1 2. The color difference signifies the difference in strengths.
APO C-1
The tablet with an imprint of APO C-1 is supplied by Apotex Corp. It is also blue in color.
1 274
This tablet is imprinted with the number 274 and on the other side the number 1 above a horizontal line. It is manufactured by Caraco Pharmaceutical Laboratories.
V 2531
The pill with the number 2531 on one side and a stylized V on the other is supplied by Qualitest Pharmaceuticals, Inc.
E 64
The imprint is a stylized capital E over 64 on the front side and a horizontal line on the other side. Sandoz Pharmaceuticals Inc. manufactures this type.
Watson 747
To make it easy to identify the strength and differentiate Watson 747 and 746, Watson Pharmaceuticals manufactures them in different colors. Yellow Klonopin Watson 746 contains 0.5mg, while the blue pill Watson 747 contains 1mg of the active ingredient.
White
White clonazepam pills are the most common, and many manufacturers make white pills. They vary in their strength, and the only thing that can help differentiate them is the imprints. However, only white pills are available in the highest Klonopin dosage form of 2mg.
White C2 pill
The Klonopin pill with a capital C above a number 2 contains 2mg dose of clonazepam. It is supplied by Accord Healthcare, Inc., the same as blue pill C1 and orange pill 1 2.
R35
The tablet with a capital R above the number 35 on one side and a line on the other side also contains 2mg. The supplier is Actavis.
G CN 0.5
This white round tablet is supplied by Andrx Pharmaceuticals and is identified as clonazepam 0.5mg.
APO C-2
The strength of APO C-2 is 2mg, which is the highest available. Apotex Corp supplies all Clonazepam pills with an imprint APO.
B94 ⅛
The pill with an imprint B94 is manufactured by Barr Laboratories, Inc. All Clonazepam pills with lower-case b imprinted are provided by this manufacturer. The fractions imprinted help identify the strength. ⅛ means it contains 0.125mg of clonazepam, and number 2 means 2mg.
2 275
Klonopin pill with an imprint 2 275 is supplied by Caraco Pharmaceuticals Laboratories and contains 2mg of Clonazepam.
M C 15
M C 15 pill has a capital M imprint on one side and C above a horizontal line with 15 below it. The tablet strength is 2mg.
K5-K9 Clonazepam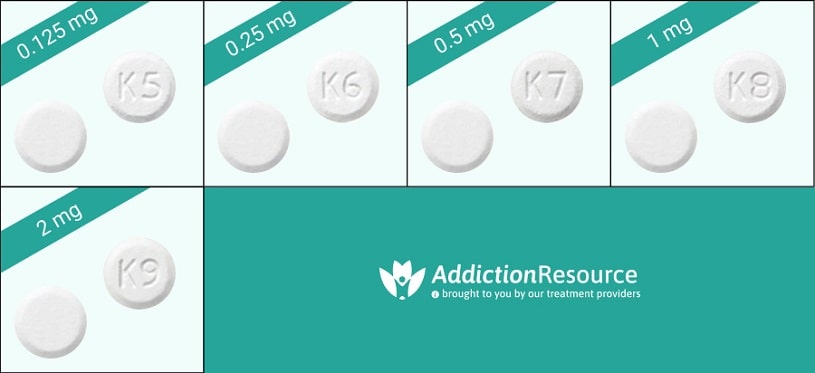 Par Pharmaceutical Inc. manufactures all Clonazepam pills with the letter K and a number imprinted. All these tablets are white and round, but their strength differs depending on the imprint.
V 2532
V 2532 pill has the number 2532 on one side and a stylized V on the other side. Qualitest Pharmaceuticals, Inc. manufactures this type of pill, and it contains 2mg of clonazepam.
E 65
The tablet with a stylized capital E over the number 65 is supplied by Sandoz Pharmaceuticals, Inc. The strength is also 2mg.
Teva 834
The imprint of TEVA means the manufacturer of this tablet type is Teva Pharmaceuticals.
Another version has a number 93 above the number 834 impinted. Both versions contain 2mg of clonazepam.
Watson 748
Watson 748, which is supplied by Watson Pharmaceuticals, contains 2mg clonazepam.
Green
Green Clonazepam pills are less common, and there are only two variations available. Both of them contain the same amount of clonazepam – 1mg.
M C 14
Mylan Pharmaceuticals, Inc. manufactures the pill with a capital M imprint on one side and C above a horizontal line with 14 below the horizontal line.
Teva 833
Teva 833 pill is supplied by Teva Pharmaceuticals and contains 1mg of clonazepam. Another version of Teva 833 has an imprint of the number 93 above 833.
Pink
There is only one version of this color. Like all other Clonazepam pills, it is available only by prescription.
R33
R33 pill is pink and round and contains 0.5mg of the active ingredient.
Klonopin Dosage
Klonopin most often comes in tablet form. Regular tablets are to be taken orally with water, while disintegrating ones (wafers) can be swallowed without water. The prescribed dosage of Klonopin is usually taken one to three times daily on a full or empty stomach.
Interestingly enough, higher doses don't necessarily mean better efficiency. In fact, higher doses are associated with more adverse side effects.
The recommended dosage for adults is 0.25 mg twice a day, with the dosage usually jumping to 1mg per day after three days of usage. It is considered a safe amount. In patients who undergo titration, the dosage may be increased by 0.125mg to 0.25mg twice a day, every three days until the symptoms of the patient's condition are under control or until tolerance appears.
Maintaining one's dosage is essential for a sustainable treatment. Going 'cold turkey' and getting off clonazepam or any other benzodiazepine this way should never be an option. Doing so could lead to severe withdrawal symptoms and potentially harmful Klonopin adverse effects. Instead, stopping the usage should be achieved by a controlled, gradual decrease in dosing, instructed by one's doctor.
Lowest, Average, and Highest Klonopin Dose
To medicate with Clonazepam safely, one should be taking the smallest effective quantity of the drug consistently. This, together with good patient management, will ensure the user has the lowest chances of developing dependence or overdosing on Clonazepam.
The lowest dosage is 0.25mg twice daily. It is also the amount that is advised at the beginning of one's treatment.
The average amount then increases to 1.5mg per day, divided into three doses.
The highest dosage should never exceed 20mg per day when it comes to treating seizures. In geriatric and pediatric cases (elderly and children), the amount should be lower.
Addiction to the drug may result in the overdose as tolerance and irresponsible usage comes into play. Abusers who combine alcohol and Clonazepam are more exposed to additive CNS depression.
The joined effects of alcohol and other depressants slow down brain activity, leading to dangerous outcomes if one performs a task that requires mental alertness. Apart from external dangers, this combination may lead to respiratory depression, profound sedation, coma, or even death. That is why there is no time to wait for Klonopin addiction treatment.
Taking the Medication Safely
Colors and imprints on a pill serve as a means to identify the medication by manufacturer and strength. These identifiers are registered in a Food and Drug Administration database and allow for quick determination of legal versus illegal drugs and herbal supplements. Identifying Clonazepam pills is a matter of safety. Knowing what the color and imprint means prevents users from taking the wrong dosage by mistake.
If one has become too obsessed with taking the drug and continues taking it despite consequences, it's time to seek addiction help. Drug abuse is a problem that can be solved. Treatment centers and inpatient or outpatient rehabs help users who faced the negative outcomes of drug addiction. There is no shame in asking for help.
Find the best treatment options. Call our free and confidential helpline
---
Page Sources
U.S. Food and Drug Administration, Klonopin tablets, 2017. https://www.accessdata.fda.gov/drugsatfda_docs/label/2017/017533s059lbl.pdf
National Institute on Alcohol Abuse and Alcoholism, Harmful Interactions, 2003. https://www.niaaa.nih.gov/publications/brochures-and-fact-sheets/harmful-interactions-mixing-alcohol-with-medicines
U.S. Food and Drug Administration,CFR - Code of Federal Regulations Title 21. https://www.accessdata.fda.gov/scripts/cdrh/cfdocs/cfcfr/CFRSearch.cfm?fr=206.10
U.S. Food and Drug Administration, Drugs@FDA: FDA-Approved Drugs. https://www.accessdata.fda.gov/scripts/cder/daf/index.cfm?event=overview.process&ApplNo=017533