Hydrocodone is a commonly used opioid painkilling drug. As with all drugs, people like to know what the drug does and what exactly they are taking.
There are large quantities of different types of hydrocodone pills, like M367 or IP 109, and the ways of the opioid administration. Due to hydrocodone structure, these can be in both syrups and pills. Identifying what they are and which is which can be complicated.
This article aims to clear up those complications and give an overview of different brand names. Find out what do Hydrocodone pills look like.
What Does Hydrocodone Look Like?
M367, IP 109 and other known Hydrocodone pills are listed below:
M367 by Mallinckrodt Pharmaceuticals
M367 is a white capsule pill with a back ridge. Supplied by Mallinckrodt Pharmaceuticals, it contains 325mg of Acetaminophen and 10mg of hydrocodone bitartrate. It is used to treat back pains and arthritis. M367 contains a relatively large dose of the opioid component and can cause side effects.
IP 110 pill is identical; however, its supplier is Amneal Pharmaceuticals.
T 259
This capsule-shape pill is almost identical to the ones described above. It contains the same dosage of active ingredients, and is manufactured by Ascent Pharmaceuticals, Inc.
IP 109 and G 035
A white, capsule-shaped pill that treats back pain and arthritis. It contains Acetaminophen and Bitartrate at the rates of 325 and 5mg, respectively. It is supplied by Amneal Pharmaceuticals. Like any other dosage form, it can cause hydrocodone side effects. If any of them appear, contact your doctor. A healthcare provider can provide some tips in dealing with the adverse reactions, and also prescribe other alternatives for pain.
G 035 is identical. Its dosage and shape are the same as IP 109.
M366
Another white, capsule-shaped M366 pill to treat severe to moderate pain. It contains acetaminophen and bitartrate with a dosage of 325/7.5mg. This pill is supplied by Mallinckrodt Pharmaceuticals.
2172 White Pill, M357 and 126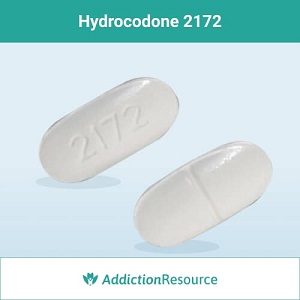 This oval-shaped white pill contains the same acetaminophen amount as M367 or IP 110 (325mg) and 5mg of bitartrate. It is supplied by Actavis Pharma Inc.
M357 also contains 325 mg of acetaminophen and 5mg of bitartrate; however, its supplier is Mallinckrodt Pharmaceuticals.
126 is also 325 mg acetaminophen / 5mg bitartrate. However, it is capsule-shaped and supplied by Sun Pharmaceutical Industries Inc.
Hydrocodone V 3605
V3605 is an orange elliptical pill made by Qualitest Pharmaceuticals Inc. It contains a usual acetaminophen amount (325mg) and 7.5 mg of Zohydro ER active ingredient. It is available only by prescription.
Hydrocodone 176
A white, oval-shaped pill by Sun Pharmaceutical Industries Inc. The dosage is 325/10mg. It is a schedule II drug and has a high potential for abuse and addiction.
V3601 Yellow Pill
This yellow pill with 325/10mg of active ingredients is oval-shaped and made by Qualitest Pharmaceuticals. It also contains inactive ingredients, such as silicon dioxide, croscarmellose sodium, magnesium stearate, microcrystalline cellulose, povidone, corn starch, stearic acid, and crospovidone.
M532 pill 10/325
This is a white capsule-shaped pill by Mallinckrodt Pharmaceuticals. Its dosage is the same as the M367 pill (325/10mg). It's used to treat chronic pain, and should be eliminated from the body in a few days.
WATSON 853
This yellow pill is oval in shape and contains 325 mg of acetaminophen and 10 mg of hydrocodone bitartrate. It is made by Watson Pharmaceuticals and is made to treat arthritis and pain.
WATSON 3202 and 3604 V
WATSON 3202 white pill with red dots is oval-shaped and contains 325/5mg of active ingredients. The drug is manufactured by Watson Pharmaceuticals.
WATSON 3604
WATSON 3604 V is identical. However, it is manufactured by Qualitest Pharmaceuticals.
M365 Pill
M365 pill is white and capsule-shaped. This variation is made by Mallinckrodt Pharmaceuticals and contains a 325/5mg dose of active ingredients. This dosage of the M365 pill is the same as in IP 109. The only difference between them is the imprint and the manufacturer. People with liver diseases should be more careful while taking acetaminophen-containing products, as their use can lead to serious liver damage.
WATSON 3203
WATSON 3203 pill comes in two forms. One is an orange oval and the other, a traditional white capsule. Both are made by Watson Pharmaceuticals and contain the same active ingredients, acetaminophen(325mg) and bitartrate(7.5mg). This variation is identical in dosage with M366.
Hydrocodone – Syrups To Ease Ailments
Hydrocodone syrups are far less common than hydrocodone pills, nevertheless they are are also used in pain treatment. Here are some examples:
Hydrocodone and Chlorpheniramine Polistirex Prnnkinetic
A combination of hydrocodone and chlorpheniramine polistirex pennkinetic, this syrup contains 10 and 8 mg of active ingredients, respectively. It has an extended release of 12 hours and aims at treating coughs and allergies. It is made by UCB Inc.
Homatropine Syrup
Hydrocodone Bitartrate And Homatropine Methylbromide Syrup is used to treat coughs and colds. It contains 5 mg of bitartrate and 1.5mg of homatropine methylbromide. This syrup has a cherry flavor and is made by various manufacturers, including Endo Pharmaceuticals and Morton Grove Pharmaceuticals.
Hydrocodone Brand Names
This drug is known as narcotic analgesic available in generic and different brand name medicines. These combinations are used to treat severe pain or a dry cough. Most hydrocodone brand name products contain the opioid along with another non-narcotic medication.
Brand Names Of "Pure" Hydrocodone Pills Are:
Here are some Hydrocodone Acetaminophen Brand Names: 
Among combination products, there are medications used to treat cough or medications more effective in treating pain.
Combination With Ibuprofen Brand Names:
Ibudone
Reprexain
Vicoprofen
Other Names For Combination With Homatropine:
Hydrocodone Dosage Forms
There are various dosage forms for combination products. Depending on the brand name and manufacturer, the doses of active ingredients will vary. However, speaking about pure hydrocodone pills, there are 2 branded versions available: Zohydro ER and Hysingla ER. Zohydro ER comes in doses starting from 10 to 50mg. However, doctors initially prescribe a dosage of less than 15mg.
The starting dose is to take 10mg every 12 hours for individuals above 18. There is a lack of evidence to suggest that the medication is suitable for individuals under 18. While previously it was common for doctors to prescribe cough syrup with the opioid, FDA, starting 2018, banned all such medication for pediatric use.
For people tolerant to opioid use, health professionals can increase the dose by 10 mg every 12 hours after 3-7 days. However, halt the increment once the pain management process is effective. Changing the dosage from 10 mg to 15 or 20 mg is a safe shift. Hysingla ER is available in higher doses, from 20 to 120 mg. 
Variables that Affect Dosage Prescription
Health professionals exercise caution when prescribing this medication. This is because of the tendency of people suffering from hydrocodone addiction. Since there is no fixed dosage schedule, the doctor will look at the following factors when prescribing.
Tolerance. Individuals that are inexperienced in opioid use require monitoring while taking their initial dosage. Some health professionals prescribe 5mg to test the tolerability of opioid use. People who are not tolerant of opioid use are prescribed very low dosages.
Age. FDA decided to ban all medications containing this drug for children under 18 years since 2018, so there is no pediatric dose of this opioid. However, even for patients suffering from pain and more than 18 years of age, the weight requirement is at least 101 lbs.
Kidney & Liver Conditions. People suffering from severe liver and/or kidney disease should avoid using this medication. Therefore, the doctor will first advise some kidney and liver tests before determining the max hydrocodone dosage. It is, however, strongly suggested to take a different course of treatment in such cases.
Identifying Hydrocodone Pills
Identifying types of hydrocodone pills or syrups and their ingredients isn't always simple. Knowing the meanings of different imprints like M367 or M365 is necessary to be always sure about the dose of the medication one is taking. If one is concerned about getting a variant of the drug that is the most suitable, better contact a medical professional. Like all opiate painkillers, the drug can be addictive. Getting the right variety of the drug could help prevent addiction or worse.
For those struggling with opioid abuse, treatment centers offer help and assistance in overcoming the addiction and opioid withdrawal phases.
Find the best treatment options. Call our free and confidential helpline
---
Page Sources
Kathy T. Vo, Xander M.R. van Wijk, Kara L. Lynch, Alan H.B. Wu, Craig G. Smollin, Counterfeit Norco Poisoning Outbreak — San Francisco Bay Area, California, March 25–April 5, 2016, https://www.cdc.gov/mmwr/volumes/65/wr/mm6516e1.htm
Hydrocodone Pill Identifier, https://pillbox.nlm.nih.gov/pillimage/search_results.php?s=40&getingredient=acetaminophen&submit=search
U.S. Food and Drug Administration, FDA acts to protect kids from serious risks of opioid ingredients contained in some prescription cough and cold products by revising labeling to limit pediatric use, 2018. https://www.fda.gov/news-events/press-announcements/fda-acts-protect-kids-serious-risks-opioid-ingredients-contained-some-prescription-cough-and-cold
U.S. Food and Drug Administration, Acetaminophen: Avoiding Liver Injury, 2009. https://www.fda.gov/consumers/consumer-updates/acetaminophen-avoiding-liver-injury
Victor S Sloan, Alphia Jones, Chidi Maduka, Jürgen W G Bentz, A Benefit Risk Review of Pediatric Use of Hydrocodone/Chlorpheniramine, a Prescription
Opioid Antitussive Agent for the Treatment of Cough, 2019. https://pubmed.ncbi.nlm.nih.gov/31073977/
U.S. National Library of Medicine, Hydrocodone Combination Products. https://medlineplus.gov/druginfo/meds/a601006.html