Methamphetamine Overdose: How Much Meth Can Kill?
Important InformationThis information is for educational purposes only. We never invite or suggest the use, production or purchase of any these substances. Addiction Resource and it's employees, officers, managers, agents, authors, editors, producers, and contributors shall have no direct or indirect liability, obligation, or responsibility to any person or entity for any loss, damage, or adverse consequences alleged to have happened as a consequence of material on this website. See full text of disclaimer.
Methamphetamine is a stimulant drug that closely resembles Amphetamine. Math users eat, inject, snort, or smoke it. This substance is also known for its high overdose risks.  Methamphetamine overdose occurs when user takes too much of it.
Currently, it belongs to a class of powerful and highly addictive substances. We call them CNS stimulants. Naturally, it brings euphoria and relaxed feelings in the users. For this reason, they abuse it. At the same time, doctors also prescribe a less powerful form to treat ADHD. They also use to treat a sleep disorder which they call Narcolepsy. Notice, that the substance meth users got on streets is more powerful. In fact, it carries an increased risk of overdose even with a little quantity.
Synonyms: meth, crank, speed, crystal meth, and ice

Hope Without Commitment
Find the best treatment options.
Call our free and confidential helpline
Most private insurances accepted
Methamphetamine Overdose Symptoms
If overdose happens, the effects are widespread and cover a number of body systems. With this in mind, There are some things that can determine the severity of the symptoms. One of them is the amount of the drug that reaches the brain. In addition, it also influences how long one will have to bear them.
Understandably, injecting it is more dangerous than eating or smoking.
Nervous System

Dizziness
Loss of consciousness
Convulsions
Coma
Stroke
Mental confusion
Hearing or listening things that are not there (hallucinations)
Extreme fear or panic states
Aggressive behavior
Tremor
Restlessness
Depression
Impaired memory and judgment
Digestive System
Nausea and vomiting
Diarrhea
Stomach pain
Respiratory System
Chest pain
Breathing difficulties
Fast breathing
Urinary System
Dark colored urine
Damages to the kidneys that may lead to its failure
Muscles System
Abnormal muscle contractions
Muscle pain or weakness
Extreme tiredness
Moreover, extremely high body temperature (hyperthermia) is another vital and potentially fatal effect.
Methamphetamine Overdose Treatment
Regrettably, there is no antidote. Nothing can directly counteract the toxic effects or reverse them. However, supportive treatments can restrict or relieve them.
The treatments include:
Medications to normalize abnormal heart rhythms
Benzos to control convulsions
Injections of antipsychotic agents to mitigate severe restlessness
Pressure-lowering medications to treat high blood pressure
Fluid and electrolyte injections to stabilize the patient. As a result, it may decrease the risk of damage to the kidneys.
Activated charcoal and laxative can be useful. That is if the user took the drug by mouth. In addition, it happens not so long before reaching the hospital. That way, it may help to restrict its absorption in the stomach and intestines.
Artificial ventilation and oxygen supplementation to facilitate breathing.
Supportive treatment to treat hyperthermia and prevent excessive dehydration.
How Methamphetamine Overdose Affects The Body And Brain?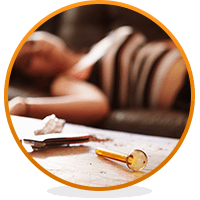 First, the drug reaches the brain. Then, it starts to affect the activity of many of the brain chemicals (neurotransmitters). Notably, it affects the "pleasure neurotransmitter." Scientists call it dopamine. It is because both dopamine and Meth have similar chemical structures.
For this reason, it can cause euphoric feelings after a dose of the drug. But when it too much of it were taken, an exaggeration of dopamine activity occurs. This results in marked agitation, rapid breathing, aggression and other excitatory symptoms.
The symptoms reach their peak within a few hours after the take. Then, they start climbing down. Consequently, the symptoms of physical and mental depression start to act.
Methamphetamine Overdose Amount
The lethal dose varies depending on an individual's previous exposure to the drug. For example, it can be the way they take it and their unique capacity to digest it.
In addition, in some cases, one might already have some diseases of the vital organs. Consequently, they might also affect how the body metabolizes the drug.
Scientists say a single oral dose of 150 mg is enough to produce a fatal situation. In the same way, 100 mg given by injection or 50 mg by smoking is extremely harmful.
Understandably, injecting or smoking can kill even with a low amount.
Methamphetamine Overdose Death
Methamphetamine abuse reached its pinnacle in 2005. At that time, they said that overdosing had caused almost 4.500 deaths in the US. This is according to a report by the Drug Enforcement Administration (DEA).
In addition, Methamphetamine overdose also accounts for 100,000 emergency room visits. This is every year in the US.
What Makes Amphetamine A Drug Of Epidemic Abuse
Low cost
Long-lasting high
Easy accessibility
How To Help Someone Having Methamphetamine Overdose
Call local emergency number or 911. The call to the National toll-free Poison Help hotline can also save a life.

Hope Without Commitment
Find the best treatment options.
Call our free and confidential helpline
Most private insurances accepted
Looking for professional medical help for addictions? Talk with the experts nearby.
Sources
Methamphetamine overdose, https://medlineplus.gov/ency/article/007480.htm
John R. Richards; Erik G. Laurin, Methamphetamine Toxicity, https://www.ncbi.nlm.nih.gov/books/NBK430895/
Kitanaka J, Kitanaka N, Hall FS, Uhl GR, Takemura M, Brain Histamine N-Methyltransferase As a Possible Target of Treatment for Methamphetamine Overdose, https://www.ncbi.nlm.nih.gov/pubmed/26966348
Calls to our general hotline may be answered by private treatment providers.