Mirtazapine, which is generic Remeron, belongs to the drug class called tetracyclic antidepressants (TeCAs) and its main use is for the treatment of major depressive disorder. In 2019, around 1.2 million patients in the United States used Mirtazapine, and weight gain, as one of its side effects, is an object of many studies at the moment. This drug can cause mass build-up in either a short or long-time period, and there are several reasons for this. In addition to depression-related arguments, there are individual ones that also contribute to Mirtazapine mass gain.
In this article, information and answers to the question, does Remeron cause weight gain, causes of Remeron weight gain, factors that affect the severity of mass gain, how much weight can be gained with the use of this medication, and how to avoid this side effect will be provided.
Does Remeron Cause Weight Gain?
For those who are wondering, does Remeron cause weight gain? An atypical antidepressant such as Mirtazapine can cause mass build-up in patients who take these drugs during depression treatment. In addition to depression, Mitazapine's indications include anxiety, PTSS, appetite stimulation, and nausea treatments. According to the study of medical doctors from Chicago, those who undergo treatment with antidepressants have 21% higher chances to put on some extra pounds than those who do not take antidepressant drugs. In this study, Remeron weight gain results were the highest. In another study conducted by medical professionals from Kentucky, it was reported that patients who used Mirtazapine for 6 weeks gained an average weight of 2 kg.
Why Does Mirtazapine Cause Weight Gain?
Mirtazapine does affect a patient's body size, and there are certain reasons behind this. While the exact correlation between Remeron and weight gain is not entirely studied, scientists consider the issue to be multifactorial in nature. At the moment, there are several hypotheses concerned with the biochemical dependencies that can explain Mirtazapine-induced body mass increment. According to a study of health professionals from the United States, one possible reason why there is mass build-up in patients who use this drug is that Mirtazapine slows down the metabolism of a person.
Note, that extra pounds can be a side effect of the drug's impact on histaminergic and 5-HT2C receptors.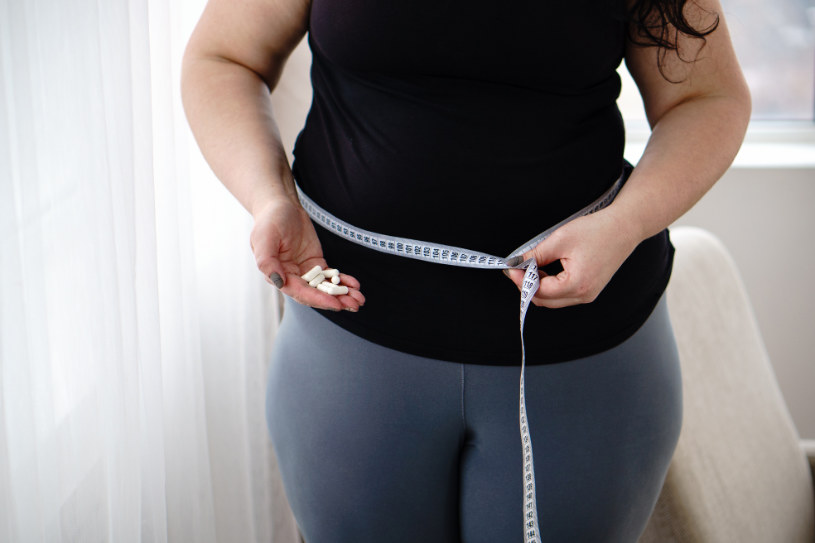 Increased Appetite And Metabolism Decrease
In a study conducted by health professionals from the United States, it was reported that one of the side effects of this drug is increased Remeron appetite and this Remeron appetite stimulation is actually an off-label use. In the same study, 17% of patients using this Remeron appetite stimulant, experienced this increased Remeron appetite side effect. Furthermore, in terms of the metabolism decrease, this hypothesis is based on the connection between an increase in body mass due to Mirtazapine and the malfunction of neurobiological controls that normalize food consumption. Generally, a study shows a basal metabolic rate decrease in those who are taking antidepressants.
Food Cravings (Carbohydrates)
As one of its uses, Remeron appetite stimulant, it is critical that patients who take Mirtazapine monitor their caloric intake. A patient suffering from depression and undergoing Mirtazapine treatment often reports an increased urge to crave food. According to medical doctors from Germany, these patients are likely to eat more carbohydrates and sweet foods while on Remeron appetite stimulant. At the same time, however, no studies prove that such behavior prevents a subsequent body mass increment if a patient is taking the drug. Thus, Remeron and weight gain resulting from food cravings is still an issue that requires further investigation.
Fat Mass Increase And Hormone Levels
Some antidepressants, including Mirtazapine, can contribute to extra pounds due to fat mass increase. At the same time, fat mass gain and serum leptin levels are related variables. Treatment with Amitriptyline or Mirtazapine is associated with an increase in leptin secretion beyond the change in weight. A fat cell leptin ensures that the hypothalamus receives negative feedback signaling food satiation. Thus, the hypothesis states that Mirtazapine-induced body mass increase is conditioned upon the changed leptin levels.
Drug Interaction Effects
Gaining extra pounds is one of the side effects of Mirtazapine, and it can be more likely to occur in the case of drug interactions. Taking Mirtazapine, a patient should know which drugs can be used sideline and learn as much as possible about Mirtazapine and mass build-up connection. For example, the interaction between Mirtazapine and the medicines from the drug class MAOIs. According to the FDA, both of these drugs cannot be used together as they can cause an increased risk of side effects such as mass build-up.
What is more, it is possible to manage or prevent Remeron fat mass increment if consultations with a doctor are regular. Early intervention will release a patient from unpleasant outcomes.
Additional Factors Affecting The Severity Of Weight Gain
It does not mean that when a patient takes Mirtazapine, his or her mass gain would automatically be the same compared to others. For example, patient A, after consuming 7.5 mg of Mirtazapine for 3 weeks will experience a mass build-up of 1 kg. On the other hand, patient B, after consuming 15 mg for 1 week may experience a mass build-up of 1.7 kg. Different factors can contribute to putting on some pounds.
Dosage
Different dosages or doses of antidepressant drugs have different impacts on a person. The Mirtazapine dose depends upon a patient's size before the treatment session. The Mirtazapine mass gain dosage does not exceed the prescribed one. Higher Mirtazapine doses are affecting one's physiological functions, as well as neurochemistry. In cases when such changes are considerable, Mirtazapine will also alter a patient's fat regulation, glucose levels, and leptin levels.
According to a medical doctor from Chicago, even a low dose of Remeron (below 15 mg) may already cause significant mass gain. This means that the higher the dose means the higher the risk of experiencing this side effect.
Period Of Taking The Drug
The period of taking medication can considerably contribute to the problem. Just as in the case of any remedy, a long-term treatment leads to drug tolerance, which in its turn may contribute to Remeron withdrawal. The problem with this is that a patient does not feel the effect and wants to get more to receive the desired alleviation.
According to the study of health professionals from the UK, when the dose of Remeron is considerably higher and the patient uses this for a longer period of time, a patient undermines the homeostatic functioning of the organism and alters its neurochemistry. Such behavior ends up putting on even more kilos. However, Remeron does all these neurochemistry alterations starting from the first four weeks.
Individual Characteristics
One should not ignore the role of such individual characteristics as genetics, age, gender, etc. Even though antidepressant drugs are often associated with the risks of being overweight, depression itself stimulates metabolic disorders and excess body mass.
There are several behaviors characteristic of depressed people that contribute a lot to gaining extra pounds. For example, according to the study of health professionals from the Middle East, healthy patients using this medication may have a higher concentration of this medication in their plasma. When this happens, there would be an increased risk of experiencing a higher gain in weight.
How Much And During What Time One Can Gain Extra Weight?
Remeron can trigger mass build-up within a short and long period. Depending on many factors, including individual ones, an increase in body mass may vary from a few pounds to about 30 lbs. A study published in the Journal of Clinical Psychiatry reports that over 6 weeks the participants gained roughly 8 lbs. Hopefully, this gained fat mass is generally easy to lose after discontinuation of Remeron.
Another long-lasting study was also devoted to Mirtazapine and mass gain issues. The study involving 35,307 females and 17,803 males showed that in 10 years, those who took Remeron were 5% more likely to increase fat mass than those who did not use the drug. Also, the risk of putting on extra pounds was higher in the first two years.
How To Avoid Or Manage Remeron Weight Gain
A patient should consult a doctor regarding any question to prevent or manage Remeron weight gain. Before starting treatment with Mirtazapine, one should find out the potential risks, undergo testing, and inform a doctor about any illnesses and drugs a patient already takes. Also, experiencing Remeron weight gain, users should avoid self-treatment.
A proper, healthy diet is one of the best ways to manage mass build-up caused by medications. Patients may consider reaching out to a dietician or nutritionist to get more information about getting an effective way of managing weight.
Exercising will not just help the patient reduce his or her weight due to drug-induced mass gain but will also promote overall health.
It is important to monitor the mass gain journey of a patient. Doing this will help the patient review how much weight has been added when he or she takes a certain dose for a certain period of time.
The moderate use of Remeron and alcohol does not lead to mass build-up. However, heavy drinking while using antidepressant drugs such as Remeron may not only increase the risk of gaining weight but also may trigger the appearance of the drug's side effects.
What is more, it is possible to manage or prevent Remeron fat mass increment if consultations with a doctor are regular. Early intervention will release a patient from unpleasant outcomes.Importantly, one should continue making blood tests to check the levels of sugar, serum lipids; also, it is crucial to monitor abdominal circumference, as well as blood pressure. Remember that much depends on a patient's conscience in terms of Remeron weight gain.
Timely Medical Help Is The Shortest Way To Recovery
Remeron weight gain is an issue that is not entirely studied yet; however, this drug can cause weight increment under certain circumstances. Prevention of weight increase is possible due to regular consultations with a doctor and the responsible attitude of a patient. Nevertheless, if a patient already has a problem with weight due to Remeron misuse/abuse, they must get professional help from addiction centers as soon as possible. Substance abuse treatment and therapies in these facilities offer a wide range of services to help to recover.
Find the best treatment options. Call our free and confidential helpline
---
Page Sources
Al-Majed, A., Bakheit, A. H., Alharbi, R. M., & Aziz, H. A. A. (2018). Mirtazapine. Profiles of Drug Substances, Excipients and Related Methodology, 43, 209-254.
Appelhans, B. M., Whited, M. C., Schneider, K. L., Ma, Y., Oleski, J. L., Merriam, P. A., ... & Pagoto, S. L. (2012). Depression severity, diet quality, and physical activity in women with obesity and depression. Journal of the Academy of Nutrition and Dietetics, 112(5), 693-698.
Danehy, M. (2010). Antidepressants and Movement Disorders.
Fernstrom, M. H., Epstein, L. H., Spiker, D. G., & Kupfer, D. J. (1985). Resting metabolic rate is reduced in patients treated with antidepressants. Biological psychiatry.
Gafoor, R., Booth, H. P., & Gulliford, M. C. (2018). Antidepressant utilisation and incidence of weight gain during 10 years' follow-up: population based cohort study. Bmj, 361.
Hennings, J. M., Heel, S., Lechner, K., Uhr, M., Dose, T., Schaaf, L., ... & Kloiber, S. (2019). Effect of mirtazapine on metabolism and energy substrate partitioning in healthy men. JCI insight, 4(1).
Jilani, T. N., Gibbons, J. R., Faizy, R. M., & Saadabadi, A. (2020). Mirtazapine. StatPearls [Internet].
Kane, S. P. P. (2019). Mirtazapine - Drug Usage Statistics, ClinCalc DrugStats Database. ClinCalc. https://clincalc.com/DrugStats/Drugs/Mirtazapine
Laimer, M., Kramer-Reinstadler, K., Rauchenzauner, M., Lechner-Schoner, T., Strauss, R., Engl, J., ... & Ebenbichler, C. F. (2006). Effect of mirtazapine treatment on body composition and metabolism. Journal of Clinical Psychiatry, 67(3), 421-424.
Nihalani, N., Schwartz, T. L., Siddiqui, U. A., & Megna, J. L. (2011). Weight gain, obesity, and psychotropic prescribing. Journal of Obesity, 2011.
Schilling, C., Gilles, M., Blum, W. F., Daseking, E., Colla, M., Weber-Hamann, B., ... & Deuschle, M. (2013). Leptin plasma concentrations increase during antidepressant treatment with amitriptyline and mirtazapine, but not paroxetine and venlafaxine: leptin resistance mediated by antihistaminergic activity?. Journal of clinical psychopharmacology, 33(1), 99-103.
Swift, D. L., Johannsen, N. M., Lavie, C. J., Earnest, C. P., & Church, T. S. (2014). The role of exercise and physical activity in weight loss and maintenance. Progress in cardiovascular diseases, 56(4), 441-447.
Traversy, G., & Chaput, J. P. (2015). Alcohol consumption and obesity: an update. Current obesity reports, 4(1), 122-130.
Vanina, Y., Podolskaya, A., Sedky, K., Shahab, H., Siddiqui, A., Munshi, F., & Lippmann, S. (2002). Body weight changes associated with psychopharmacology. Psychiatric services, 53(7), 842-847.
Wo, J. M., McCallum, R. W., & Gonzalez, Z. (2021). Antiemetic therapy for gastroparesis. In Gastroparesis (pp. 341-359). Academic Press.