In the management of pain, opioid drugs tend to be the heaviest hitters. Due to this, they are only reserved for the treatment of severe pain. The fact that they can be addictive and have many ill effects on health is another reason medical professionals reserve them to manage the most severe cases.
Among these opioid drugs are Dilaudid, the brand name for Hydromorphone and Morphine. People who use opioid medication for severe pain may want to know the difference and similarities between Dilaudid vs. Morphine and the comparison of Dilaudid vs. Oxycodone.
What Are Dilaudid and Morphine?
Dilaudid is Hydromorphone, a potent opioid drug reserved for the treatment of moderate or severe pain. This leads to it being used mainly for the treatment of cancer pain. It can be used either by injection or orally. It was introduced as Dilaudid in 1926.
Morphine is a well-known opioid, similarly intended for use in the treatment of moderate and severe pain. However, medical doctors use it for more than just cancer pain, but also to manage the pain from a heart attack, kidney stones, or labor pain. It can be used by the same means as Hydromorphone, in addition to rectally and being injected into the spine.
Both of these drugs are opioids, and as a result, they share a lot of similarities. The fashion in which they work is essentially identical. They act on the CNS by binding to opioid receptors in the brain. By making contact with these receptors, they inhibit how excitable some neurons are, effectively reducing or preventing them from transmitting pain information.
Seeing the information provided by a comparison of Morphine vs. Dilaudid stacks up will help understand the medical basis of prescribing one over the other in the treatment of pain. This section will cover that.
Similarities and Differences
As both of these drugs are opioids, they share a lot in common, but as different chemical substances, you will discover many differences when you put Dilaudid vs. Morphine.
Similarities
With hydromorphone vs. Morphine, it is clear that they share some features in common.
For Instance:
Both drugs are opioids
The primary use of both is in the treatment of moderate to severe pain
As opioids, both of these drugs have significant addictive potential. They can cause dependence with long-term use
Both Dilaudid and Morphine are Schedule II drugs, according to the Drug Enforcement Administration
They both share similar side effects, including drowsiness, nausea, vomiting, sweating, and constipation. They can also both cause respiratory depression at high doses
Differences
Based on them having different chemical structures, these drugs do not share everything in common. The following are some of the differences between Dilaudid vs. Morphine.
| Dilaudid | Morphine |
| --- | --- |
| It is a synthetic opium derivative | It is a natural alkaloid |
| Can only be injected into veins, muscles, and under skin, and taken by mouth | Can be injected spinally too |
| It is more potent than Morphine | Not as potent as hydromorphone |
Is Dilaudid Stronger than Morphine?
The simple answer to this is yes. Putting Hydromorphone vs. Morphine, Hydromorphone is about four to five times more potent. This means that a much smaller dose of Hydromorphone is required to get the same effect as Morphine.
Dilaudid vs. Oxycodone
Just like when looking at Morphine vs. Dilaudid, Hydromorphone and Oxycodone are similarly both in the group of potent opioids. They are prescription medications given to patients to relieve mild to severe pain. Also, the two most popular brand names for Oxycodone are OxyContin and Percocet.
Oxycodone was first introduced in the U.S. in 1939. However, it was not until 1996 that it gained mainstream popularity in the world of medicine. This was after Purdue Pharma started to manufacture it as OxyContin. On the other hand, Hydromorphone was first synthesized in 1924. And they introduced it to the public in 1926 under the brand name Dilaudid.
Similarities and Differences
When pitting Dilaudid vs. Oxycodone, it is clear that they share certain similarities. For example, both Hydromorphone and Oxycodone are available in tablet and liquid forms. They also have extended-release forms which work over a longer time and roughly share the same therapeutic actions and side effects.
One of the main differences between Dilaudid vs. Oxycodone is that Dilaudid is more potent.
Dilaudid is often prescribed as a pain reliever to people who suffer from unbearable pain, like cancer. In addition, they also give it to patients who cannot get enough relief from milder painkillers such as Tylenol or codeine. It is also a common prescription drug for pain triggered by surgery or broken bones. In any case, between Hydromorphone vs. Oxycodone, the former is a better alternative to get immediate effects and administer scheduled dosing. On the other hand, Hydromorphone addiction signs develop in less time and are relatively hard to treat.
Side Effects
Oxycodone and Hydromorphone have, more or less, the same side effects. However, between Hydromorphone vs. Oxycodone, as Hydromorphone is more potent, its adverse impact on health may also be more intense.
These Side Effects Include:
shallow breathing
severe constipation, especially with extended-release forms
drowsiness
dizziness or lowered blood pressure
nausea
headache
mood changes
vomiting
lethargy
insomnia
dry mouth
itching
skin rash
motor skill impairment
Can These Drugs Be Used Together?
It is possible that a person may be prescribed an opioid such as Dilaudid paired with another opioid, for instance, Morphine or Oxycodone. This is reserved for situations where the pain is very severe and chronic or where lower doses of the drug don't work on their own. Combining opioids should only be attempted under a medical doctor's permission due to the health risks.
However, there are dangers in combining opioids. It increases the risk of Hydromorphone side effects occurring as well as overdose. It includes respiratory depression, which can potentially be fatal, and drowsiness which can impair performance at work.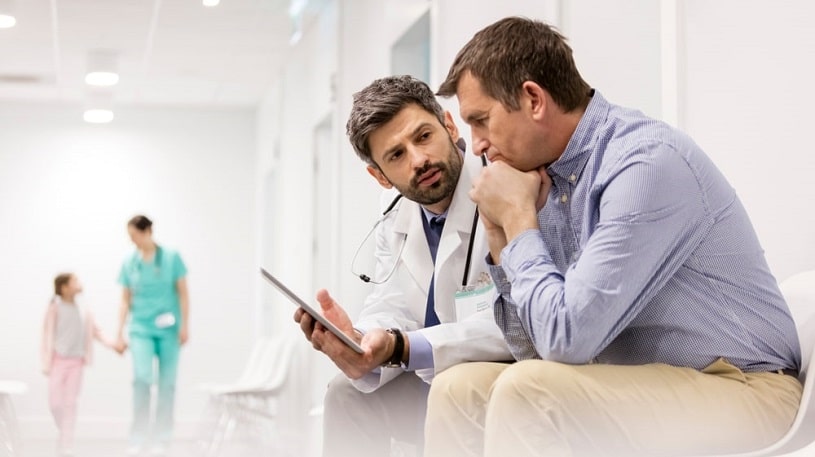 Combining opioids has also been proven to increase the risk of misuse of the drugs, according to the information from one study.
The Importance of Caution with Opioids
Opioid drugs are the most effective drug class in pain relief, working with little time wasted. With such potency comes many side effects and the risk of addiction, so these drugs are only reserved for moderate and severe cases.
It is essential to take in all information provided by the doctor before using opioid drugs. The dosage should never be increased, and no opioid should be added without making contact and obtaining the express permission of a doctor. This is simply because of the health risk.
Using opioids the right way and as prescribed, side effects and addiction can be kept at bay. If you or someone around you is dealing with the dangers of opioid abuse, you should contact a treatment center as soon as possible.
Find the best treatment options. Call our free and confidential helpline
---
Page Sources
Hong, D., Flood, P., & Diaz, G. (2008). The side effects of morphine and hydromorphone patient-controlled analgesia. Anesthesia and analgesia, 107(4), 1384–1389. https://pubmed.ncbi.nlm.nih.gov/18806056/
Inoue, S., Saito, Y., Tsuneto, S., Aruga, E., Takahashi, H., & Uemori, M. (2018). A randomized, double-blind, non-inferiority study of hydromorphone hydrochloride immediate-release tablets versus Oxycodone hydrochloride immediate-release powder for cancer pain: efficacy and safety in Japanese cancer patients. Japanese journal of clinical oncology, 48(6), 542–547. https://www.ncbi.nlm.nih.gov/pmc/articles/PMC5974780/
Walsh, S. L., Nuzzo, P. A., Lofwall, M. R., & Holtman, J. R., Jr (2008). The relative abuse liability of oral Oxycodone, hydrocodone and hydromorphone assessed in prescription opioid abusers. Drug and alcohol dependence, 98(3), 191–202. https://www.ncbi.nlm.nih.gov/pmc/articles/PMC2668197/
Gulur, P., Koury, K., Arnstein, P., Lee, H., McCarthy, P., Coley, C., & Mort, E. (2015). Morphine versus Hydromorphone: Does Choice of Opioid Influence Outcomes?. Pain research and treatment, 2015, 482081. https://pubmed.ncbi.nlm.nih.gov/26609431/
Chang, A. K., Bijur, P. E., Baccelieri, A., & Gallagher, E. J. (2009). Efficacy and safety profile of a single dose of hydromorphone compared with morphine in older adults with acute, severe pain: a prospective, randomized, double-blind clinical trial. The American journal of geriatric pharmacotherapy, 7(1), 1–10. https://pubmed.ncbi.nlm.nih.gov/19281935/
Cohen B., Ruth L. J., Preuss C. V. (2021). Opioid Analgesics. [Updated 2021 Feb 17]. Treasure Island (FL): StatPearls Publishing; https://www.ncbi.nlm.nih.gov/books/NBK459161/
Sizar O., Genova R., Gupta M. (2021). Opioid Induced Constipation. Treasure Island (FL): StatPearls Publishing; https://www.ncbi.nlm.nih.gov/books/NBK493184/
World Health Organization; WHO Guidelines for the Pharmacological and Radiotherapeutic Management of Cancer Pain in Adults and Adolescents. 2018. https://www.ncbi.nlm.nih.gov/books/NBK537482/table/appannex6.tab2/
Gallagher R. (2007). Multiple opioids in pain management. Canadian family physician Medecin de famille canadien, 53(12), 2119–2120. https://www.ncbi.nlm.nih.gov/pmc/articles/PMC2231548/
Gupta N., Vujicic M., Blatz A., (2018). Multiple opioid prescriptions among privately insured dental patients in the United States, Journal of the American Dental Association, 149(7), 619-627. https://jada.ada.org/article/S0002-8177(18)30130-2/pdf