What Is Naproxen Used For And How Does It Work?
Important InformationThis information is for educational purposes only. We never invite or suggest the use, production or purchase of any these substances. Addiction Resource and it's employees, officers, managers, agents, authors, editors, producers, and contributors shall have no direct or indirect liability, obligation, or responsibility to any person or entity for any loss, damage, or adverse consequences alleged to have happened as a consequence of material on this website. See full text of disclaimer.
Being a non-steroidal anti-inflammatory (NSAID), Naproxen is a useful tool for pain management. A common Aleve use case is in the treatment of inflammation that may occur as a result of various health conditions. Moreover, Naproxen helps with headaches and other types of acute soreness. However, there are certain Naprosyn contradictions that limit the drug's use for specific categories of patients.

Hope Without Commitment
Find the best treatment options. Call our free and confidential helpline
Most private insurances accepted
Indications And Contraindications
Indications For Aleve
As a non-steroidal anti-inflammatory agent, the uses for Naproxen are quite similar to that of its counterparts in terms of treatment for pain and inflammation. The drug's use includes (but is not limited to):
rheumatic pain
Bechterew's disease
soft-tissue rheumatism
gout
chronic polyarthritis
juvenile arthritis
migraine attacks
tumor-induced fever
blood loss resulting from menorrhagia in women that use IUDs as contraceptives.
Contraindications For Naprosyn
Concerning Aleve warnings and contraindications, any person that is living with specific conditions must seek approval from a qualified physician before taking any dose of Aleve. The list of contraindications that limit the use of the drug include:
anemia
stroke
clotting disorder
chronic heart failure
systemic mastocytosis
aspirin intolerance or allergies
advanced renal failure
high blood pressure
alcoholism
fluid retention
asthma
stomach ulcer
diabetes
intestinal bleeding
blood vessel obstruction
pregnancy
post-coronary bypass surgery
post-gastric bypass surgery
liver failure
salicylates allergies
Aleve Ingredients
Naproxen generic pills may cost less than the prescription brands, but they all share the same active ingredient. The drug is available in three forms: Naproxen, Naproxen sodium, and Naproxen suspension.
The inactive ingredients in Naproxen variants are different. The minor differences in the contents list of each one of the three forms are reflected below:
Inactive ingredients in regular Naproxen:
Inactive ingredients:
Microcrystalline cellulose
Povidone
Croscarmellose sodium
Iron oxide
Magnesium stearate
Inactive ingredients in Naproxen Sodium:
Inactive ingredients:
Microcrystalline cellulose
Povidone
Croscarmellose sodium
Colloidal silicon dioxide
Magnesium stearate
Talc
Ingredients in Naproxen Suspension:
Inactive ingredients:
Methylparaben
Sodium chloride
Flavor
Sucrose
Fumaric acid
Sorbitol solution 70%
FD&C Yellow No. 6
Magnesium aluminum silicate
Another key difference between generic Naproxen and Naproxen sodium is the available dosage strengths. While there is a  Naproxen 500mg tablet alongside 200mg and 250mg tabs, Naproxen sodium has 220mg, 275mg and 550mg tablets respectively. Naproxen 550 (sodium) is the dosage equivalent of Naproxen 500mg (generic).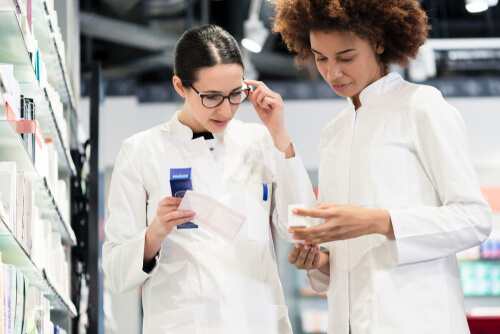 Naprosyn Mechanism Of Action
The components of Aleve structure blocks arachidonate binding, causing an inhibition of the cyclooxygenase enzymes (COX-1 and COX-2). This consequently results in the antipyretic, analgesic and anti-inflammatory effects in the body. These can be broken down as follows:
Anti-Inflammatory Mechanism
The Naproxen medication slows down the prostaglandin synthesis through the inhibition of the cyclooxygenase isoenzymes – mostly the COX-2 isoenzymes. COX-1 is only expressed at a few sites of inflammation, especially in patients dealing with osteoarthritis and rheumatoid arthritis. It is also the major enzyme of prostaglandin synthesis in inflammation of the bursae.
Antipyretic Mechanism
The antipyretic activity involves the return of body temperature to a normal level through the suppression of prostaglandins (PGE2 in this case) in the circumventricular organs that are within and around the hypothalamus. This means that the use of Naprosyn will help to battle the high temperature but the desired effect depends on the strength of the dose.
Analgesic Mechanism
When inflammation leads to the sensitivity of pain receptors in specific areas of the body, Aleve also comes in handy. The mechanism involved here is the indirect analgesic effect that the substance imposes on prostaglandins E and F – both of which are responsible for the sensitization of pain receptors. The analgesic effect occurs as a result of the inhibition of any further production of prostaglandins in the affected areas. However, it does not directly impact the pain threshold or hyperalgesia.
Aleve As A Painkiller
As suggested earlier, Aleve is very effective as a painkiller. The use of Naprosyn is not limited to headaches. It can be used in the treatment of other mild to moderate conditions such as bursitis, dental and menstrual pain, acute tendonitis, myalgia, dysmenorrhea, and arthralgia. In this, Aleve is quite similar to Ibuprofen, but can one take Ibuprofen with Naproxen? No, the concomitant use of several NSAIDs is forbidden. One of the differences between Naproxen and Ibuprofen is that Naprosyn has a longer half-life than its counterpart, so it works for a longer period of time. This means that if a person uses Naprosyn for back pain, the person would require less frequent dosing than if Ibuprofen is used.
Aleve As An Anti-inflammatory Drug
In the treatment of inflammatory disorders, Naproxen use is effective for conditions such as rheumatoid arthritis, juvenile arthritis, osteoarthritis, ankylosing spondylitis, and acute gouty arthritis.
Moreover, Naproxen use is also characterized with sedative effects. So, does Naproxen make one drowsy? Yes, It is one of the possible side effects and it may impair one's mental acuity.
Using Naproxen Safely
Naproxen treats pain of various natures. It is an accessible and fast-acting drug that will help to alleviate the ache. Naproxen prices will vary according to the dosage strength and method of purchase. If one is purchasing Naproxen otc (over the counter), be sure to read the medication guide provided by the pharmacist before first use and after every refill.
However, it is important to remember the dangers of Aleve abuse. The intentional abuse may result in severe health issues. If one struggles with Naprosyn addiction, it is imperative to seek proper medical assistance from the drug rehabilitation facilities. In treatment centers, naproxen/drug-class/there are a variety of specialized treatment programs for drug addicts that will help to return to a stable social life.

Hope Without Commitment
Find the best treatment options. Call our free and confidential helpline
Most private insurances accepted
Sources
Brutzkus JC, Varacallo M. Naproxen. [Updated 2019 Oct 9]. In: StatPearls [Internet]. Treasure Island (FL): StatPearls Publishing; 2020 Jan-. https://www.ncbi.nlm.nih.gov/books/NBK525965/
National Center for Biotechnology Information. PubChem Database. Naproxen, CID=156391, https://pubchem.ncbi.nlm.nih.gov/compound/Naproxen
Calls to our general hotline may be answered by private treatment providers.