How Much Does Heroin Cost? Smack Prices and Weights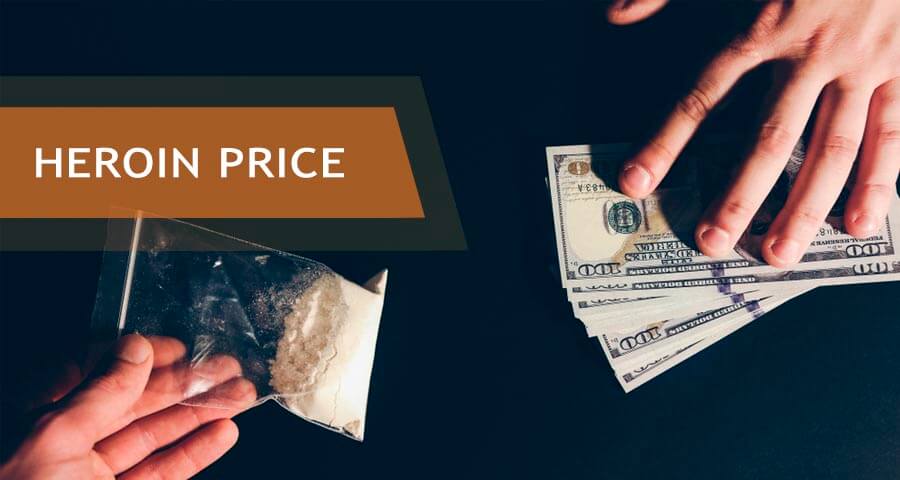 Important InformationThis information is for educational purposes only. We never invite or suggest the use, production or purchase of any these substances. Addiction Resource and it's employees, officers, managers, agents, authors, editors, producers, and contributors shall have no direct or indirect liability, obligation, or responsibility to any person or entity for any loss, damage, or adverse consequences alleged to have happened as a consequence of material on this website. See full text of disclaimer.
Heroin is an opioid substance obtained from the seeds of opium poppy plants. Also known as smack, hell dust, horse, and big H, this drug is a white or brown powder that people snort, sniff, inject, or smoke. In a dark, sticky form, it is known as black tar. Heroin is a highly addictive drug with some short- and long-term health effects. An overdose can result in coma, permanent brain damage, and even death. Addiction treatment involves a combination of pharmacotherapy and behavioral therapies.
An estimated 9 million people around the world abuse this drug. There are more than 150,000 users in the United States alone. More than 90 percent of the supply of the drug comes from Afghanistan. Heroin abusers frequently go through all their money, sell everything of value, and rake up huge debts to feed the habit. What is heroin price on the street? How much is a gram of black tar? The street value of heroin depends on the country a person finds themselves in. Prices vary from as low as $1.90 per gram to as much as $1300 per gram.
Heroin Prices: The Cheapest and Most Expensive Countries
The World Drug Report from the United Nations Office on Drugs and Crime as well as several other websites list the price of heroin in 72 countries around the world. The drug sells at a peak price of $1300 per gram in Brunei and rock-bottom prices of under $3 per gram in Afghanistan and Kenya.


Here is a list of countries with some of the highest and lowest heroin street values per gram:
Brunei $1300
Sweden $276
The United States of America $200
The United Arab Emirates $165
South Korea $140
Thailand $83
Spain $80
China $66
The Netherlands $50
Brazil $50
South Africa $35
The United Kingdom $31
Colombia $20
India $11
Nigeria $7
Afghanistan $2.40
Kenya $1.90
It is evident that the cost of 1 gram of heroin can vary dramatically by geographical region. One dose of the drug (approximately 0.1 mg) is available in the United States for approximately $20. People who become addicted to the drug can easily end up spending as much as $200 a day to feed the habit. Sustained use of this highly addictive substance is associated with the development of tolerance. With time, the user needs to take more and more heroin to get the same effects. Addiction to this drug can quickly turn into an expensive habit. Users are at constant risk of an overdose in addition to the short- and long-term health effects of the drug.
In addition to the cost of a gram of heroin, drug abusers pay a number of hidden costs, such as:
Lower income from unemployment or reduced earnings
Medical costs for emergency room visits and hospitalizations
Legal expenses
Physical costs due to medical complications
Emotional costs due to damaged relationships
Factors Affecting Prices of Heroin
Following an increased availability of the drug in France, pharmacist Emmanuel Lahaie, demographer Eric Janssen, Ph.D., and Agnès Cadet-Taïro, MD, published a paper that attempted to identify the influences on the price of heroin. The study revealed that the following factors affect how much is a gram of heroin:
Quantity:  The research showed that quantity is the single most influential variable that affects the price of the drug. An increase of 10 percent in quantity sold per transaction results in a more than 2 percent decrease in unit price.
Purity:  The drug was categorized into four distinct grades, with grade 1 and 2 referring to the unprocessed, raw form which is either a salt or a base. Grade 3 of the drug is known as brown sugar and can be smoked. Grade 4 of the drug, which is the purest form, is salt that readily dissolves in liquid and can be injected into the bloodstream. Not surprisingly, grades 1 and 2 fetch the lowest price, and grade 4 is the most expensive.
Geographical Region:  The of the drug on the street varies considerably from region to region. This is related to the route of entry into the country and the distribution of the drug. It also depends on demand and supply and how much buyers in that part of the world can pay. Research shows that more than 95 percent of users are willing to pay more to get their fix. Several factors affect the demand and supply. Studies have shown that users prefer to get their fix from a reliable dealer who is less than 2 miles away. Users are typically willing to pay more for the convenience and easy accessibility of dealers in their neighborhood.
Cutting Ingredients:  The drug cannot be used in its pure form. For this reason, dealers cut heroin with other non-intoxicating substances. The process can be likened to watering down alcohol. Cutting makes the transactions more profitable as it allows dealers to sell a larger quantity at a smaller expense to themselves. Many substances can easily mimic the white powder, clear solution, or black tar-like appearance of heroin. None of these substances are safe to be injected or snorted into the human body. Some of the ingredients commonly used to cut include:
Powdered sugar
Baking soda
Crushed painkillers
Starch
Talcum powder
Laundry detergent
Powdered milk
Caffeine
Rat poison
Availability of Prescription Drugs and the Cost of Heroin
How much does a gram of heroin cost? The price and availability of prescription opioids like OxyContin influence the cost of this illicit substance. A study published in the New England Journal of Medicine in 2003 included interviews of some abusers from Ohio. The authors wanted to study the prevalence of oxycontin use before the users switched to the illicit substance. About half the participants in the study disclosed that they had abused oxycontin before using heroin. Besides, they admitted that when the supply of the illicit substance was limited, they would use oxycontin instead.
Another study in 2008-2009 was conducted in New York and Los Angeles. The authors concluded that 86 percent of heroin abusers purchased prescription opioids before switching to the illicit drug. Once again, they admitted to using medical grade opioids as a substitute for the illicit substance when there was a surge in prices on the streets.
A combination of studies looked at the overall trend in prescription opioid use and heroin use between 2002 and 2014. The results indicated that during this period the use of prescription opioids decreased by 3 percent while the use of the illicit substance increased by 112 percent. In 2012, nearly half a million people sought heroin rehab.
Interestingly, heroin was sold during World War I as a legal substitute for morphine under the brand name Bayer. The drug was legally available to injured soldiers who were trying to wean off morphine, but it was later discontinued.
Law Enforcement and Heroin Price
How much is a kilo of heroin? The international political climate has an effect on the price of this substance. Currently, Afghanistan is the world's largest producer of opium, from which heroin is made. Peak production occurred in the year 1999 and again in 2006. It is believed that the war in Afghanistan was a major driving force in the poppy production and that it opened up new possibilities for trade.
How much does Heroin cost per gram? Local and national law enforcement influences this. The United Nations Council on Drug Policy surveyed 20 illicit drugs and found that heroin ranked first on the list of most addictive substances. From a purely economic perspective, this illegal substance has a near-perfect price elasticity of demand. When law enforcement is tightened, the supply decreases while demand remains constant. The markets then force equalization with heroin selling at a higher price.
How much is a bag of heroin? A recovering addict recounted to a newspaper that she had bought a bag of the drug in Baltimore for about $5. At the time, a packet of cigarettes cost $7.75 in Maryland. Therefore, a single dose of heroin was less expensive than a packet of Marlboro Red. The reason for this discrepancy in price is mainly the taxation system. Cigarettes are a reliable source of revenue for the government. The prohibitive price of cigarettes due to taxes is believed to be an effective way of preventing people from taking up smoking.
Drug Cartels and Heroin Costs
How much is a brick of heroin in the United States? The price of heroin varies by region. Lately, the street value of the drug has been influenced to a large extent by the rigorous actions taken by law enforcement on Mexican drug cartels. These cartels control supply to some parts of the United States.
As a result of these actions, opiate medications such as oxycontin have become overly expensive on the streets of America. In response to this, the Mexican drug cartels increased heroin production and enhanced their networks to boost supply to large parts of the United States. Currently, most of this illicit substance available in the USA comes from Mexico. Despite an insatiable demand, the high production has been successful in keeping the price of a kilo of heroin down.
International Suppliers: How Much is a Bundle of Heroin?
Tor websites like Valhalla, Sipulikanava, AlphaBay, Outlaw, Hansa Market, and Dream conceal the user's identity and online activity and have replaced the once infamous Silk Route. Some online drug dealers have been arrested, but thousands more remain. This dark web remains unregulated and outside the purview of law enforcement in most countries around the world. These websites do not have Google indexes and cannot be accessed from outside Tor servers. Moreover, complex international legislations leave many loopholes for audacious entrepreneurs to exploit.
Poppy dealers in the Middle East sell farm gate heroin for $700 per kilogram to Turkish dealers. These dealers add a whopping 1800 percent markup, selling the drug for over $12,000 per kilogram to international drug traffickers. Following this, the consignment enters the United Kingdom where dealers add a further 150 percent markup, taking the price of the drug to over $31,000 per kilogram. Before smack, which is one of the most popular street names for heroin, hits the streets in the UK, dealers mark up the price by a further 250 percent. Eventually, the end-consumer pays nearly $118,000 per kilogram of heroin which might not even be in the purest form.
Legalization of Illicit Drugs: Will It Affect How Much Is Heroin?
Can the legalization of drugs affect the price of a brick of heroin? Some people are of the opinion that legalization and regulation of illicit substances such as heroin could save the government billions of dollars, and in fact, could save thousands of lives. About two dozens of the US states have already legalized cannabis; however, the use of weed and heroin in combination may lead to unpredictable consequences.
Jeffrey A. Miron and Katherine Waldock have written an article titled "Making an Economic Case for Legalizing Drugs" (CATO Institute, October 2010). In this article, they estimate that in the United States, legalization of illicit substances would reduce government expenditure by approximately $41 billion per annum. In fact, legalization would generate additional tax revenue of roughly $47 billion each year, assuming the government taxes drugs at the same rate as tobacco and alcohol.
Find the Help
There are many types of drug addiction treatment available for the heroin addicts. For the individuals without insurance the state funded drug rehab is a great opportunity to receive the help they need for free.

Hope Without Commitment
Find the best treatment options.
Call our free and confidential helpline
Most private insurances accepted
Sources
http://www.unodc.org/wdr2016/
Calls to our general hotline may be answered by private treatment providers.