Despite a large number of Ketamine side effects, this drug is used for general anesthesia alone or in combination with other medicines. It is an essential drug for use in short-term medical procedures. However, a few side effects are linked with hallucinatory effects lasting 30-60 minutes, immobility and amnesia, body feeling out of control, agitation, depression, or unconsciousness.
It is pertinent to report the side effects of the drug to your physician as soon as possible.
Short-Term Side Effects Of Ketamine
Ketamine has been utilized to reduce pain in refractory chronic pain conditions, and even sedation for short medical procedures.
It should be understood that the longer you take ketamine, the higher the possibility that it will stay in the system for a longer time, and more Ketamine side effects may appear.
However, specific side effects are most usually seen in patients, including:
In examining healthy volunteers, a single dose of Ketalar caused cognitive performance decline within 40 minutes of dosage. The instant effects of this drug tend to be short-lived.
Pharmacology and demonstrating tests in rats uncover that Ketalar quickly elevates mood by hindering the NMDAR-dependent blasting movement of LHb neurons. This blockade of NMDAR or T-VSCCs in the LHb is sufficient to induce rapid antidepressant effects in users.
A complete list of short-term side effects follows:
Allergic: hypersensitivity, breathing difficulties, lip, facial, tongue, and throat swelling, hives
Cardiovascular: arrhythmias, the circulatory strain is frequently elevated, bradycardia, hypotension, left ventricular dysfunction in patients with heart failure, respiratory and cardiac arrest
Gastrointestinal: nausea, anorexia, and vomiting
Muscular: muscle stiffness and fits/tonic-clonic developments taking after seizures, upgraded skeletal muscle tone
Neurologic: confusion, seizures
Ophthalmologic: increased intraocular pressure, diplopia, nystagmus
Psychiatric: dysphoria, disorientation, amnesia, anxiety, confusion, depression, dissociative state (patients may be unable to talk or react intentionally to verbal orders), development phenomena/delirium (6% to 12% in different studies and can last for up to 3 hours) including rare thoughts, hallucinations, extreme fear, flashbacks, excitement, and irrational conduct, sleep disorders, physical and psychological dependence, addiction when utilized recreationally
Respiratory: increased laryngeal and tracheal secretions, airway obstruction in newborn children, laryngospasm, apnea, respiratory depression
Skin: (rarely) at the site of injection, local pain, and erythema, morbilliform rash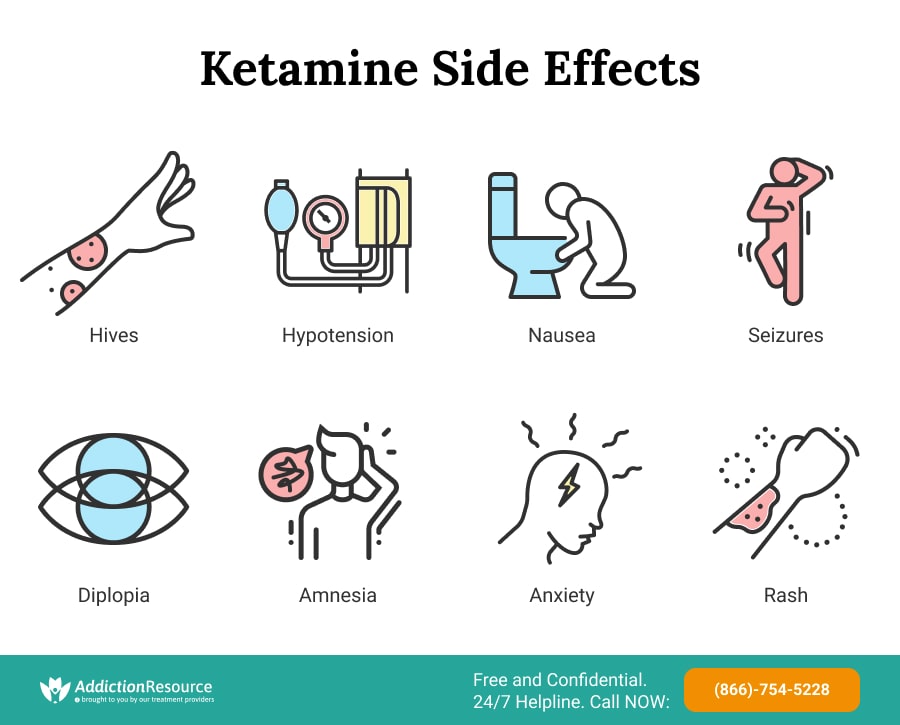 Ketamine Long-term Effects
Ketalar's successive and over-usage may cause vast amounts of harm to the bladder, urinary tract, and kidneys.
A detailed list of long-term Ketamine side effects is provided below:
Ketamine Bladder Syndrome
The increase in Ketalar abuse and it's used as sedative results in serious and frequently irreversible damage to the urinary tract. Ketamine bladder syndrome is a recently identified side effect of ketamine use. This can be related to severe and disabling effects that usually include pain during urination, recurrence, and criticalness of urination, blood in the urine, and incontinence.
Also, one of the side effects of Ketamine is that it makes the urine toxic, eats away the bladder, and destroys nearby organs and tissues, causing severe pain.
After surgery, such a person is doomed to walk with a plastic bag attached to his leg, where his urine accumulates.
The seriousness of urological indications and the level of bladder harm appear to be in direct ratio to the measure of the medicine utilized, the recurrence of use, and the utilization period. In the Mixmag 2010 follow up study, higher dosages (1g Ketalar or more during an average session) were related to higher chances of all urological symptoms.
The renal pelvis coating in the kidneys and the ureters (the drainage arrangement of the kidneys) is equivalent to that of the urinary bladder. They are subsequently exposed to similar possible harm by being washed in urine containing Ketalar and its metabolites.
While these progressions can be reversible with drug discontinuance, there are various reports of people needing medical procedures to eliminate their bladders due to extreme Ketalar related bladder harm.
Side Effects on Liver
There are additional reports of periodic liver function tests related to restorative utilization of this drug. In one arrangement, 14 out of 34 patients anesthetized with Ketalar had irregular liver function tests.
Ketamine Associated Neurological Effects
While most antidepressants target one of the "monoamine" neurotransmitters, such as norepinephrine, serotonin, or dopamine, the drug targets glutamate that is responsible for coordinating the brain's ability to process cognitive thoughts, sentiments, and neuroplasticity.
As glutamate also plays a vital role in how an individual learns, remembers, and responds to events, using Ketalar for the long term affects this ability.
If this drug is used for a more extended period, users may experience attention deficit or dysfunction, impaired memory recall, and flashbacks.
Neurological changes additionally result in its usage. Investigations estimated indices of white matter microstructural integrity and connectivity in the brain of 16 Ketalar users with 16 poly-drug-using controls. It was also found that a reduction was noticed in the axial diffusivity profile of the right-hemisphere network of white matter regions in Ketalar users compared with controls.
Ketamine Overdose Potential
At doses below a certain threshold, Ketalar reduces pain and produces sedation. Though, when the critical dosage limit of the basic measurement of around 1 to 1.5 mg/kg is given intravenously (IV) or 3 to 4 mg/kg, when given intramuscularly (IM), it is reached, the overdose symptoms can be shown up.
Also, particularly whenever this drug is blended in with different medications like Xanax(alprazolam), Lyrica (pregabalin), and Ativan (lorazepam), the overdose can occur.
Apart from its vast clinical use, there are a few instances of risks regarding mortality attached to ketamine overdose in the clinical setting.
Ketalar dependence or overdose is rare according to the National Poison Data System; 327 users have reported exposures to ketamine and its analogs in 2014, with one case resulting in death (0.3%).
In the Journal of Toxicology, a study performed by the New York City Office of Chief Medical Examiner found that of the 15 non-hospital-related deaths involving ketamine, there were no instances of fatal intoxication.
Also, the rarity of ketamine fatality was pointed out and reported that 2 men in their 20's found to have ketalar as a potential cause of death, with 6.9 and 1.6 mg/L of ketamine found in their blood.
If this medication is used together with alcohol or other medicines, especially antidepressants such as benzodiazepines or opiates, it may pass out or become unconscious and harm itself. Users could likewise choke, particularly when they vomit. Moreover, Ketalar can be extremely harmful when used with ecstasy or amphetamine, causing hypertension.
Symptoms of Overdose
The reported symptoms of Ketalar overdose may include:
Cardiovascular: Chest pain, harmful changes in blood pressure, pulse rate.
Central Nervous System (CNS): Amnesia (cognitive decline), coma, panic, seizures, confusion, raised body heat, fear, hallucinations, violent behavior, Severe anxiety, depression
Gastrointestinal: Nausea followed by vomiting
Renal: Kidney toxicity (with persistent maltreatment)
Respiratory: Respiratory depression and nasal discomfort
Other: Muscle inflexibility
Ketamine Overdose Response
In case of an overdose, emergency care, such as 911, should be contacted immediately. In the emergency department, adverse impacts usually take 1-3 hours to resolve. Respiratory assistance is rarely required; however, assisted ventilation or supplemental oxygen might be necessary. The individuals who misuse this medication ought to be referred for drug counseling to any experienced rehab center.
Ketamine Contraindications
Because of the potential for fueling the underlying condition Ketamine contraindications in patients with such conditions, like users with high blood pressure, the individuals who have appeared earlier hypersensitive to the medication, or patients with schizophrenia.
It is not suggested for use during obstetrics, pregnancy, or for women who are breastfeeding. Use in alcoholics or in the intensely alcohol-intoxicated patient may lead to death.
Rehabilitation Of Ketamine Abuse And Side Effects
Ketalar is an analgesic and anesthetic with a wide safety margin. However, its emergence phenomenon and hallucinogenic effects offset the benefit of safety in therapeutic use. Hence, it should be a priority to learn its adverse effects such as dependence potential, cognitive impairment, and irreversible urinary tract dysfunction for long-term use.
For addiction, abuse, or severe Ketamine side effects, one should take proper treatment under the administration of specialized physicians. Professional rehabilitation centers should be reached for immediate medical care.
---
Page Sources
United States Drug Enforcement Administration, Ketamine, June 2020, https://www.dea.gov/factsheets/ketamine
Janssen Pharmaceuticals, Inc., Highlights Of Prescribing Information, Revised: 2/2020, https://www.accessdata.fda.gov/drugsatfda_docs/label/2020/211243s003lbl.pdf
Steven B. Rosenbaum; Vikas Gupta; Jorge L. Palacios, Ketamine, October 5, 2020, https://www.ncbi.nlm.nih.gov/books/NBK470357/
ACMD, Advisory Council on the Misuse of Drugs, Ketamine: a review of use and harm, 10th December 2013, https://assets.publishing.service.gov.uk/government/uploads/system/uploads/attachment_data/file/264677/ACMD_ketamine_report_dec13.pdf
R Edward Roberts, Abnormalities in White Matter Microstructure Associated with Chronic Ketamine Use, 2013 Oct 2, https://www.ncbi.nlm.nih.gov/pmc/articles/PMC3870785/
Yan Yang, Yihui Cui, Ketamine blocks bursting in the lateral habenula to rapidly relieve depression, Feb 2018, https://pubmed.ncbi.nlm.nih.gov/29446381/
Vwaire J. Orhurhu; Rishik Vashisht; Steven P. Cohen, Ketamine Toxicity, September 23, 2020, https://www.ncbi.nlm.nih.gov/books/NBK541087/
Shalom Srirangam and Joe Mercer, Ketamine bladder syndrome: an important differential diagnosis when assessing a patient with persistent lower urinary tract symptoms, 2012, https://www.ncbi.nlm.nih.gov/pmc/articles/PMC4544340/
Madhuri S. Kurdi, Kaushic A. Theerth, and Radhika S.,Deva, Ketamine: Current applications in anesthesia, pain, and critical care, 2014, https://www.ncbi.nlm.nih.gov/pmc/articles/PMC4258981/
Nena Bowman, Ketamine Poison Pearl, 2015, https://poisoncontrol.utah.edu/newsletters/pdfs/toxicology-today-archive/Vol17_Iss2.pdf
Lindsay L. Warner, Special K with No License to Kill: Accidental Ketamine Overdose on Induction of General Anesthesia, 2018 Jan 3, https://www.ncbi.nlm.nih.gov/pmc/articles/PMC5759748/